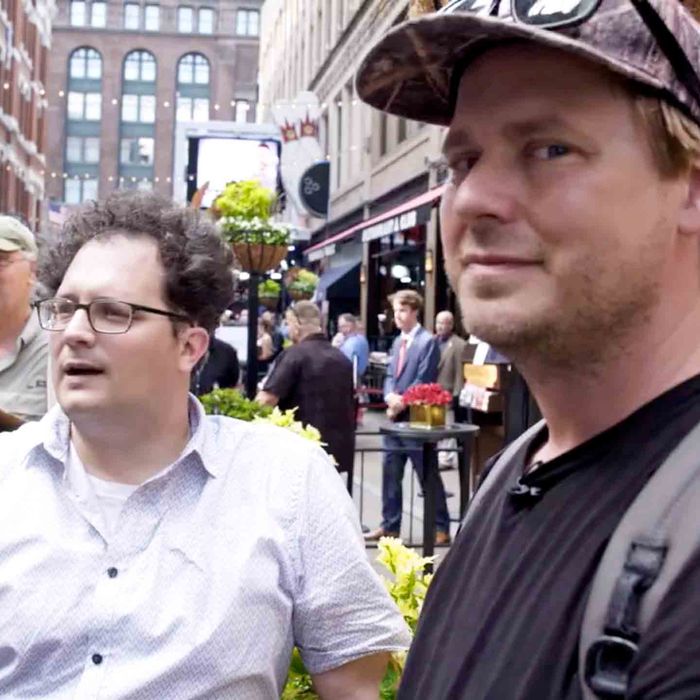 Vic Berger and Tim Heidecker.
Photo: Super Deluxe/Facebook
Seven months ago, Turner shut down comedy site and production company Super Deluxe as part of AT&T's acquisition of Time Warner, and now it appears that much of the site's video archive is stuck in limbo. As if the loss of yet another outlet for weird comedy wasn't enough of a bummer, a new development was discovered on Twitter this week: A handful of comedians who made videos for the site have said that their work is no longer available to view on the Super Deluxe YouTube channel.
It all started when Tim Heidecker pointed out on Twitter that Vic Berger's Super Deluxe videos — which helped put the latest iteration of Super Deluxe on the map — had suddenly vanished from the Super Deluxe YouTube channel without notice. This led to more writers, comedians, and filmmakers discovering that their work was also gone, including Jamie Loftus, Brandon Wardell, Dean Fleischer-Camp, Dave Schilling, and Nick Lutsko. A quick glance at the channel currently reveals that nearly everything except Super Deluxe series Thrift Haul, Cheap Thrills, and Stoned Mode is no longer available to watch. Those who starred in or helped create the now-lost videos vented about it on Twitter, expressing their frustrations over the sudden change:
When asked about the change, a Turner spokesperson responded with a statement to Vulture, saying, "The catalog of videos still exists, but some have been set to private while they go through a standard rights auditing process." According to a former Super Deluxe staffer, however, the company had a full-time staff and legal team devoted to flagging videos for potential copyright or fair-use issues before they were published, so it's unclear why a large portion of the videos would need to be audited again. Also unclear is whether or not WarnerMedia plans to make the private videos public again after the audit or their future plans for the Super Deluxe brand as a whole.
"Obviously, we were paid to create these videos, so they can do whatever they want with them. It does make you think about art in the digital age and how media companies think of it all as disposable 'content,'" Vic Berger told Vulture. "In this day and age, even videos with millions of views can be wiped out in an instant. I would urge people to seek out the artists you like and support them however you can. And artists need to remember to keep copies of their work backed up to ensure it never disappears completely."
This isn't the first time that comedians' videos have been wiped offline without any notice. On Twitter, Jonah Ray pointed out that the earlier iteration of Super Deluxe did the same thing to his and other comedians' videos a decade ago, and late last year, a large archive of videos and articles disappeared from Funny or Die after it migrated to Vox Media and ditched its proprietary video platform. However, Funny or Die released a memo last August offering video exports to contributors by request, but the lost videos took many creators by surprise after the migration.
While the future of Super Deluxe's missing YouTube videos is still a mystery, most of the content appears to still be available to view on its Facebook page — for now, at least. Between the Funny or Die purge last year and this, let this be a reminder to all comedians out there who make videos for large corporations: There might come a day when all of your work is lost without any notice, and like Berger says, if you don't have backups handy, you might be left with nothing. We'll leave you with this bit of wisdom from Dean Fleischer-Camp: