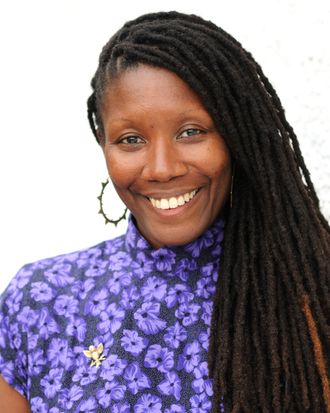 Nicole Dennis-Benn.
Photo: Jason Berger
Nicole Dennis-Benn, author of the acclaimed 2016 debut novel Here Comes the Sun and her new follow-up, Patsy (out next week), considers Brooklyn home. It's where she's lived for the past 13 of her 20 years in the United States, and it's where she intends to build a family with her wife, Emma. When Nicole was 3, her father immigrated from Jamaica without papers, but his marriage to an American citizen made Nicole and her siblings eligible for green cards when she was 12 years old. At 17, she enrolled at Cornell University, taking a premed track (in hopes of fulfilling traditional immigrant expectations of success) before changing career tracks — first public health, then writing. Here Comes the Sun is a brutal look at Jamaica under colonialism and capitalism — particularly in the story of its central character, Margo, a ruthless hotel employee (and closeted lesbian) turned madam who is driven by the desire to free her younger sister from a similar fate.
In Dennis-Benn's sophomore novel, a young Jamaican mother named Patsy comes to the U.S. on a vacation visa, and soon after makes a choice more stark than anything Margot contemplated: She abandons her 5-year-old daughter, Tru, in order to reunite with her first love, Cecily, in Brooklyn. Alas, Cecily has a husband and child, and Patsy is left to find her way, alone and undocumented. Harrowing details of a decade in the life of an undocumented immigrant run parallel with the portrait of Tru, back home in Jamaica and coping with gender ambiguity. "I'm not a girl, I'm a baller," Tru tells a neighborhood crime boss who scoffs at the idea of putting a girl on an elite soccer team. In a wrenching but ultimately uplifting novel, mother and daughter are estranged, yet unconditionally bound together.
"The idea of home is so complicated," Dennis-Benn told me on a recent crisp Saturday morning, over coffee and tea at her home in Bedford-Stuyvesant. "One home has given me the opportunity to be free and be myself, even though, yes, it has its issues. The other home gave me my memories, my family, but it never claims who I am as an out, gay writer and a woman as well. Both homes don't give me the opportunity to be my whole self, so I feel like I'm divided still. Really, home has to be within myself." We spoke at length about fame, family, pioneers, career shifts, and activism 50 years after Stonewall — an unfinished project in both of the places Dennis-Benn calls home.
Your first novel focused on Jamaica. Did you feel you needed to confront that place before you could move on to the immigrant experience?
Most of what I wrote in Here Comes the Sun was me getting my emotions out, everything I felt about the country, answering the question, "Who owns paradise?" and seeing that there was a great disparity between class, colorism, homophobia — all these different things I grew up seeing around me, in a country that I claimed as home but didn't really claim me back. As an immigrant in America, Patsy's navigating this new realm, looking for freedom, but in many ways, it's no different from the place she left behind. Yes, we have more opportunities, but the issues are the same.
Was the transition from Jamaica to Cornell tough for you?
It was mostly the weather — the cold. And then, my accent was really thick so people would ask me to repeat what I was saying over and over again. The library became my haven. I worked in the library as work-study. I felt so misunderstood in college, but reading was such a comfort for me.
Do you remember what you read?
I was blown away by The Autobiography of Malcolm X because I had never heard of him before I came to the United States. I knew about Martin Luther King Jr. and John F. Kennedy, but I was ignorant of the intricacies of race relations. It was reading and being questioned as a black person myself, not knowing I was black until I came to America. Race played a much bigger role than it had ever before played in my life.
Were you writing before you went to college?
It was always something I did. I didn't take any classes. For me, being a new immigrant and also wanting so much to please my parents, given that I already knew I was gay, I really concentrated on medicine with tunnel vision. I had no exposure to writers who looked like me. Most of what I was feeling, I would write down in journals. It was poetry at first and somehow the poems became really, really long and they became stories. I did that in graduate school at the University of Michigan for public health as well. Again, this was a school with a strong writing program, but I didn't know. It was only upon meeting Emma, my wife, that I realized there was a track.
Why were you so hard-set on the sciences?
I was really chasing the American dream, trying to do better than my parents, but also trying for a name-brand job. I gave up on the medical degree, but I was going to apply for a Ph.D. program so that I would still be a doctor regardless. That's where I was heading, thinking that would be my gateway into acceptance.
How did meeting Emma change that?
You know, I feel love is synonymous with home. When I met Emma, I felt at home in myself. We've been married seven years now. For a long time, I was running away from who I am. Somehow, meeting her, falling in love with her, but falling in love with me as well, gave me the opportunity to own who I am no matter where I'm placed in the world.
Did you share your writing with anyone before Emma?
My undergraduate years were during the early aughts — the era of open mics and the Nuyorican poetry club. So I used to go on open-mic nights and I read these horrible poems. I just wanted to share something. At the time, it felt like a nice pastime.
When did you realize you wanted more?
I always wanted more. In America, I ended up idolizing Alice Walker, who writes about how her writing life helped her become this free person. That really appealed to me, but I couldn't see myself on that level. If you had told me in college that I would have written two books by now, I wouldn't have believed it. I thought I would be wearing a white coat, doing my research. But when I met my wife, she challenged me. She said, "I think you are a writer." And what made her suggestion real was that she knew the avenues I could take to get there. She asked me, "Have you heard of an MFA program?" When I applied to Sarah Lawrence, I never looked back, because it felt right.
Finding your way felt like a question of language and access — a question that reverberates through Patsy: How do you know what the opportunities are when you don't have the resources or understand the trajectory?
I love that you connect this with Patsy. Math is Patsy's thing; she could look at a computer and know that she wanted to be a programmer, but she didn't know how to get to that point. I had the privilege of going straight to college, but she's arriving as this undocumented immigrant. Her dream is more far-fetched. I wanted to get deeper into the story of someone who is coming here for financial reasons more than anything else. You can come here through lottery, marriage, so many different ways, but for someone entering with only a vacation visa, not knowing the system well, you can't access the upward mobility that you came here to find.
What immigration stories influenced Patsy?
I started really getting into Jamaica Kincaid's work five years ago. Before then, I was devouring Jhumpa Lahiri and Edwidge Danticat. I started reading many of these immigrant writers in graduate school, but I was not assigned people of color or books by immigrants in graduate school.
How did you find them?
In the library, and through other students of color who would ask me, "Have you heard of this author?" In the program I would be assigned Raymond Carver or Faulkner and effectively told, "These are white men you should read because your work will be made better when you model it after these men." I didn't feel optimistic about being published, because if these are the stories that are being assigned by the people that I looked up to, who would read my stories? I would stop and ask myself that. The people who kept me going were Audre Lorde, Danticat, Paule Marshall, Toni Morrison. Attending the [Huston/Wright Foundation] writing workshop for writers of color in Washington, D.C., I felt for the first time that my stories mattered. But when you think about the greater world, the publishing industry, I still questioned it, to an extent.
Who stood out for you in the queer canon?
Definitely Audre Lorde, Alice Walker. That was my first glimpse of women writing so boldly about loving other women. It was so powerful to me because at the time I was still coming out to myself before I could come out to the world. There was this one book I found in Bluestockings in the East Village, written by D. Gisele Isaac, called Considering Venus. It just made me realize that we do exist! It was a self-published book by an Asian-American woman. I also found Cheryl Clarke's poetry collection When We Were Young, Audre Lorde's Zami, Fiona Zedde's novel Bliss, and an anthology of lesbian erotica.
You have given talks on queer writers in high schools like Brooklyn Tech. Are you hoping to give students the confidence you didn't have starting out?
What's important to me is that they see themselves and their experiences on the page. I was socialized to believe that writing stories from the LGBTQ community or as a personal of color or a woman would pigeonhole you. You're made to feel that there are important books and then there are books that get shelved in the back of the store. Back when I was in the library shelving books, I wasn't thinking about what was literary and what was commercial. I am slowly but surely getting back to that freedom of thought.
This interview has been condensed and edited for clarity.