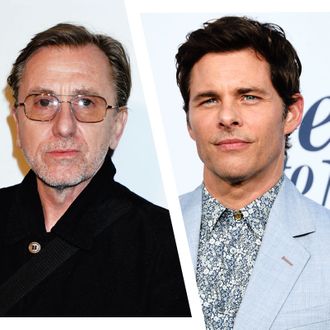 Photo: Getty Images and Shutterstock
Having your scenes make it into a Quentin Tarantino epic is almost as hard as making a Terrence Malick final cut! A handful of stars cast in Tarantino's new period piece Once Upon a Time in Hollywood shot scenes that didn't make the cut of the movie that premiered at Cannes this week. Per IndieWire, Danny Strong, James Marsden, James Remar, and Tim Roth were all left out of the film, despite being part of its sprawling ensemble.
But maybe the Marsden hive's Hollywood hopes aren't totally dashed: In a separate interview with IndieWire, Tarantino said he's considering going back into the editing bay, as he did after Inglourious Basterds premiered at Cannes in 2009. "I may make it longer," Tarantino told the site, adding that his editor, Fred Raskin, first assembled a cut that was four hours and 20 minutes. "His job is to put in every single thing I shot, give me everything. That's not unusual for an epic-y kind of movie." There was also a cut of two hours and 45 minutes, which Tarantino wanted to shorten: "Let's see if we can get it tighter than that," he says he told Raskin. "2:45 seems like an old Quentin movie. Let's see if we can get past the Quentin cut to a really friendly cut any audience can appreciate." We'll see if any of these dudes get added back into Rick fuckin' Dalton's True Hollywood Story.