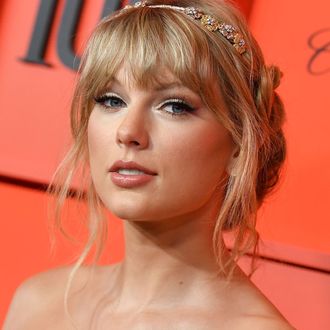 Photo: Angela Weiss/AFP/Getty Images
After going down the black hole of conspiracies about what Taylor Swift was going to unveil last month — sorry, "Kaylor" truthers — it should come as a pleasant surprise that the songstress decided to do a normal interview about, of all things, pop culture and what she enjoys watching these days. She loves Game of Thrones just like everyone and their mother. Britney Spears, too, which makes sense. But as Swift also told EW, she's now a disciple of the church of Phoebe Waller-Bridge, who created the brilliant shows Fleabag and Killing Eve.
"I'm really obsessed with Phoebe Waller-Bridge. She makes you crack up, shocks you, and breaks your heart all in the span of a few minutes in that show," Swift said about Fleabag. But her appetite for chic bloodshed sometimes needs to be satiated, so come and enter stage right, Villanelle. "I don't think we've seen such a lovable psychopath," Swift added about Killing Eve. "Oh God, it's so intoxicating. We've only ever seen that kind of endearing badness in men — until recently when we started to see female characters that are able to break through the constant likability challenge we find ourselves in." Quick, somebody tell her about the new James Bond!