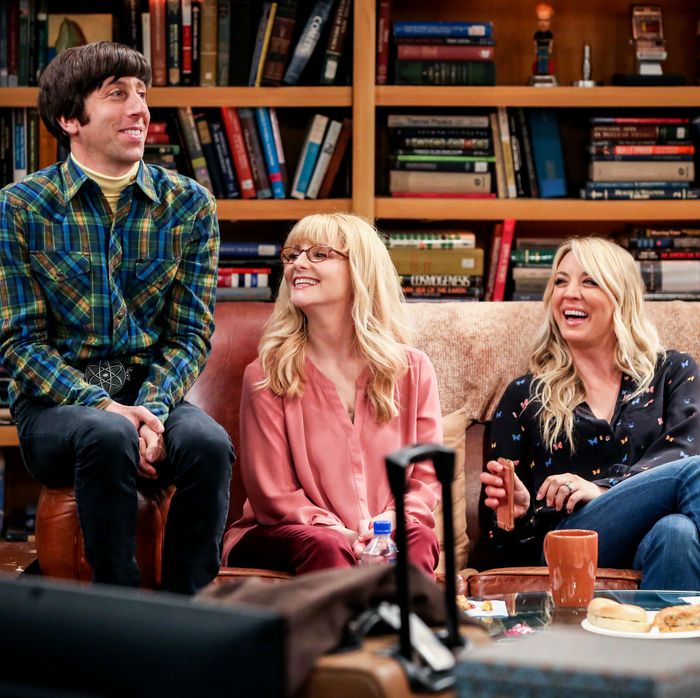 Photo: Michael Yarish/CBS
About halfway through the final taping of The Big Bang Theory, an emotional Kaley Cuoco addressed the live audience who'd managed to snag seats in the risers on Stage 25 of the Warner Brothers Studio Lot in Burbank.
"This show has touched so many hearts," sobbed Cuoco, who has starred as Penny in Chuck Lorre and Bill Prady's sitcom since it premiered 12 seasons ago. She wasn't kidding.
It's common for multi-camera shows to fill time between set changes, makeup touch-ups, and last-minute rewrites by having members of the audience step up to a microphone and share stories, trivia, or talents in exchange for autographed posters (or, sometimes, mini Snickers). What was unusual, this time around, was the electrifying energy that sparked and grew after each Big Bang fan stood next to the show's warm-up comedian, Mark Sweet — especially because many were operating on little-to-no sleep, having camped out the previous night for one of the roughly 100 seats allotted to hopeful fans.
Malerie Shakter, an Oakland resident who works in the technology industry, spoke of the show's powerful female characters that, in addition to Cuoco's strong-willed Penny, include Mayim Bialik's neurobiologist Amy and Melissa Rauch's microbiologist Bernadette. She spent 14 hours in line to secure a seat at the taping, but swears that the wait "didn't feel like it."
Jorie Ellazar, an autism specialist in San Diego, modeled self-designed T-shirts that she and her husband, Joel, had brought for themselves and others waiting in line. The two had packed up their Toyota Prius after work the night before and arrived at the studio around 11 P.M. They'd eventually lead the crowd outside in a birthday video for Big Bang stars Johnny Galecki and Kunal Nayyar, who — along with Joel himself — were celebrating another trip around the sun that day.
Yinan Zhang told her fellow revelers that she credits the show for her current pursuit of a double major in computer science and biology at Montreal's McGill University. Having been turned away a few weeks prior when a taping was over capacity, she came prepared this time. After her flight into Los Angeles, she had arrived at the gates around 7:30 P.M. the previous night, armed with a Kindle and phone chargers. But she says she wound up spending most of the down time talking with new friends.
"Amy and Bernadette opened a new sight of the world to me and let me see how that works for a scientist, which was super mysterious for me before," Zhang wrote in an email after the taping, admitting that she's seen the first 11 seasons "at least five times" but hasn't started the final one yet because "I really hate waiting every week just to anticipate the next 20 minutes of the story." Zhang, who is originally from China, says her parents wanted her to study business, but she persuaded them of her passion. She says these characters "made me see how it would be great to be a scientist developing the world into a better one, bit by bit."
This isn't the only way the show has been used as a teaching tool. Although the Big Bang writers have made a point of never officially saying whether Jim Parsons' Sheldon is autistic, it has long been suspected that he is. Jorie Ellazar uses episodes to train staff and teachers and at "social thinking groups for individuals, typically with autism, or just behavioral students."
"It's all about spreading the awareness and making it not such a taboo," she said by phone after the taping, adding that it's part of the show's charm that the audience can interpret Sheldon's personality. But, she says, "The way that others in the group navigate Sheldon through life and accept him? It was just very touching to me. It's almost like they coddle him, but also teach him and make him aware."
Others were there just because they like good, old-fashioned comedy. Josh and Holly Cox, home renovators from Amarillo, Texas, survived a flat tire on their Jeep Grand Cherokee and drove 222 miles on a donut to make a flight from Albuquerque into Los Angeles — all in the name of celebrating their third wedding anniversary with the final moments of a show they would watch together when they were just dating.
"I [feel] like there were parts of me in each character and the same for my husband," Holly Cox says via email. "We would watch the show and just look at each other and die laughing because it is something the other would say or do. There is a scene when Sheldon and Amy are eating dinner, and Sheldon is talking about PlayStation and Xbox One. It is my all-time favorite scene because it is Josh and I."
But after the adrenaline rush of getting there, what did the lucky audience think of the finale? The Ellazars, who had been to three prior Big Bang tapings, confide that there had been theories swirling among audience hopefuls about what might happen: Would it be Amy or Penny who was pregnant? (It was Penny, who is married to Leonard.) Would the apartment building's long-dormant elevator be fixed? (Yes, but not when you'd expect.) How many guest stars would appear? (Just one: Sarah Michelle Gellar, playing a character only referred to as "Buffy the Vampire Slayer," who ends up accompanying Raj to Sheldon and Amy's Nobel Prize induction ceremony.)
"For all of [us] fans, one of our wishes for Big Bang Theory is that we could see Raj finally find someone in true love," Zhang says. "And the presence of Sarah Gellar, especially in the ceremony of Nobel Prize, gives us some kind of hope that there might be some sparkles between her and Raj. Although that would be a wishful thinking from the fans, we do hope Raj could find someone belonging to him."
Unless, as Jorie Ellazar points out, "there could be another episode with the way they left it."