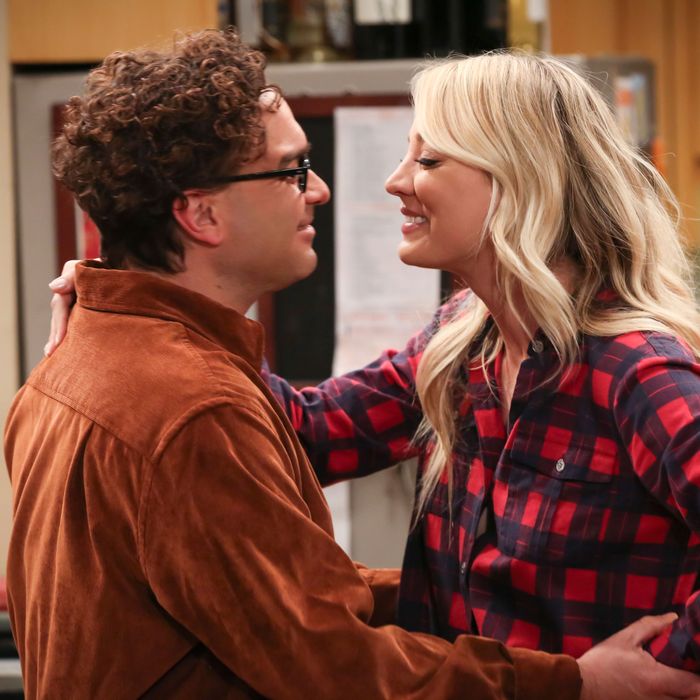 Photo: Michael Yarish/CBS
It was a finale so bittersweet, we nearly forgot about all those years of half-assed fake-eating! In the two-part series finale of The Big Bang Theory, one of the most formidable comedies in television history, every loose DNA strand was tied up pretty nicely after 12 seasons on the air. As anticipated, Sheldon and Amy (who got a snazzy makeover) indeed received the Nobel Prize in Physics for their discoveries within the field of super-asymmetry, and they flew out their entire friend group to Stockholm to celebrate.
In a rare moment of humility at the ceremony, Sheldon decided to forgo his planned remarks in favor of dedicating his speech to his friends — whom he royally pissed off for many reasons over the course of the finale. "I apologize if I haven't been the friend you deserve, but I want you to know, in my way, I love you all," he explained, clearly shaken up, from the podium. "I have been encouraged, sustained, inspired, and tolerated not only by my wife, but with the greatest group of friends anyone ever had."
As for the rest of our characters: Penny and Leonard revealed they're expecting their first child together — reversing course on Penny's previous anti-children stance — while Bernadette and Howard continued on in marital bliss with their two kids. Raj, meanwhile, still hadn't found a nice woman to grow old with, although he managed to snag Sarah Michelle Gellar as his date to the Nobel ceremony. Oh, and the building's elevator was finally fixed! Their glutes will miss the exercise, but it's about damn time.
Sound off in the comments, knock knock knock, about what you thought, knock knock knock, of TBBT's last hurrah.