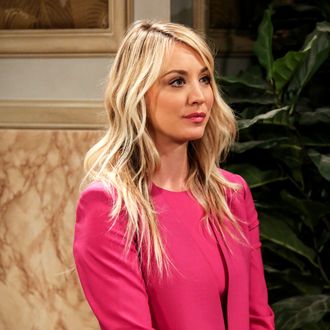 Photo: Michael Yarish/CBS/Warner Bros.
In a series finale that otherwise brought heartwarming closure to The Big Bang Theory's central characters, one revelation proved to be a bit confusing for fans: Penny, who had expressed many times throughout the show's run that she didn't want children, became pregnant, a development she was very happy about. (And, of course, Leonard.) Viewers discover Penny's pregnancy when she's about two months along, as she's preparing to travel to Stockholm despite some first-trimester stomach issues — news that's also met with skepticism by the show's resident pain in the ass, Sheldon. Still, TBBT's showrunners believe this was the best way to "honor" Penny and provide good closure.
"Their relationship was really the jumping off point of this whole show and it felt important to us to honor that relationship," executive producer Steve Holland told THR about Penny and Leonard. "I love them together and I wanted to know that they were ending in a happy place. It felt like a great way to land these characters and like such a surprise coming off what their storyline had been." Added showrunner Steve Molaro, in agreement: "I like that we were able to jump over a lot of the pregnancy tropes and learn after the fact that Penny is two months pregnant." As we were teased in the pilot: Their babies will be smart and beautiful. Why not give Penny a last name?