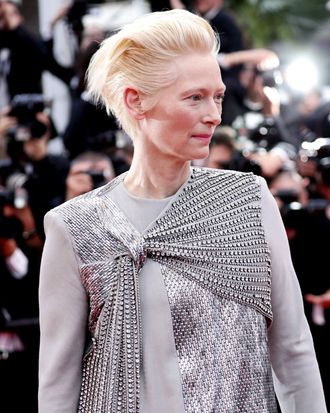 Photo: Vittorio Zunino Celotto/Getty Images
In Jim Jarmusch's The Dead Don't Die, which premiered Tuesday night at Cannes, Tilda Swinton plays Zelda Winston, the "unusual" local mortician of Centerville, USA, with a Scottish brogue and a penchant for Samurai swords. It's one of the loosest, funniest, most self-referential performances we've seen from Swinton, who spends most of the film calmly decapitating the undead who've invaded her small town. And at the film's press conference Wednesday morning, Swinton was similarly and delightfully ruthless — this time with the press.
Early on in the conference, a reporter asked Swinton about her red-carpet looks. "A lot of thought goes into how you look on the red carpet," he said. "In comparison, you men" — here, he gestured to Swinton's co-star Bill Murray, and director Jarmusch — "look quite dreary. Do you think it's time the dress code was shaken up for men?"
Swinton was having none of it. "I'm not aware of any dress code on the red carpet," she said wryly. "And I think men all look spectacular all the time. Especially wearing [Swinton's frequent collaborator and designer] Haider Ackermann."
Later, another male journalist asked the group how they felt about the four female directors set to premiere their films at Cannes, and whether that felt like "enough." Swinton was quiet for a moment. "Women have been making films for 11 decades now," she said. "There are countless films out there. Why don't we necessarily know about them? We have women filmmakers. Some are working bars, some are still in school, some can't get into school. But that's where we need to start. We need to look at the canon, appreciate it, stream it. Then it will exist amongst us. It's not some 'other' thing that we have to somehow find. It all exists — we just have to pay attention to it and bring it up."
On her way out, another male journalist stopped her and asked her how she "never seems to age." Swinton laughed. "You know I'm a vampire," she said, before walking away.