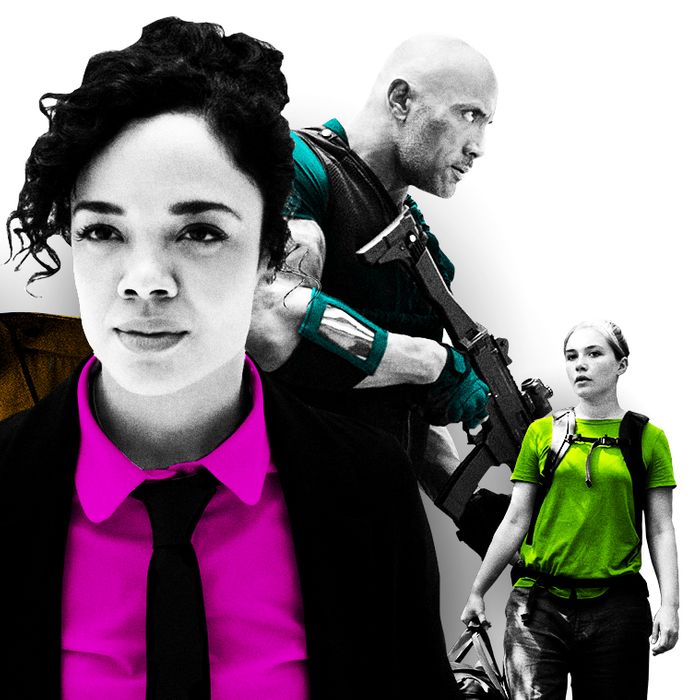 Photo-Illustration: Maya Robinson/Vulture and Photos by Sony Pictures, Universal Pictures and A24
Summer movies are for fun and escape, and what's more entrancing than some stellar screen chemistry? Give us sexual tension between co-stars, the sexual tension of women in suits, the perfect harmony of complementary monsters, Adam Driver and zombies. Thankfully, all of these things are coming our way in the summer of 2019. You already know the release calendar, but Vulture has done some even deeper analysis to determine the ten most anticipated screen pairings of the coming movie season. If the Rock being within makeout distance isn't your thing (why?), maybe bloodthirsty alligators swarming during a hurricane will be.
Godzilla and Mothra
Godzilla: King of the Monsters could also be called Godzilla and Friends, since the whole thing is just a kaiju mêlée designed to test the limits of the theatrical experience. There's a plot in there somewhere involving Charles Dance and Vera Farmiga and Millie Bobby Brown and Ken Watanabe, but the important part is that a bunch of titans want to take over the world and Godzilla, our friend, has to defend his alpha status and hopefully protect humanity in the process. There's a lot of fuss over Ghidorah because it's a three-headed hellbeast that's even bigger than Godzilla, but the enlightened viewer will be keeping eyes on the elegant Mothra in this monster mash. Those majestic wings. That brilliant blue color. Mothra is the most pageant-ready kaiju in King of the Monsters and, therefore, the only one fit to stand alongside our big lizard boy.
Tessa Thompson and Her Men in Black Suit
Did you know that women invented suits? It's true. Men wearing arrangements of slacks and button-downs and blazers, occasionally with vests? Never heard of it. The modern suit was in fact pioneered by the likes of Cara Delevingne, Cate Blanchett, Blake Lively, Rihanna, Evan Rachel Wood, Sandra Oh, Solange, and so forth. One of those pioneers, Tessa Thompson, is going to make a whole job out of serving in a suit this summer with Men in Black: International. As fellow suit icon Janelle Monáe once told us, "Black and white tux, ain't no need for no other colors," and so Thompson will grace us with the simple perfection of the customary MIB ensemble, and, charitable queen that she is, Thompson has given Chris Hemsworth permission to wear a suit alongside her. We will all be eating well, thanks to MIB: International.
Adam Driver and Zombies
The Dead Don't Die is a zombie movie that only Jim Jarmusch could pull together. It's got a cast of indie-cinema darlings and Hollywood legends (and even an international pop star) all agreeing to be in a pulpy zom-comedy about a small town on the verge of apocalypse. Jarmusch favorites like Bill Murray, Tilda Swinton, and Tom Waits are onboard, but perhaps most important, so is Adam Driver. He's got a way with the dry, strange humor Jarmusch specializes in (see: Logan Lucky, Girls, Saturday Night Live) and the fact of his "incomprehensibly large" presence as an oddly-sanguine-in-the-face-of-the-undead local cop is funny on sight. Unfortunately, we probably can't expect him to wear any petite robes that he'll burst out of in this movie. That's currently for Broadway only.
Jake Gyllenhaal and His Mysterio Beard
Perhaps the fastest track to becoming a thirst object in 2019 is a beard. An ostensibly normal man you never gave a second thought to before? Put a beard on him and suddenly he's pure male desire embodied. Put a beard on Jake Gyllenhaal and you've just created something people would ruin their whole lives for, a person for whom they would beg Twitter to throw them off a building, hold prisoner in the trunk of his car, etc. Gyllenhaal has always had his Gyllenstans, but in recent years it's like his powers have somehow increased. And now his starring turn in Spider-Man: Far From Home is upon us. In Marvel comics, the character of Mysterio is typically seen wearing a helmet with his face obscured, but Sony and Disney understand the times, so they've removed the glasswear and given us a bearded Gyllenhaal face. That's a villain we can root for.
Florence Pugh and a "Wizard of Oz for Perverts"
In Midsommar, writer-director Ari Aster's follow-up to Hereditary, a couple travels to Sweden for a summer festival and, if the trailer is any indication, happens upon some really untoward shit. Florence Pugh stars as Dani, one half of that couple, and when describing what moviegoers can expect from his second feature, Aster described it as both "a breakup movie" and "Wizard of Oz for perverts." Looking back at it, real Wizard of Oz is pretty damn strange, so imagining it built specifically for "perverts" is traumatizing on its face. Pugh, who's proved she has the range, could really bring something special to this sick fantasyland.
Kaya Scodelario and Alligators
Hear us out. Crawl isn't just a movie about a devastating hurricane or a humans-vs.-alligators survival story. It's both. When a Florida home is flooded during a Category 5 storm, a young woman (Kaya Scodelario) tries to rescue her father while fending off sieging alligators. If it weren't a movie directed by Alexander Aja (High Tension, Piranha 3D), it would sound just like a headline you'd read any day of the week about something that happened in Florida. Scodelario has survived impossible mazes and some hellaciously toxic teen years (Skins forever), but now she will face her greatest challenge to date: home-invading gators that have no regard for hurricane crisis protocols.
Youthful Innocence and Life-Altering Screen Trauma
Kids are barely kids anymore. They have cell phones and social media and are at least lightly aware that the world is on fire, but there's still a special kind of pain that comes with death in a Disney movie like The Lion King. This summer, in more vividly animated detail than ever before, kids will watch Mufasa die by stampede as his cub, Simba, looks on in horror. And what is modern animation technology for if not teaching kids hard lessons about the fragility of life? So keep that Disney vault propped open, and bring on those ultralifelike animal tragedies — with Beyoncé!
The 1969 Pussy Posse of Brad Pitt and Leonardo DiCaprio
As has been previously reported by Vulture, the actual leader of the real-life Pussy Posse is Lukas Haas, but its most famous member is still Leonardo DiCaprio, and his partnership with Brad Pitt in Once Upon a Time in Hollywood is like if the Pussy Posse got transported back to the swinging '60s. The upcoming Quentin Tarantino film is about Hollywood in 1969, when the Manson Family murders rocked the town and the country, and it stars (among approximately 316 other famous people) DiCaprio as a famous actor named Rick Dalton, with Pitt playing his stuntman, Cliff Booth. If that is not a Pussy Posse duo for the Space Race age, I don't know what is.
The Rock and the Stath (and Their Sexual Tension)
Dwayne Johnson and Jason Statham will not make out in Fast & Furious Presents: Hobbs & Shaw, but they should. Their entire Fast & Furious–universe chemistry is built around the two rippling alphas trying to top one another. If I were Rosie Huntington-Whiteley, Statham's longtime fiancée and mother of their son, I would be two things: One, I would be one of the hottest people on the face of the Earth, and two, I would still be anxious to watch Hobbs & Shaw in spite of my hotness because the chemistry between my man and the Rock would be so intense. (Or maybe I'd just be extremely turned on by my paramour's sexual tension with a human mountain who identifies as a silverback gorilla, who knows?!) A Hobbs & Shaw bonus? You can mix and match your most anticipated pairing with the addition of Idris Elba as Brixton, who calls himself "Black Superman." I'm not quite sure how, but I know this is gay rights.
Tiffany Haddish, Melissa McCarthy, Elisabeth Moss, and Their Era-Appropriate Fashions
You know what's cool? Groups of women doing crimes while looking incredible. That's how we got the Big Lesbian Energy of Ocean's 8, and how we got one of the best and most underappreciated films of 2018, Widows. This year, we're getting The Kitchen, an ensemble piece starring Elisabeth Moss, Tiffany Haddish, and Melissa McCarthy as a trio of mob wives who become Irish mafia leaders after their husbands are incarcerated. Because you know what they say: Behind every male crook is a woman with so much untapped potential to do his job better than he ever could. The Kitchen is adapted from the Vertigo comic book of the same name, and it's set in the 1970s, with feathered hair and tucked-in silk blouses and the widest leg trousers. Let's see our girls get a full Farrah Fawcett makeover!