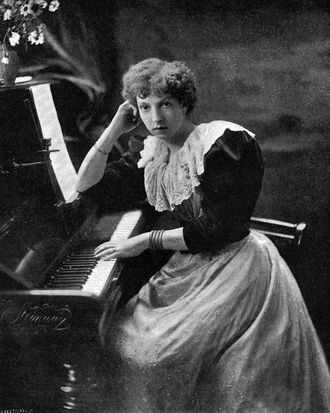 Cécile Chaminade.
Photo: Historia/REX/Shutterstock
If you were a music lover in early 20th-century New York — and in many other parts of the country, too — chances are you loved the music of the French composer and pianist Cécile Chaminade. You had her piano miniatures or songs propped up on the piano for impromptu performances with friends. If you could score a ticket, you might have attended one of the two Carnegie Hall recitals she gave a few months apart in 1908. And if you were a true enthusiast, especially if you were a woman with a home large enough to accommodate eight or ten amateur musician friends (all female), you might have founded a local Chaminade club, one of hundreds scattered from England to the Midwest. At the end of her 1908 U.S. tour, she paid a visit to one such club in Flatbush, accompanied by a reporter from the New York Times. "Mme. Chaminade does not speak English, and neither her hostess nor any of her receiving party spoke French, but it was a merry reception, nevertheless," the paper reported. What had been planned as a polite hour or two turned into a full evening of music with the visiting celebrity. Even the club members' husbands showed up in time for dinner.
More than a century later, Chaminade and her music have been largely expunged from history, and the societies named for her have disappeared — all except one: the Chaminade Music Club of Yonkers. Under its auspices, on May 19, pianist Donna Weng Friedman and soprano Allison Charney will perform "Her/Music; Her/Story," a program of music by women composers that includes two works by Chaminade. "She was one of the most popular and most successful composers — man or woman — of her time; how did she become so famous, and then so forgotten?" Friedman asks, and then partly answers her own question: "I spent years at Juilliard, and not once did they mention a woman composer."
Cécile Chaminade was born into an affluent family in 1857 — though she always shaved a few years off her age — and grew up in a society that was only partly ready to receive her talents. Among her neighbors in the village of Le Vésinet, just outside Paris, was the luminary Héctor Berlioz; she concertized widely, played for Queen Victoria, received the French government's Légion d'Honneur, made money, and recorded a batch of piano rolls. Once you've tracked down the few extant recordings of her music, it's easy to understand her popularity. She specialized in evocative piano vignettes, full of verdant romance and southern light. "Les Sylvans," one of the showpieces on Friedman's program, threads a bucolic tune through sparkling sprays. In her songs, she lacquered even simple sentiments in musical sophistication. Sometimes she polished up bits of earthy dances so they could adorn a Parisian home.
"It's not deep, but it's so charming," Friedman says. "Call it salon music — well, fine! I don't see anything wrong with lighthearted salon music. It's true that her music works better in an intimate venue, but I prefer it to Franz Liszt."
Chaminade outlived her own reputation. By the time she died in 1944, she was regarded as a relic, a reminder of an era that two world wars had extinguished. In a sense, she was forgotten precisely because she succeeded so spectacularly in one of the few ways that 19th-century woman composers could: writing pieces intended for the home. The era's most prestigious forms were those that required the greatest expense, the biggest halls, and the most man power. She did check off those genres, writing a colorful piece for piano for a large orchestra, the Konzertstück, Op. 40; the Spanish-y, Carmen-like opera Les Sévillanes; and the mythological ballet Callirhoë (from which she excerpted the evocative "Scarf Dance" for piano). She even tackled one of chamber music's most notoriously serious genres, the piano trio. But she was lionized for littler stuff, like piano miniatures and parlor songs — pieces that critics scorned and the public lapped up. Tours were sporadic and exhausting, but the real money was in sheet music, and Chaminade kept cranking out best sellers. In 1899, the American pianist and composer Ward Stephens made a pilgrimage to her suburban home outside of Paris, and though he wrote about a delightful afternoon spent sight-reading music for two pianos, he couldn't resist a swipe at her productivity: Her exclusive contract with a publisher, he wrote, had "handicapped her to a considerable extent, and I could at once understand how it was that some of her compositions should seem to lack inspiration."
She must have grown accustomed to backhanded compliments and "wonderful, but …" praise, though she never made her peace with them. One critic responded to her 1908 Carnegie Hall recital with the kind of charged condescension that even the most accomplished women had to slog through, day after day: Her music "has a certain feminine daintiness and grace, but it is amazingly superficial … While women may someday vote, they will never learn to compose anything worth while."
Besides being a woman, Chaminade had another strike against her in the first third of the century: She was French in a music world dominated by Germans — a member, that is, of a "race devoid of any sincerity or intelligence, of all culture, hungry to the point of madness for vain and hollow utterances," as the theorist Heinrich Schenker wrote in 1918. That may have been a bit of wartime hyperbole, but the taint of triviality lingered. As the 20th century wore on, the gramophone took the place of the piano as the instrument of home entertainment, pop songs and dance displaced classical miniatures, and the concert world consolidated its position by proclaiming its own prophetic greatness. Charm fell into disrepute. The classical Establishment let popular songs have a monopoly on qualities like wit, romance, blitheness, and intimate charm. It's tantalizing to wonder how the story of concert music might have been different if its gatekeepers a century ago had made more room for Chaminade.