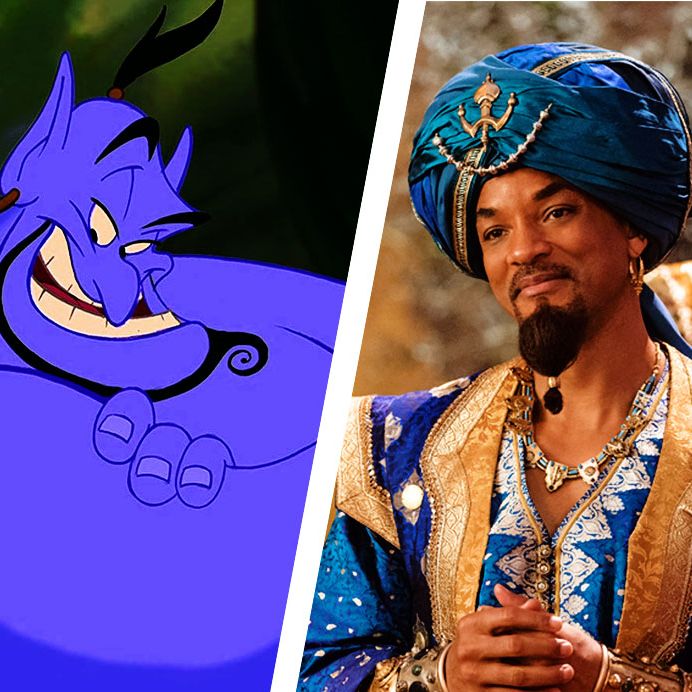 Three Genies: Broadway's Michael James Scott, cartoon Robin Williams, and Will Smith.
Photo: Vulture, Walt Disney and Matthew Murphy
Back in December, when Entertainment Weekly dropped the exclusive first photos of Disney's live-action movie Aladdin, many people were confused. The cover features the film's leads: Naomi Scott as Jasmine, characteristically self-serious and wearing the princess's classic hue of turquoise. Mena Massoud as the titular street rat, almost-but-not-quite back-to-back with his co-star (no doubt Photoshopped into place). And then, arms caging them from above, with an uncanny smile and a distinctly human-colored body, is Genie by way of Will Smith.
When potential fans and cynical observers alike flipped through the magazine's shots, they collectively deemed Scott and Massoud fine, and were relieved to know that Marwan Kenzari as "Hot Jafar" was "graciously, still hot." But Genie, the public decreed, was a problem. One tweet juxtaposed the EW cover with a poster from Paul Michael Glaser and Shaquille O'Neal's 1996 movie Kazaam, cautioning, "I swear, if Will Smith starts rapping in the movie, I'm leaving the theatre."
Anxieties about Disney's latest live-action renovation began as soon as the company announced its decision to make an earthbound interpretation of its Gulf War–era cartoon — one of Disney's first animated films to feature protagonists of color. Based, in the loosest sense, on the Francophone translation of folktales gleaned from a Syrian traveler, the Disneyfied Aladdin takes place in the fictional portmanteau of Agra and Baghdad — Agrabah — where a boy with an Arabic name pursues a Persian princess living in a castle styled after the Taj Mahal. It borrows cultural symbols indiscriminately with the loose wonder folktales allow. In the end, it is a story set in a brown place about brown people who are voiced by white actors.
Casting this reboot according to ethnic specificity was therefore a daunting, and somewhat improbable, task. Something like accuracy isn't exactly tenable for the reprise of a story with characters whose culture only exists in the white imagination. "Aladdin is a strange case since the 1992 movie is itself a white dream," Justin Charity wrote in 2017. "Whitewashing," or more precisely, Orientalism, "is the movie's original sin, and its casting isn't the half of it." Still, the least a global media conglomerate could do was hire brown actors for its live-action revival. The Hollywood Reporter alleged the studio was having difficulty finding talent "of Middle-Eastern or Indian descent," and then Disney came to a very Western consolidation with Massoud (Egyptian-Canadian) and Scott (British-Indian). Criticism was not assuaged — specifically in terms of Scott, who is not an Arab actor — but subdued, with most of us forgetting this movie was even happening until promotional efforts began in earnest this year.
Interestingly, none of the racial anxiety over Aladdin or Jasmine or Jafar — or any of the dozens of extras roaming about Agrabah — extended to Genie, for whom Disney recruited the star power of the black American Will Smith. Perhaps Genie's hyper-animated, shape-shifting form in the original film engenders enough ambivalence; no one cultural tradition possesses exclusive ownership over spectral companionship. Perhaps his correlation to the Islamic Jinn was too threadbare to survive the transition from two-dimensional toon to, well, whatever we might call the Frankenstein collaboration of live-acting and CGI that gives us Genie 2.0. Most likely, however, is Robin Williams's singular performance in the preceding animated version: in '92, he was Genie.
It's difficult to overstate the virtuosity of Robin Williams in this role. His vocals sling from high to low to fry to accented. He is both emotive and phatic, rapid and slogging — all without losing the contours of the character or the beat of the story. Williams's Genie is blue, but not raceless exactly: He is a prismatic collection of ethnic allusions, from whistling Scot to French waiter, the homie giving dap to the Borscht Belt comedian, the surfer dude to the femme Latinx tailor who grants Aladdin his makeover moment with the affirmative, "Muy macho!" Williams spins a catalogue of impressions with ethnic baggage: de Niro's taxi driver, Arnold Schwarzenegger, Mary Hart, Groucho Marx, Peter Lorre, Ed Sullivan, Arsenio Hall, Jack Nicholson, William F. Buckley Jr., Rodney Dangerfield, and Cab Calloway. Scholars Kerry Mallan and Roderick McGillis have called it "metacamp," a performance that "references other camp characters in its various isomorphic mutation." Williams was allotted an unusually loose rein in the booth, "allowed to riff his lines," leaving animators to match "both the pace and the dynamics of his recordings." "Robin Williams and animation were born for one another," Roger Ebert declared in his review of the 1992 film. It seemed a predestined impossibility that a live-action Smith could re-create that magic.
And yet, the formal matter of how to reanimate the living was already answered five years ago, in 2014, when Aladdin the musical premiered on Broadway. While critics were mostly unimpressed with the quiet chemistry of the stage version's central lovers, Broadway's Genie absolutely killed. Thom Geier described James Monroe Iglehart's version of the character as a cross between Robin Williams and RuPaul, while NBC's Dave Quinn saw "equal parts Fats Waller, Luther Vandross and Oprah Winfrey." Iglehart collected more than one comparison to Cab Calloway and a Tony for Best Featured Actor. This Genie, whose cultural references include a quote from Sweet Brown, is not just the shticky comic but, importantly, "a kind of freedom fighter" with "heart," said Chris Jones at the Chicago Tribune. And Iglehart set the tone for the physicality and racial representation of Broadway performances moving forward. When the touring cast came to Chicago in 2017, I caught Anthony Murphy, a near doppelgänger for Iglehart in costume. For the fifth anniversary of Aladdin on Broadway, five past and present Genies — Iglehart, Michael James Scott, Major Attaway, Juwan Crawley, and Deonté L. Warren — gathered onstage for a medley of songs from the musical. Standing and singing together in full dress and makeup, the actors' differences are conspicuous, while the similarities are unmistakable: all are tall, thickly built, brown- and darker-skinned black men.
The success of Iglehart must have figured into casting someone like Smith, who might not radiate the larger-than-life qualities of stage actors like Williams and Iglehart, but who Disney felt was suited enough for a blacked-up version of the character — tongue rolls and beatboxing and "boys" included. Aladdin the musical offers a readily available precedent and solution to the anxiety put forth by the influence of both Williams and 2-D animation — as done onstage, Disney could replace the scattershot physics of the original Genie with the racialized vitality of blackness in motion. While we can only guess how the character was made-to-order once Smith signed on to the project (Kevin Hart was rumored to have been considered for the role, too), Smith told EW his take on Genie would run parallel to Williams's, "an homage" that sourced his own genealogy as an actor. One Disney executive, EW reported, called Smith's character "part Fresh Prince, part Hitch."
At his best, Smith achieves what I'd call the most grown-up version of those characters — Hitch, reborn after 10,000 years in service. He's less campy than his animated and onstage counterparts, flamboyant yet not femme, and still given life through service. "He's madly eager to please," David Edelstein notes. Perhaps some of the disappointment with the character as a whole lies here. The image of Smith sipping Martinis and reveling in his own past personas earned my laughs (laughs that otherwise might have been given to quips from Iago and Jafar, were they not so humorless in the remake). But there's a sad, borderline pathetic undercurrent to the comedy, most intense when Smith looks less like himself. The Genie, once a kaleidoscope, has been transformed, quite literally, into a magical Negro. He wins the congeniality contest by default, but the role is newly reduced. He is the companion when he ought be the ringleader, more relief than comic. Even his eventual freedom is diminished by this reality.
The 1992 film, as I found upon a recent rewatching, is surprisingly direct on the subject of servitude. Genie is, plainly, a "slave," as Jafar hisses in the final act. Aladdin and the audience learn of his conscripted existence early on — his ability to grant wishes is, in fact, a product of his enslavement. ("You're a prisoner?" Aladdin asks.) Appalled, Aladdin promises to use his third wish to free Genie. Genie side-eyes the kid, whose first two wishes revolve around power and wealth, with a brisk, "Well, here's hoping." The promise of abolition, so breezily made, is revoked once Aladdin feels insecure in his newly acquired title of prince. The Genie, with a mixture of sadness and rage, retreats to his lamp with an acerbic, "Excuse me, master."
In 2019, Aladdin makes some wheels of power more explicit. Our true hero, Jasmine, is, ironically, a princess for "the people," as she often reminds us, while the villainous Jafar fears that the people's riotous potential can only be held at bay by absolute power. The Genie knows power corrupts and tells us so from the beginning: "There is not enough money and power on earth to be satisfied." He cautions Aladdin against becoming "the guy," even as he retains the title "master." (The Guy, in this case, is also the Man, man.) But Disney's live-action rendition takes Genie's terms of servitude further. More than anything in the world, he not only craves "freedom" but "to be human." Here, a genie is not a species apart but a man unmanned by enslavement.
At first, I was put off by Guy Ritchie's blue strongman ("I wanted a muscular 1970s dad," he told EW, what Justin Lascek would call "70's big"). I was relieved whenever Genie disguised himself as human and queasy when the bloated composite returned. But as the film continued to insist on both the blackness and inhumanity of this avatar, even dangling a light-skinned handmaiden before him, I came to appreciate the grotesque Violet Beauregarde. Genie as a genie is "unruly, incomplete, bulging, and changeable," to borrow again from Mallan and McGillis. This disturbance is what draws out the tragicomedy of his abject condition. Without it, lines like "I don't care nut'in about that wish" fall with a misplaced earnestness. (As the old Genie might sarcastically respond, "Hey, it's only an eternity of servitude.") The promise broken becomes not the promise of freedom, but of friendship. "In 10,000 years I have never once called a master a friend," Genie tells Aladdin, who is "breaking [his] heart." Freedom fighter he is not.
In the end, as in the first film, Aladdin indeed uses his third wish to free Genie. In the original, the transfer of power is conducted with fanfare: Genie ping-pongs about the palace balcony with a resplendent "free at last!" He cries, a big fat Disney tear falling down his cheek. He is still blue and seemingly still all-powerful, shooting his body into the sky in celebration. He's "history" (or "mythology"). In the latest Aladdin, however, Smith's liberation is much more modest. The shackles fall from his wrists and dissolve into thin air — the inverse of the clink-clink that imprisons Jafar the Genie. He returns to his human appearance, but for real this time; he can no longer summon elephants or jams, or anything else for that matter. He is free and his prize is a normative life; a wife and two models of multiracial futurity named Lian and Omar. From magical Negro to ordinary black man. It's a freedom of a kind, I suppose.
*This article's photo caption has been corrected to note that the featured Broadway actor in the lead image is Michael James Scott.