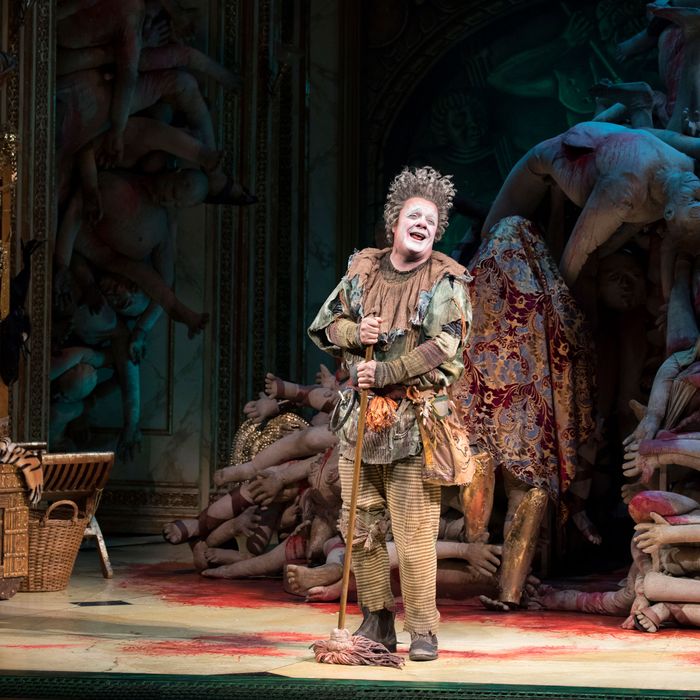 Nathan Lane in
Gary
.
Photo: Julieta Cervantes
The most difficult challenge in designing the set for Gary was probably the pile of bodies. Taylor Mac's play is a cheeky, comedic sequel to Titus Andronicus, starring Nathan Lane as "Gary," formerly an unnamed clown mentioned briefly in Shakespeare's bloody tragedy, now promoted to the cleaning crew, and he arrives onstage to confront a gigantic heap of corpses. To be clear, this is a comedy, so Gary's design team had to find a way to be gory without alienating the audience. "There was enormous concern about all the bodies onstage and how macabre it would be," says Santo Loquasto, the prolific scenic designer who was recently nominated for a Tony for his work. If the bodies looked too realistic, the audience would be distracted by a massacre, and if they looked too silly, there wouldn't be pathos. "I would like to think we found the line where it's the New Yorker cartoon about Titus Andronicus."
The tone was a issue continually faced by Gary's design team, as Loquasto worked with lauded costume designer Ann Roth (nominated twice this year for her work on Gary and To Kill a Mockingbird) and props supervisor Ray Wetmore to conjure a setting that was vulgar, gruesome, and splendid at all once. With the stage design, Loquasto wanted to reference the classic Hollywood swords-and-sandals films by the likes of Cecil B. DeMille. "Gary's red curtain and the way it's hung and the motifs on it, I think, conjures up that world," Loquasto says. The proscenium arch includes a statue of Romulus and Remus, added at the encouragement of producer Scott Rudin. "Scott, of course, loves an embellished proscenium arch more than anyone I know," Loquasto says.
For the costumes, Roth also looked to film, specifically to Italian ones like Fellini Satyricon, which helped inspire the outfit and elaborate headdress worn by Julie White's character, Carol. Roth also referenced those films in her designs for Kristine Nielsen's maid and Lane's clown turned maid (turned aspiring fool), as well as whatever historical depictions she could find of ordinary Romans' costumes. To age the fabric, she took it to "people who do it better than anybody, and I don't give their names out because I don't want anybody else to get those secrets."
Days before Gary went into preview performances, one of its stars, Andrea Martin, dropped out when she got hurt during rehearsals. Nielsen, who'd originally played the midwife, stepped into Martin's role, and Julie White joined the show to replace her. That meant new costumes and wigs, as well as figuring out which props would work best for each actor. For Nielsen's costume, specifically, Roth points out that she had to be inventive. "Anything you saw in any museum, you couldn't do a play in," Roth says, pointing out that a lower-class Roman woman would have been wearing no more than two tattered pieces of fabric. "The serfs' clothes are practically nothing, and the underwear is practically nothing. So naturally, I had to fake that, and that was fun." So how do you fake a maid's costume? "I gave her some funny green pants," Roth says. "I mean, it looks like gangrene under there."
If you're building a world full of cadavers, you're also going to have to move them, as well as their various parts and limbs, which falls to the props department. Wetmore, working with Loquasto as well as director George C. Wolfe, took the ideas for bodies to the New York–based Jerard Studios to pattern out all the different types of bodies needed in the show, some of which have to perform other bodily functions.
"We have the body that pees," Wetmore says. "We have bodies with entrails. The interesting thing about it was mechanizing the gore to make it work every night." The entrails, for instance, are wound around a spindle inside the body so they can be packaged easily and pulled out quickly. "During pre-production, there were some of the funniest conversations I have ever had," Wetmore says. "Normally, we talk about, 'Oh, five plates have to break onstage. How do we make those plates break?' Here, the challenge was, how do you pull 20 feet of intestines out of someone?"
The other key aspect of gore, of course, is blood. As with the bodies, Gary's design team spent a lot of time figuring out the right line to toe between thrilling and disgusting. "We knew that wanted to have blood in the show, and this means paint and gore on the bodies," Wetmore says, "but we started with not a lot of it, and then every few days you add a little bit, you add a little bit, you add a little bit, because it's easier to add than to take away." The blood itself falls on what Wetmore calls the "camp-gruesome" side of the spectrum, which means that within the stains, you'll see glitter and sequins, "which makes it whimsical. In a way."
Liquid blood shoots out of Julie White's character's neck during the prologue. Before White learned how to control the splatter, there was a "splash zone" in the front rows where audience members were getting spattered. While the team eventually cut down on the amount of blood onstage during previews, the stage still has a trough covered with grating at the front of the stage to catch the mess as it's swept away. The actors can clean up with water and shaving cream, though getting it out of costumes is difficult. "There's a blood that comes from England that is very, very pricey, but it's a secret formula because it comes out [of clothes]," Roth says. "I knew about it for years, and we got it."