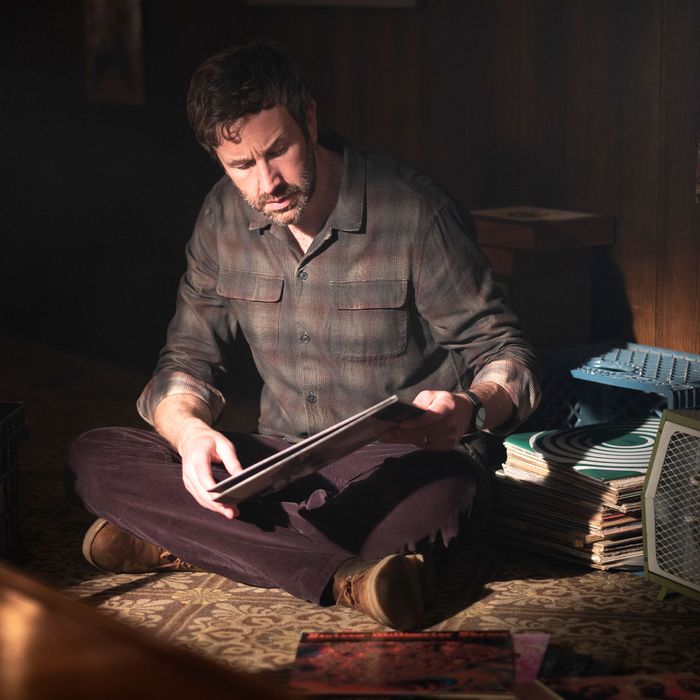 Photo: Robert Falconer/CBS
In Anton Chekhov's much-quoted principle that a gun introduced in the first act should be fired in the second, the choice of a gun could be seen as arbitrary. Chekhov could just have easily used a knife or something other than a weapon. A sealed envelope introduced in the first act must be opened in the second serves the thought just as well. But there's something about a gun that begs to be fired, in art and, too often, in life. It's a device that, with the squeeze of a trigger, can change everything in an instant, and those desperate for change can find it difficult to resist.
The Blue Scorpion, the pistol at the heart of the Twilight Zone episode that bears its name, takes this notion a step further. We're told — first by a never-seen gun dealer, then by an apparition — that a legend has followed it since it was first made in Cuba in 1952. "You don't find it. It finds you." Furthermore, it doesn't like the dark. It's not, in other words, at home in storage. It's a gun to be taken out and used, and it even knows how it wants to be used, arriving in the hands of the seemingly mild-mannered professor Jeff Storck (Chris O'Dowd) complete with a bullet with a name on it. His name.
That's even more troubling than the circumstances by which the gun came his way. Jeff found it after discovering the body of his father, a gun-hating '60s-era musician whom he never suspected of having suicidal impulses. At his lakeside funeral, Jeff seems even more puzzled, wondering what in his life "did it not turn out as he wanted." As for Jeff's own life, that's got its own problems. He wants to go to couples counseling, but his wife, Anne (Amy Landecker), just wants a divorce. As the episode opens, he's moved out, leaving him plenty of time to hang out in his late father's house, get high, and wonder what to do next — thoughts that start to take focus when the police return the Blue Scorpion to him.
Written by Glenn Morgan and directed by Craig William Macneill (Lizzie, Channel Zero), "The Blue Scorpion" lets a lot of ideas float around over the course of its 40 minutes, but it never finds a way to give them a cohesive shape. Once in possession of the gun and the bullet, Jeff encounters one Jeff after another, a coincidence that doesn't really strike anyone else as all that strange. He meets with a grad student who feels compelled to change the subject of her thesis since her study of animism seems to have led her to become fixated on the idea that her own possessions have personalities and need her to care for them. At one point, Jeff tries to fire the bullet — to no avail, but he does find he likes the feel of the gun in his hand.
Morgan and Macneill fill the episode with allusions to Taxi Driver; Jeff starts monologuing while alone (including quotes from Dirty Harry's most famous speech) and, in the climax, sits outside Anne's house and seems to contemplate putting a bullet in her new lover (also named Jeff), like Martin Scorsese's own character in that film. (The epilogue, in which Jeff is lauded as a hero, has Taxi Driver echoes, too.) Fate has other plans for Anne's lover, however, and for the Jeff with the gun. The bullet ends up in the body of a home invader — another Jeff — referenced in an early scene. (At the very least, Morgan's script follows the dictates of Chekhov's principle.) The Blue Scorpion has claimed its Jeff, and maybe it could have been any Jeff, be it the gun-shy professor who never wanted it, the lover who took his place, or some rando Jeff on the street. Now both the gun and Jeff can move on, though for the Blue Scorpion, moving on seems to mean repeating the same story with different owners. After Jeff throws it in a lake, it ends up in the hands of a couple of kids, one of whom bears the name of the bullet that accompanies it: "Kyle."
Cue Jordan Peele's narrator: "As long as objects are valued more than lives, tragedy will forever be manufactured, here, in the Twilight Zone." Which … sure. But it seems unlikely that anyone not going into "The Blue Scorpion" with misgivings about guns in general will leave it feeling that's what the preceding episode suggested, or suggested all that strongly. The gun at its center seems like a particularly cursed object, too cursed to stand in for what all guns do. And though the Blue Scorpion becomes a focus for Jeff's anger and disappointment no matter how hard he tries to get rid of it (at least at first), those feelings always seem amplified by the gun itself. O'Dowd's fine as Jeff, but Jeff's unraveling seems out of his control. The episode plays like the protagonist is being dragged into darkness he would have otherwise avoided thanks to a run-in with the supernatural. Any sort of connection to toxic attitudes or commentary on guns as a whole seems purely coincidental and, as a result, the episode lands not with a bang but a shrug. Where episodes like last week's "Point of Origin" risk laying its point on too thick, this one feels too timid to have much of a point at all.
Light and Shadows
• That looks like the same Canadian lake we saw Adam Scott wash up on in "Nightmare at 30,000 Feet," doesn't it?
• That poor kid with a dad who prefers Limp Bizkit to Kendrick Lamar. Really, pity a kid whose dad prefers Limp Bizkit to anyone.
• At his dad's funeral, Jeff references his playing the Havana Jam in 1979, a real concert that included Kris Kristofferson, Billy Joel, Stephen Stills, and others. I watched twice, and O'Dowd definitely pronounces Stephen Stills as "Stephen Styles." Is this the Irish pronunciation for some reason, or does he just get it wrong?