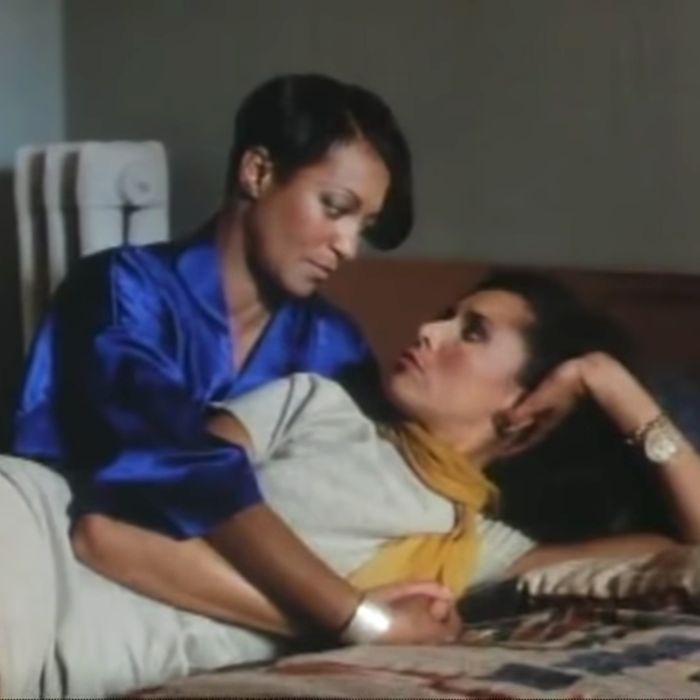 On March 20, 1989, the Oprah Winfrey–produced miniseries The Women of Brewster Place gave American television its first black lesbian couple. Already introduced the night before to the stories of Mattie Michael (Winfrey), Etta Mae (Jackée Harry), Ciel (Lynn Whitfield), and Kiswana (Robin Givens) — four black women who end up at a tenement on dead-end Brewster Place as a last resort — about 49 million people tuned in to see the end of their saga. Moments into that two-hour episode, Mattie, Etta Mae, and neighborhood gossip Miss Sophie (the late Olivia Cole), are sitting on a stoop when they spot their new neighbors, Theresa (Paula Kelly) and Lorraine (Lonette McKee), laughing together, arm in arm, as they make their way home from the bus stop. Miss Sophie, mouth agape, suddenly realizes what makes them so different. "So that's it!" she says. "They're … you know, that way!"
Today, black gay representation on television remains scarce, but is no longer as rare, or sensationalized, as it was decades ago. But that The Women of Brewster Place, which cracked open the door to sympathetic portrayals of black gay women, turned 30 this year is a testament to TV's long, slow progression to this point.
Based on Gloria Naylor's 1982 debut novel of the same name, Brewster was the first television program produced by Winfrey's Harpo Studios. Even aside from Theresa and Lorraine's relationship story line, its nuanced representation of black women was a television first — which presented a challenge in getting the show to air. Winfrey told media outlets around the time of Brewster's premiere that all three of the major networks passed on the series. "They said it was too womanish," she told People in 1988. It wasn't until she personally pitched ABC executives with Naylor's book that she won them over: "I passed them around and said, 'Look, I know you are very wise and perceptive men, and the only reason you have turned down this project is because you haven't read the book. You could not read it and turn it down. I'll be calling by Tuesday to see who's read it.' We're going to have a book report, fellas."
When Brewster finally aired over those two nights in March 1989, it offered a new model of telling black women's stories on television. "What made this particular miniseries so unique was that it brought together a dynamic ensemble cast showcasing this really powerful story about the complexities of black womanhood," says Imani Cheers, author of the book The Evolution of Black Women in Television: Mammies, Matriarchs and Mistresses. "For a long time the representations we had seen were mothers, wives, students. But to see these women living their lives in unique and complex ways and dealing with everything from sexual assault and abuse to poverty to just a variety of different issues [was something that] that we didn't see on television at the time."
This is especially true in the case of Lorraine and Theresa's romantic relationship. Following the story laid out in the novel, the couple lives at Brewster Place because Lorraine fears being outed and shunned. Theresa, meanwhile, has no desire to assimilate with straight culture and resents Lorraine's internalized homophobia. Soon, all the neighbors at Brewster Place learn they are gay, courtesy of Miss Sophie, who correctly guesses and spreads her assumption after seeing the two walk arm in arm. Kiswana and Etta Mae step up to defend the two against taunts and threats from Miss Sophie and the neighborhood gang. Overall, however, the lesbians remain outcasts, leading Lorraine to befriend a fellow Brewster Place pariah, Ben, the handyman and neighborhood drunk.
"This was the first time to show black lesbians and love in particular, but also the way in which lesbians were shunned in black communities," says Cheers. "At the very end, there's a level of acceptance and appreciation for the couple that was powerful because we hadn't had an opportunity to witness that on TV before."
In the final hour of the miniseries, Mattie is doing Etta Mae's hair, itself an intimate act, as they try to work out the difference between the love they share and the love between Lorraine and Theresa. "I love some women deeper than I could love any man," Mattie tells Etta Mae, who then insists their friendship is different from queer love. "Maybe that's why some women get so riled up about it. 'Cause they know deep down inside it ain't no different at all. Kind of give you a funny feeling when you think about it like that, though," Mattie responds. Etta Mae says, "Yeah, I guess it does," as Mattie continues to do her hair. The scene is a tender comment on love between women, left to stand without the punctuation of homophobic comedy or condemnation.
Nevertheless, Lorraine and Theresa's story isn't a happy one. Near the show's end, as the neighborhood enjoys a block party, a member of the local gang attacks and rapes Lorraine, leaving her in an alley outside the tenement. Ben discovers Lorraine there later, attempting to approach and help her. But then, in Brewster's most melodramatic moment, Lorraine perceives Ben as a threat and beats him with a two-by-four until he is unconscious and bleeding. This event that serves as the impetus for Brewster's dramatic final scene: The women, led by Mattie, take to the wall blocking off their neighborhood and attempt to tear it down as a cleansing rain drenches them. Lorraine and Theresa, meanwhile, are on their way to the hospital in the back of an ambulance. It's the last we see of them.
After Brewster aired, several reviewers noted the sympathetic portrayal of the lesbian couple. But responses were generally mixed, with many critics (as well as the NAACP), decrying its portrayal of men. "The film could be subtitled, without too much exaggeration, 'Revenge of the Black Female,'" wrote New York Times critic John J. O'Connor. "Were the sexes reversed in this production, and the women presented with the same universal evilness as the men, various feminist groups would be storming ABC headquarters, crying sexist foul play," declared Daniel Ruth in a Chicago Sun-Times review. More than one connected the sympathetic portrayal of gay women with the miniseries' supposed misandrist theme. "Indeed, in the long, sensitive portrayal of the lesbian relationship," Dorothy Gilliam concluded for the Washington Post, "the message seemed to be that the best women don't even deal with men." Criticism even came from McKee herself, who said the beating scene was "indicative of the way society looks at lesbians" and "reflect[ed] the network's own obvious discrimination against gays." (When contacted recently, McKee declined to be interviewed.)
Looking back on those responses, Brewster director Donna Deitch sees a broader cultural problem. "There's so much dominant male presence in the culture," she says, "that the absence of the presence can feel to a lot of people to be a negative thing in and of itself."
Winfrey tapped Deitch, who is white, to direct the miniseries after watching her groundbreaking independent lesbian film Desert Hearts. Brewster was Deitch's first television production and first time directing for hire, and she says the adjustment from indie filmmaking to network television was a surprising one. "When I first met [ABC's Broadcast Standards and Practices Department], they said, 'We love your movie Desert Hearts, but just so you know Donna, no saliva,'" she says. "If that were now, it'd be really different. For instance, I did a lesbian love scene in Grey's Anatomy [in 2010]. Although that was also ABC and many years later, things have loosened up quite a bit."
In a sign of the times in the late '80s, even Oprah felt moved to hedge her comments about how much she enjoyed working on the project. "I don't know how to phrase it so it doesn't appear that I'm a lesbian," she told reporters, referring to a widespread tabloid rumor that her friendship with Gayle King was actually a lesbian relationship. "But I really do enjoy working with women … I felt as good working on this as I did when I was working on The Color Purple, and I've never felt better in my life than I did then." Today, when rumors of being gay are a boon to some careers, it's hard to imagine Oprah having the same "no homo" preface.
Though mainstream conversation around Brewster circa 1989 rarely remarked on Lorraine and Theresa as trailblazing characters, their roles were no small accomplishment. In the rare moments when gay characters appeared on television in the '80s, they got most of their screen time as peripheral guest characters in AIDS crisis story lines. Positive portrayals, meanwhile, could prove a gamble for networks: A few months after Brewster premiered, ABC reportedly lost $500,000 in advertising following a thirtysomething episode that featured a gay couple in bed the morning after they had sex. At the same time, gay activists mobilized to hold media companies accountable for disseminating homophobic content. Part of that effort included GLAAD's inaugural media awards honoring productions that presented "fair, accurate, and inclusive representations" of gay, lesbian, bisexual, and transgender people. In 1990, The Women of Brewster Place won the first award for Outstanding Television Mini-Series.
In the 30 years since Brewster first aired, it has joined the African-American television canon for its revolutionary depiction of black women, though its part in queer television history often remains overlooked. Nevertheless, it was the first in a long trickle of TV stories about black queer women, including the short-lived CBS procedural Courthouse (starring Jenifer Lewis as a newly-out gay judge and Cree Summer as her partner); HBO's critical darling The Wire (starring Sonja Sohn as lesbian police detective Kima Greggs); and Showtime's hit drama The L Word (starring Jennifer Beals as mixed-race character Bette Porter, and in later seasons, Rose Rollins as Tasha Williams).
Last year, GLAAD reported that prime-time television had hit record numbers of LGBTQ representation, particularly for people of color — marks higher than any year since GLAAD began keeping track of demographics of all series regulars in 2005. Queer black and brown women are main characters across the new digital landscape, from web series like Brown Girls to long-running streaming sensations like Orange Is the New Black, though they remain a small fraction of the whole. "There is this acceptance and understanding of lesbians truly as people and not these pariahs — just like other GLBTQIA members of the community who are now allowed to see themselves," says Imani Cheers.
Those changes are perhaps best seen in the response to Master of None's "Thanksgiving" episode, which brought an intimate, tender portrayal of a black lesbian to the pop-culture forefront in late 2017. Star Lena Waithe won an Emmy for writing the episode, becoming the first black woman ever to do so. She counts Brewster, which she owns on DVD, as an important influence. "To me it's an iconic movie. It represents a moment in time," Waithe wrote in an email to Vulture. "It represents how black women can turn their pain into unbridled joy. It's about how black women must always lean on each other, check each other, and hold each other accountable. We need each other to break free of the chains the world uses to hold us down."
Though you can't watch Brewster on Netflix or Hulu (for now), the impact it had on audiences remains, whether they watched it live back in the day, discovered it years later airing on BET, or even rented a digital copy online. Deitch remembers being asked a surprising question by younger staff members while directing an episode of the Winfrey-produced series Greenleaf in 2016. "These women who were in their early 20s and 30s were saying, 'I heard you directed The Women of Brewster Place. Did you direct that?'" she recalls. "These were mostly black women, and they were telling me these stories of how their mothers or aunties would sit them down in 1988 to watch The Women of Brewster Place." It was the first time the director had ever heard directly from viewers about how one of her television works had affected them.
Three decades since its premiere, a generation exists for whom Brewster had an undeniable impact. Miss Sophie may have sneered seeing Theresa and Lorraine for the first time, walking happily arm in arm. Also watching, however, were an untold number of black girls who instead saw a vision of themselves.