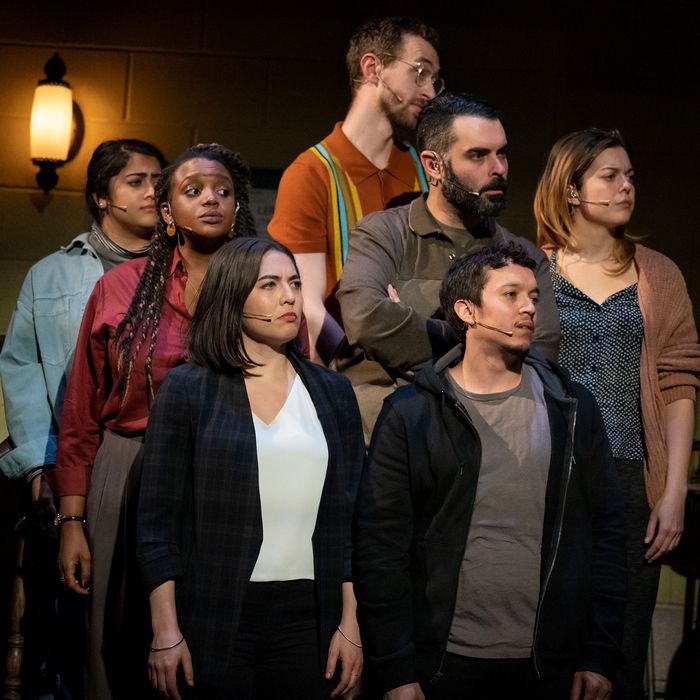 From
Octet
at the Signature Center.
Photo: Joan Marcus
Dave Malloy's extraordinary new chamber-choir musical Octet uses a simple structure to go spelunking into a complex, ominous, continuously exquisite series of caves. He's taking on the never-sleeping, ever-proliferating "monster" that is the internet, with its infinite rabbit holes and terrifying back alleys, and his nimble, humane investigation into the "addiction, obsession, insomnia, depression … isolation, anxiety," and — despite it all — possibility of that vast virtual country feels both playful and intensely personal. Malloy himself was at the center of an online rage-storm back in 2017 when his musical Natasha, Pierre & the Great Comet of 1812 — a scrappy downtown darling turned Broadway cult favorite — made some controversial casting choices in the face of low ticket sales. Two years later, one of the many exhilarating aspects of Octet is that it shows an artist making lemonade, turning painful experience into intricate, gorgeous music.
At Signature Center, the Romulus Linney Courtyard Theatre has been transformed by scenic designers Amy Rubin and Brittany Vasta into a dowdy church basement, complete with folding chairs and old wood-inlay floor, fluorescent lights and earnest homemade flyers. The show's eight performers are members of an internet-addiction support group called the Friends of Saul. Saul himself is an enigma. He's not present at the group's meeting (perhaps he never is), but he's assembled his choir by reaching out through the tendrils of the web, and they're gathered together to cope with their dependence through song. The play is built around a series of hymns and "shares," as members of the group step forward to give us a window into their own particular relationship with the limitless, brain-chemistry-altering technology they all refer to, with shivers of fear and reverence, as "the Monster." Malloy gives his play a chilling epigraph from Sophocles' Antigone: "Nothing vast enters the lives of mortals without a curse." And the stakes are truly that high. The marvelous actor-singers of Octet feel like tentative, searching acolytes — fragile little animals in the grip of a great god of their own creation, seeking a way out of a toxic kind of worship.
There's Jessica (Margo Seibert), who spiraled into an online abyss after becoming an object of viral loathing. "You've all seen my 'white woman goes crazy' video," she says to the group, her eyes exhausted and flickering with mania during the haunting, nervy "Refresh." And there's outwardly personable, inwardly crippled Henry (Alex Gibson), whose bouncing, musically upbeat confession that "All the games I like have candy in them!" goes from hilarious to piteously disturbing. Hard-edged Karly (Kim Blanck) and dour, hulking Ed (Adam Bashian) are both lost in the murky, violence-tinged corridors of online dating and pornography, and their paradoxical duet of isolation ("Solo") is genuinely hair-raising, sinister and deeply sad without becoming sentimental. Meanwhile, neurochemist Marvin (J.D. Mollison) and cynical, normie-despising serial commenter Toby (Justin Gregory Lopez) are caught up in infinite — and infinitely shadowy—theoretical wormholes that function like ideological Chinese finger-traps: The harder you pull, the tighter you're stuck. Paula (Starr Busby) leads the group with soothing equanimity, but she's tortured by the constant "stale, pale glow" of screens that separate her from her husband, and newcomer Velma (Kuhoo Verma) looks on wide-eyed: "Like, I just want to be a good person, you know?" she chatters nervously to Henry, in the wake of a giant info-dump about her current online obsessions, in particular, Tarot and "the spirituality community."
Velma's Tarot and countless other informational tidbits influence the structure and content of the play: Every song corresponds with one of the Major Arcana, and Malloy has an author's note that lists inspirations from John Cage, Richard Dawkins, and The Matrix to Black Mirror, Meredith Monk, and Candy Crush. One might expect a musical about the dangers of constant content to take a more austere route, but Octet's embrace and sly manipulation of information overload is in fact brilliantly exhilarating. "I am not a fucking Luddite / Or a cracked Illuminati / Or a stubborn crazy codger," the ensemble sings, "I am sane / And I am telling you, the Monster is real / And we are in trouble." It's Malloy's use of pure human voices — no instrumentation save the occasional pitch pipe or piece of found-object percussion — that feels like the play's real analogue revolution. The Monster might be boundless, Octet seems to say, but so is this strange, small machine called the body, and whatever inexplicable fire of consciousness burns inside it. "I am awake," the actors sing near the play's end, in a hymn that echoes the poet Rumi. "All the world is within me."
Under Annie Tippe's agile, imaginative direction — which darts vividly in and out of the reality of the church basement — every one of the show's actors is balancing a full, many-shaded character with a masterful musical performance, both as a soloist and within the goose-bump-inducing vocal blend of the ensemble. (The expert music direction is by Or Matias.) Malloy's shifting, intertwining songs expand and contract like a Hoberman sphere, now meticulous and crystalline, now swelling with strata of glistening harmonies. And every voice is distinctive: There are no standard pop whines or Broadway belts here. Busby's resonant, mournful tone with its slight sharp edge gives an irresistible pathos to "Glow," and both Gibson and Bashian bolster up the group with bass lines that range from amusingly buoyant to downright threatening. Verma — an endlessly watchable performer with huge, shifting eyes and a quiet, aching vulnerability — effortlessly carries the play's emotional climax with the shy, stirring "Beautiful." She is the tiny, radiant creature at the bottom of Pandora's box.
Octet is that rare and thrilling thing: a new musical that really does feel new. Formally, it's both unique and invigorating — and it's rigorous and straightforward enough in its structure for its ideas to spiral into rich, dense fractals. In the face of a virtual world where "there's no coming back / No rehabilitation / No nuance / Just noise," it takes a bravely unequivocal yet generous stand. It sings of darkness, blindness, and fear, but it sings also of complexity, connection, redemption, and hope.
Octet is at the Signature Center through June 23. Buy tickets here.
*A version of this article appears in the May 27, 2019, issue of New York Magazine. Subscribe Now!