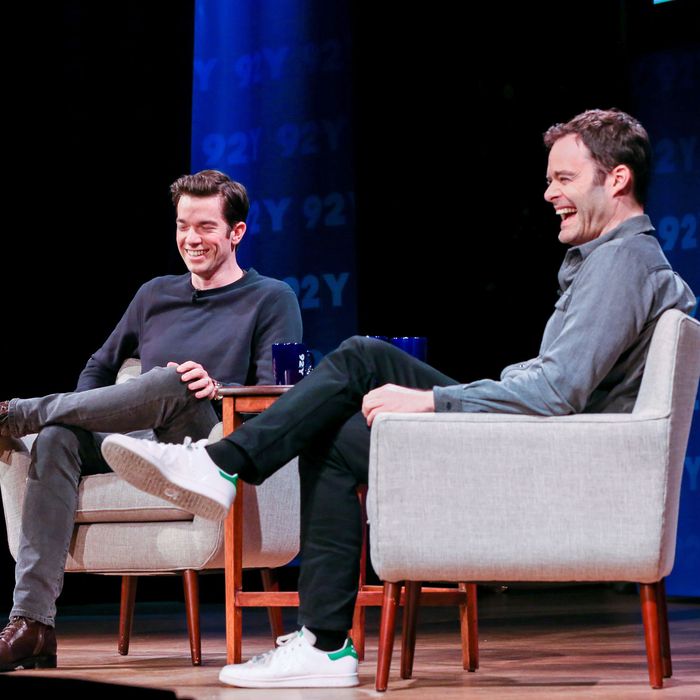 Photo: Maricela MaganaPhotography/Michael Priest
The comedy podcast universe is ever expanding, not unlike the universe universe. We're here to make it a bit smaller, a bit more manageable. There are a lot of great shows and each one has a lot of great episodes, so we want to highlight the exceptional, the noteworthy. Each week, our crack team of podcast enthusiasts and specialists and especially enthusiastic people will pick their favorites. We hope to have your ears permanently plugged with the best in aural comedy.
The Underculture With James Adomian — Sebastian Gorka and Ayn Rand (With Heather Anne Campbell)
Over the last decade, James Adomian has brought chaos to podcasts as varied as Comedy Bang! Bang! and Chapo Trap House with his manic impressions of public figures like Paul Giamatti, Bernie Sanders, Huell Howser, and Tom Leykis. Yet somehow, there was never a podcast of his own to bring his plug bag's worth of politicians, esteemed actors, and war criminals together until the debut of The Underculture this month. On this week's episode, Adomian's guest is the equally versatile Heather Anne Campbell (The Twilight Zone, Corporate, Whose Line Is It Anyway?) as Atlas Shrugged author Ayn Rand to chat with Adomian's crazed (but not at all exaggerated) Sebastian Gorka. The two pseudo-intellectuals discuss favorite topics among hardened individualists like Captain Sully, real-time strategy PC games, and how Michael Jackson's "Man in the Mirror" is an objectivist ballad. Some character-based podcasts can lag at times, but The Underculture never does, as Adomian is wise enough to pepper his main segment with bits from megachurch pastor Joel Olsteen, President John F. Kennedy, Slovene philosopher Slavoj Žižek, and an out-of-character interview with Campbell. —Pablo Goldstein
Listen: Spotify | Apple | Website
This Is Branchburg — Everybody Wants to See My Teeth 
Welcome to Branchburg, a small town in New Jersey that "has many stories to tell, whether you'd like to hear them or not." Created by comedians Brendan O'Hare and Cory Snearowski, This Is Branchburg shares the ridiculous slice-of-life stories of its namesake's captivating characters. From an overzealous principal who siphons school resources to fund a personal motorcade to an unassuming proprietor of a tie-tying shop, This Is Branchburg is a bit Northern Exposure meets Twin Peaks — an earnestly charming base with a surreal topping. The podcast is a perfect fit for Abso Lutely Productions, which is run by Tim (Heidecker) & Eric (Wareheim) and Dave Kneebone, all of whom have a marked appreciation for goofier comedy. Drawing from real life before adding a layer of absurdity, it hits its punch lines in a subtle yet effective way. Take, for example, the bit behind this week's title. As a man repeatedly chants, "Everybody wants to see my teeth!" at full volume, a father tells his annoyed child that they cannot shoot the man to make him stop. He then reasons with the child, "Whether we like it or not he has a right to say that everybody wants to see his teeth." True. Tune in to meet more of Branchburg's most excellent citizens. —Becca James
Only on Luminary
Original podcasts with original ideas for original people. Check out our free trial and start listening to can't-miss shows you won't find anywhere else.
92Y Talks — Bill Hader (With John Mulaney)
Tuning in to this week's 92Y Talks podcast, you'll hear Bill Hader (Barry writer, director, and star) and John Mulaney (Barry superfan) have a spoiler-filled discussion about the highly praised season-two finale of — you guessed it — HBO's Barry. But it might be most enjoyable for people who've never even seen the show. For one thing, those spoilers are moot, and for another, Hader and Mulaney spend most of their time on mic spinning off into Casey Kasem voices at the slightest suggestion. These are two people who know each other so well from years of writing together at SNL that their conversations with each other are borderline incomprehensible to a third party, which is fun. When he's not raving about acting opposite Bob Odenkirk's trainer, Hader's phone is buzzing with unicorn emoji texts from his three daughters. Also, Mulaney just saw Eliot Spitzer at a Knicks game. If you don't mind two of the all-time great muggers who sound like they're doing a lot of mugging you'll never get to see (podcasting is an audio
medium) then this episode is otherwise a delight. —Kate Doyle
With a Pencil — John Wick: Chapter 3 — Parabellum (With Oz Rodriguez and Jamil Smith)
Lost in last week's flood of Game of Thrones series recaps was coverage of the latest installment in another stabby franchise: John Wick: Chapter 3 — Parabellum. Twitter's No. 1 hype man, Shea Serrano (The Rap Year Book) has done the heavy lifting all by himself on With a Pencil. Oz Rodriguez (SNL) and Jamil Smith (Rolling Stone) join forces to discuss all things Parabellum. And yes, a movie where a man rides a horse through Brooklyn while being chased by motorcycling swordsmen definitely warrants an in-depth discussion. They go over the film's best cameos, which include podcast icon Jason Mantzoukas as "Tick Tock Man" and seven-foot-three Sixers center Boban Marjanovic as "Ernest." They also answer the question "What was the hardest part to watch?" — an impossible debate in a movie where Halle Berry commands two attack dogs to tear many dudes to pieces. The three action-movie diehards are quick to point out all the grisly deaths of the '80s that walked so John Wick could run. As this six-episode miniseries draws to a close, listeners are armed for whatever the hilarious and thoughtful Serrano has up his sleeve next. —Mark Kramer
Listen: Spotify | Apple | Website
Conan O'Brien Needs a Friend — Bob Newhart
Bob Newhart is a comic who started in an audio medium, when he put out his first comedy album, The Button-Down Mind of Bob Newhart in 1960. (Although it was recorded in a nightclub — the Tidelands Club in Houston, Texas — Newhart hadn't really done a lot of work in front of a live crowd at that point.) Now, almost 60 years later, he's behind the microphone on the newest of audio mediums, guesting on Conan O'Brien needs a friend. As Newhart explains in the first few minutes of his visit, that record went to No. 1 on the Billboard pop-album chart, and took Album of the Year and Best New Artist. O'Brien handles his hosting duties well, considering he's face-to-face with one of his comedy idols, which is what makes the ensuing hour so funny when Newhart starts taking comedic potshots at O'Brien. (It probably doesn't help that they bring up the topic of the late Don Rickles, a close friend of Newhart's for decades, and it somehow invokes that comedian's famous turn of ripping into anyone and everyone.) Newhart has great stories — about life on the road, life off the road, and life back on the road when his wife insists he go back out after retirement doesn't seem to be agreeing with him. Throughout, O'Brien's mock pain at the barbs flung his way delights his longtime assistant Sona Movsesian to no end. In fact, she laughs harder at her boss being comedically manhandled by the almost 90-year-old Newhart than on any previous episode. —Marc Hershon
Listen: Spotify | Apple | Website
Other Podcasts We're Listening To:
The Bechdel Cast — Paddington 1 and 2 (With Demi Adejuyigbe)
Listen: Spotify | Apple | Website
Girls on Porn — Threesome (With Mickey Mod)
Listen: Spotify | Apple | Website
Dopetown 3000 — Carl Tart
Listen: Spotify | Apple | Website
The SAP — Unapologetically Pro Choice
Listen: Apple | Website
Got a comedy podcast recommendation? Drop us a line at comedypodcasts@vulture.com.