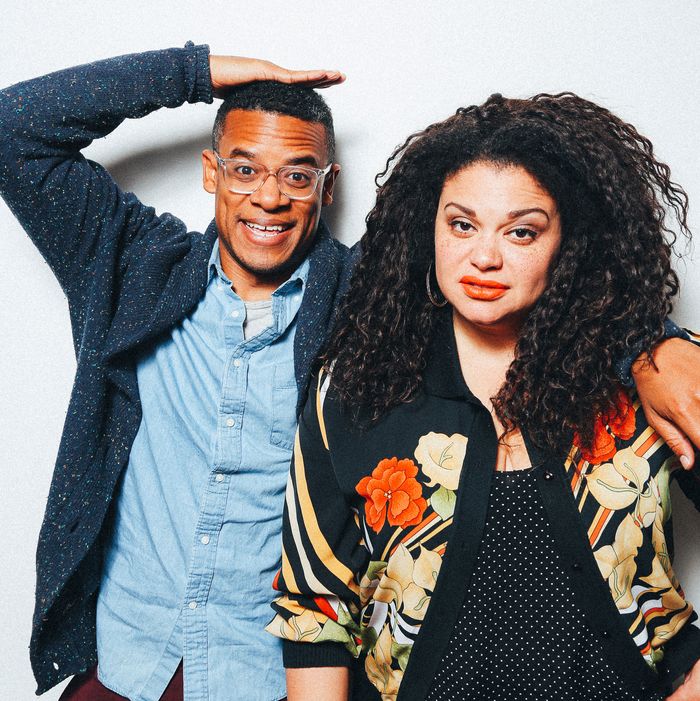 Adulting
's Jordan Carlos and Michelle Buteau.
Photo: Gijs van der Most
The comedy podcast universe is ever expanding, not unlike the universe universe. We're here to make it a bit smaller, a bit more manageable. There are a lot of great shows and each one has a lot of great episodes, so we want to highlight the exceptional, the noteworthy. Each week, our crack team of podcast enthusiasts and specialists and especially enthusiastic people will pick their favorites. We hope to have your ears permanently plugged with the best in aural comedy.
Adulting — What Is an Acceptable Amount of Money to Spend on Pillows? feat. Naomi Ekperigin, Wyatt Cenac and Phoebe Robinson
How doth one be an adult? Hosts Michelle Buteau (First Wives Club) and Jordan Carlos (The Nightly Show) have kids, property, and shit to do. They know how difficult adulting can be, so they're here to figure it out with you. Adulting, like Buteau's undeniably fun podcast Late Night With Michelle Buteau, is recorded in front of a live audience with even more of a communal group-therapy feel. Longtime friends Buteau and Carlos answer audience questions and welcome adulting experts (comedians). Kick off this inaugural episode with these stellar adults: Naomi Ekperigin (Couples Therapy) titles her future memoir Nude and Confused before planning her entire wedding, while Wyatt Cenac (Problem Areas) explains how buying a car is a marker of adulthood … until it's not. Learn from the queen of adulting herself — old-woman-at-heart Phoebe Robinson (2 Dope Queens). She tracks her adulting journey from Nine West pumps to finding love at a U2 concert, then answers questions about relationship pooping etiquette, dating your weed dealer, and, yes, how much to invest in pillows. (Brooklinen, where's that sponsorship?) Grab your baby or your BFF and hit subscribe. After all, isn't it time we all grow up? —Anna Marr
Listen: Spotify | Apple | Website
Larry Wilmore: Black on the Air — Michael Lewis on the Referees You Encounter Outside of Sports
Larry Wilmore's parade of geniuses continues with Michael Lewis (author of Moneyball and The Big Short). Responding to an eventful news week, Wilmore's strong intro shoves back at the GOP's "pro-life" hypocrisy surrounding the latest abortion laws. Though Lewis is not a comedian by any definition, his work and any great piece of comedy share the same goal: to point out the cracks in the structures that hold society together. Here Lewis discusses his findings while working on his new podcast, Against the Rules, about referees that don't necessarily wear striped shirts. Referees like the Consumer Financial Protection Bureau, CEO pay consultants, and the Big Three credit-rating agencies, who (surprise!) aren't as impartial as they're supposed to be. In other areas, like in the art world, referees are doing an okay job. And in sports like the NBA, refs' internal biases have been mostly corrected thanks to technology and increased evaluations. It's fascinating to think about what a de facto referee could do for the comedy world. Cases of joke theft, Twitter beefs, and labor disputes could be hashed out in a rational and decisive manner. One day Larry Wilmore will hold this position and comedy will be better off for it. —Mark Kramer
Listen: Spotify | Apple | Website
Hear what's possible
With its intuitive interface, offline listening, and personalized recommendations, Luminary's free podcast app makes listening to your favorite shows - and discovering new content - even easier. Plus, check out the free trial for Luminary Premium to access dozens of can't-miss originals you can only find on Luminary.
Voyage to the Stars — So Far Beyond Good and Evil, Pt. 1
Much like trying to stay up with the latest TV shows avalanching across broadcast, cable, and streaming sources, the scramble to shove podcasts in our ears as fast as they drop is a never-ending endeavor. Which is why I'm only now catching up to the audio sci-fi comedy treat that is Voyage to the Stars. Voiced by the spot-on cast of Colton Dunn, Felicia Day, Steve Berg, and Janet Varney, this semi-improvised narrative lampoons every science-fiction trope ever troped … and has a great time doing it. In this week's thrilling installment, the alien-built starship's artificial intelligence, A.I. Sorry (Varney), has crunched the numbers and determined the useless meat sacks that comprise the ship's crew are a danger to sentient beings everywhere, and it's her duty to eliminate them for the good of the galaxy. Everyone takes their best shot trying to talk A.I. out of her plans, including guest star Suzy Nakamura as the captain's intern (or "Padawan learner," as the bombastic Captain Tucker insists on referring to her). There are tons of wall-to-wall spoofery going on in this space opera, and it's all played pretty straight, which helps to make the funny a little more funny. Does Varney's misguided A.I. complete her task and snuff the crew? Only time will tell — in another time-honored genre trope, this episode is to be continued … —Marc Hershon
Listen: Spotify | Apple | Website
Hound Tall — Pirates!
Ahoy, Vulture readers! This week on the Hound Tall discussion series, Moshe Kasher cracks open Davy Jones's locker to explore the history of pirates. If the Jolly Roger jargon up top didn't clarify which pirating I'm referring to, know we're talking about buried-treasure pirates, as opposed to the less scary internet pirates of today. To help educate his listeners about the seven seas, Kasher welcomes pirate historian (yes, a real thing) Rebecca Simon and comics Rory Scovel, Jacqueline Novak, and Langston Kerman. Given the topic at hand, it shouldn't be a surprise to anyone that our panel starts making jokes at the expense of real-life Captain Jack Sparrow, Johnny Depp, from the get-go. Without giving away too much, let's just say everyone agrees he can go walk the plank. Although this could have easily been just a riffing session about scallywags and scuttlebutts, Simon does get in some interesting information about the early days of pirating in the Caribbean. Pirate history aside, if you're interested in learning which panelist thinks they may have been a buccaneer in a previous life, give Hound Tale a listen. —Tom Rainey
Listen: Spotify | Apple | Website
Beef and Dairy Network — Too Much Milk? 
Beef and Dairy Network is the self-proclaimed "number one podcast for those involved or just interested in the production of beef animals and dairy herds." Additionally, host Ben Partridge never fails to remind listeners that the podcast is but one asset of a much larger brand, complete with a website, print magazine, and impressive-sounding sponsor. It convincingly seems like a smart trade magazine making a successful go at staying relevant. That is until you get past the introduction. Although the severe and straightforward tone never wavers, the subject matter becomes increasingly surreal. Take this week's episode, for example, which Partridge tells us is "gross" — a rare semi-break from the podcast's iron-clad conceit — before a number of milk enthusiasts share their strange habits surrounding the stuff, and determine whether or not you can have too much milk. Of course, the answer, according to these people, is a resounding no. From Martin, who drinks upwards of 40 liters of milk a day — preferably straight from the teat — to Yvonne, who feeds her newborn massive amounts of milk in hopes of raising an "extra large baby," each guest is ready and willing to go to bat for the moo juice. Tune in for the testimonials, which are increasingly funny the more bizarre they become. —Becca James
Listen: Spotify | Apple | Website
Other Podcasts We're Listening To:
Conan O'Brien Needs a Friend — Howard Stern
Listen: Spotify | Apple | Website
Playing Games With Jimmy Pardo — Jon Hamm
Listen: Spotify | Apple | Website
Movie Night Podcast — Weekend at Bernie's (1989) With Scott Sonne
Listen: Apple | Website
Mall Talk — Sephora With Jackie Johnson
Listen: Spotify | Apple | Website
Got a comedy podcast recommendation? Drop us a line at comedypodcasts@vulture.com.