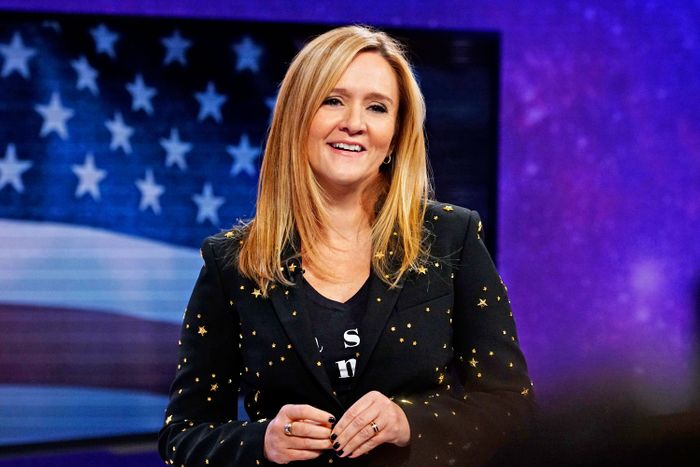 Samantha Bee on
Full Frontal
.
Photo: Myles Aronowitz/TBS
The comedy podcast universe is ever expanding, not unlike the universe universe. We're here to make it a bit smaller, a bit more manageable. There are a lot of great shows and each one has a lot of great episodes, so we want to highlight the exceptional, the noteworthy. Each week, our crack team of podcast enthusiasts and specialists and especially enthusiastic people will pick their favorites. We hope to have your ears permanently plugged with the best in aural comedy.
The Last Laugh — Samantha Bee Is Fearless
On this week's The Last Laugh, Matt Wilstein welcomes comedian and Full Frontal host Samantha Bee to the program. Since leaving The Daily Show in 2015, Bee has been an unstoppable force in the world of late-night television. From putting on her own version of the White House Correspondents' Dinner to having the president of the United States call for her show's cancelation, Bee has been at the center of many global headlines, all of which are discussed here. In looking back at the well-covered Ivanka Trump controversy, Bee shares with us how that moment helped her realize Full Frontal has a voice in the world. In reflecting on going toe-to-toe with the president, Bee admits that his tweets calling for her firing actually made her feel safer in her job security. If canceled, Bee says she was prepared to take her case to the Supreme Court and fight for her First Amendment rights. In shifting gears, Bee talks about Jon Stewart's departure from The Daily Show and the frustrations that came with Comedy Central's lack of interest in considering her as a potential successor. For this and more, don't miss The Last Laugh. —Tom Rainey
Listen: Spotify | Apple | Website
improv4humans — Game of Thrones: Chad Carter, Mookie Blaiklock, Toni Charline, Ali Ghandour, Vic Michaelis, James Mannion
If you managed to avoid Game of Thrones for eight seasons, congrats! You march to the beat of your own drum! If you're one of the approximately 17 million people who watched "The Last of the Starks," a.k.a. the last episode before Dany and GOT fans' collective heel turn, you will love this episode of improv4humans. Matt Besser and his army of talented improvisers survived the Battle of Winterfell and address many of the questions audiences had when watching "The Last of the Starks." For example, is Jon Snow really going to give another boring monologue in front of the funeral pyre? Did Dany bend the knee to Lord Starbucks? Is the current lord of Storm's End actually a woman named Eileen? All of our favorite characters appear, with especially fun renditions of Jon Snow (Mookie Blaiklock), Tyrion (Chad Carter), and the mother of a singular dragon (Toni Charline). Besser even preaches the virtues of Squarespace in character as Bran Stark. If nothing else, the final season of GOT has brought fans this hilarious parody. Similar pop-culture-adjacent episodes of i4h, like the intense "The Purge: Earwolf" and most recently "ENDGAME," have pushed the veteran podcast in new and exciting directions. —Mark Kramer
Listen: Spotify | Apple | Website
Classroom Crush — You Should Kiss My Boyfriend! With Megan Stalter
If the wait for PEN15 season two is feeling interminable, take a listen to Classroom Crush. In each episode, Rebecca Bulnes talks childhood crushes and pubescent schoolyard romances with comedians who came of age shortly after the turn of the century. This week, she has Megan Stalter on to discuss gifted student fights, dating gay friends, and casual vandalism committed by tiny drama kids. After bonding over their shared horniness for Vince Vaughn and the etymology behind "Finstagram" accounts — Finstas are not named after Ice-T's SVU character — the two dive into Stalter's awkward high-school days. Being forced by your older cousin to kiss her boyfriend is a deeply uncomfortable first-kiss story, but coming close on the cringe meter is her first breakup, which was followed hours later by the ex-boyfriend asking if Stalter was still coming over to watch America's Next Top Model. If you can handle the AIM PTSD, Classroom Crush is great adjunct listening while you wait for Anna and Maya to return to Hulu. —Pablo Goldstein
Listen: Spotify | Apple | Website
Off Book: The Improvised Musical — Joel Kim Booster in Summer Stock: The Musical
I can't believe it took them this long, either. Hosts Zach Reino and Jess McKenna, guest Joel Kim Booster (Shrill, Sunnyside), and all theater artists know that summer stock theater exists for two reasons: earning Equity points and losing your virginity to a ghost. Summer Stock: The Musical is all the education you'll ever need about the theater union; you know it's true because they use words like "sitzprobe!" This tale of murder plots, sex, and lighting cues centers on a pivotal production of Our Town at a theater in Ohio. Move over, Dear Evan Hansen — the next hot musical-theater power ballad is here: "Co-Star for Love" ("Don't be the crew of your relationship") is about to be the most overdone audition song, baby! Plus, call me union strong, but Booster's character Emily from Equity is easily my favorite yet on this podcast. Whether you're headed to Kentucky to stage manage your first show or sitting in a freezing office wishing you could be 17 and playing Mama Rose again, Booster will keep you on your toes with choices that truly make this episode so much fun. So, curl up on your Equity cot and listen! —Anna Marr
Listen: Spotify | Apple | Website
Life Is Short — Neil Patrick Harris
Has hosting a podcast become a new symptom of the common midlife crisis? Actor Justin Long just turned 40 and, this week, kicked off his new podcast, Life Is Short. Long always seems to come across as a pretty carefree kind of guy, and this show reflects that. He ponders, "How do we make the most of our short time here on earth?" And the show is his way to "peek inside the heads of real people to learn how they find meaning in life." His first guest is the perennially sunny Neil Patrick Harris, and while we don't really learn anything new about the events in Harris's life through their conversation, he does reveal why he's taken on the roles he has and why he has chosen to look at the world in a positive way. He's also grateful that the world of show business shifted just as the world was getting to know him as teenage doctor Doogie Howser so that the stigma of TV and film actors moving from one medium to the other was not the unspoken no-no it had been for years. He also speaks of the joy his kids and partner bring him, and how they are a source for the most joy he has in his life. But don't leave this review thinking this show is just some saccharin-sweet pabulum — Long and Harris also have some hilarious and off-color exchanges along the way. That mood is helped along by Christian Long, Justin's brother, who is his sort of co-pilot on this ride and who clearly enjoys goading his sibling into some dicey conversation channels. —Marc Hershon
Listen: Spotify | Apple | Website
Other Podcasts We're Listening To:
The Need to Fail — Michael Hartney
Listen: Spotify | Apple | Website
How Cum — Ramy & Remy (Ramy Youssef)
Listen: Spotify | Apple | Website
The Underculture With James Adomian — Chris Matthews and Alexandria Ocasio-Cortez With Alyssa Limperis
Listen: Spotify | Apple | Website
The Parrothead Podcast — New Parrothead How-To's With Jessica Jardine and Tim Kalpakis
Listen: Spotify | Apple | Website
Stop/Rewind — A Ramy-dan Special
Listen: Spotify | Apple | Website
Got a comedy podcast recommendation? Drop us a line at comedypodcasts@vulture.com.