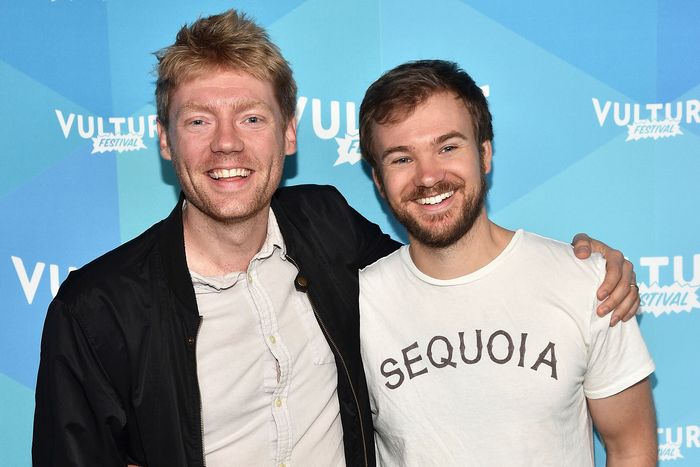 Photo: Bryan Bedder/Getty Images
The comedy podcast universe is ever expanding, not unlike the universe universe. We're here to make it a bit smaller, a bit more manageable. There are a lot of great shows and each one has a lot of great episodes, so we want to highlight the exceptional, the noteworthy. Each week, our crack team of podcast enthusiasts and specialists and especially enthusiastic people will pick their favorites. We hope to have your ears permanently plugged with the best in aural comedy.
Hollywood Handbook: Pro Version — The 11 Hour Pro Version
The Boys' lofty goal to record an 11-hour-long episode "for no particular reason" confused and thrilled fans when it dropped into the premium-podcast feed this week but, as always, the premise is the last thing on Hayes's and Sean's minds. Hayes starts by musing that, as he gets older, he often needs to eat, drink, and sleep multiple times a day. This relatable tangent leads them to sending chef Kevin out on a complex food order for their marathon recording and the rumblings of a debate about whether or not a smoothie can be considered dessert. Sean expresses his strong belief that everyone needs to pay to see Sonic the Hedgehog now that Paramount "listened to the fans telling them it fucking sucks shit," and they present their ideas for a redesign — brown (Sean's favorite color), subtly well-endowed, wearing Carhartt overalls and Timbs or Doc Martens. And then they fall asleep. Just for a minute. Enterprising members of the Scoop Troop are still working to uncover all of the "lil treats" scattered throughout the remaining ten and a half hours, which are soundtracked by engineer Ryan's infamous ambient drone music the Boys have always razzed him about, but so far it's been a gift that keeps on giving. And it has nothing to do with Comedy Bang! Bang! —Noah Jacobs
Listen: Website
The Jeselnik and Rosenthal Vanity Project — Fire in the Maternity Ward Special Extravaganza
It's all been leading up to this for stand-up comedian Anthony Jeselnik and NFL expert Gregg Rosenthal: Jeselnik's magnum opus, Fire in the Maternity Ward, has finally been released on Netflix. To celebrate, Rosenthal dedicates a whole episode (instead of most of an episode) to celebrating his best friend. Gregg and producer Erica Tamposi alternate between playing sweet messages of congratulations from people in Anthony's life, like his college roommate and his brother's girlfriend, and asking serious questions about the years of work that went into this new hour-long special. In most JRVP episodes, Erica uses eclectic music selections from her personal library, but for this special event she uses recorded clips of Gregg's 7-year-old daughter (and Anthony's goddaughter) Ellis reading excerpts from a glowing profile of the comedian in the New York Times. You can't deny it: This shit is cute as hell. Comics and critics alike are quick to humanize Anthony Jeselnik, insisting he is actually a nice man who wouldn't really throw a party celebrating a shark attack, but if you need definitive proof, check out this warm and fuzzy episode of JRVP (which, of course, still covers abortion and murder-suicide). —Kate Doyle 
Listen: Spotify | Apple | Website
Sooo Many White Guys — Phoebe and Reese Witherspoon Vote for Themselves
Phoebe Robinson's fourth season of Sooo Many White Guys continues to be an engaging and encouraging space as Robinson champions artists from various walks of life — just not white dudes. This week, Reese Witherspoon stops in for a frank and fun conversation about business, pleasure, and the beautiful thing that can happen when the two intersect. Both women are delightfully forthcoming about their experiences working in industries, from filmmaking to publishing, that are dominated by white men. Witherspoon speaks passionately about the disparities surrounding race and gender with both personal anecdotes and statistical support. Issues like the gender pay gap in Hollywood, however, are balanced with comical tales from Witherspoon's decades-spanning career. These stories include the time she had to park Denzel Washington's Porsche while she was an intern. It did not go well, and he has not forgotten. Punch lines like this paired with anything that follows a request from Witherspoon for "real talk" make the episode relatable, even when the host and guest speak about meeting Michelle Obama. Add to that producer Joanna Solotaroff's consistent comedy chops in the intro and outro, and the podcast remains a welcome respite from so many white guys. —Becca James
Listen: Spotify | Apple | Website
My First Time — Dating
Storytelling podcasts have long been a staple of the medium, but I always enjoy finding new ones that are fun and funny. Bonus when the stories are told live in front of a large crowd, such as the latest drop from My First Time. Run by Groundlings-trained hosts Colleen Smith and Mary Jo Smith ("No relation!" they shout in unison at the top of the show), their guest storytellers tend to run with the improv, sketch, and stand-up comedian crowd, which not only makes for awkward and funny tales, but an ongoing comic commentary and sniping session from the others on the lineup. The story theme is the title of the show, and the latest episode is all about first dates. What constitutes a first date is interpreted differently by each performer, so there's a wide degree of experiences to relate, starting with the two hosts wading in to break the ice with their own first-time dating experiences. Alex Enriquez steps up next and unpacks the story of his first date with the woman who is now his fiancée. Teeing himself as a doofus royal, his tale includes starting out meeting at one bar, then calling a Lyft to go to another … that turned out to be 60 yards down the street. Kimrie Lewis turns back the hands of time to her college days with a fantastically funny story of being stood up for a Valentine's Day dinner date (with a guy she had just met) and proceeding to get so stoned that she thought she saw Osama bin Laden sitting on the other bed in her dorm. Jeff Galante brings it home with a brutally surreal narrative involving an OKCupid hookup that involved him getting pummeled in bed and then being dressed up as Mr. Peanut to go pay a visit to the young lady's ex-boyfriend's house. My first time listening to this show will definitely not be my last. —Marc Hershon
Hampton High — Mr. McKelvy, My Dad With Austin Pendleton
What if Marc Maron did his WTF podcast as a 16-year-old? Well, we sort of have that answer in the form of Judd Apatow's high-school interviews with Jerry Seinfeld and other comics. So let me rephrase the question: What if a teenage Maron was interviewing the students and staff of his high school? That's the simple premise of Hampton High, a semi-improvised podcast that ended its 50-episode run this week. While previous episodes had host Hampton McKelvey (Tim Platt) interview people like "the theater kid," "the freshman who met Adam Driver," or "the woman who owns the house next to the baseball field and won't give back the baseballs," for the final episode he interviews his contemptuous father, played by actor-playwright Austin Pendleton. And like in real WTF episodes that feature Maron talking about his manic-depressive, Fox News–watching dad, things get darkly comedic very fast. It's a good thing Hampton isn't a real student because "the kid whose dad admitted he has a love child on his podcast" is right up there with "the kid who shit his pants" on the list of things you don't want to be remembered for in high school. For fans of character-based podcasts and NYC comedians, the archive of Hampton High includes episodes featuring some of the East Coast's best performers, including Catherine Cohen, Carmen Christopher, Gary Richardson, and Cole Escola. —Pablo Goldstein
Listen: Spotify | Apple | Website
Minor Adventures With Topher Grace — Chelsea Peretti Takes the Myers-Briggs Type Indicator
These days, it feels like we've been saying "These days, everyone has a podcast" since forever. So it only makes sense that Topher Grace — yes, you know the one — has a podcast, too. Every week on Minor Adventures, Grace and a guest go on what he calls a mini-adventure together. So far, he's done things like taken a lie detector test, officiated a wedding, and written a pop song. And this week, he's with Chelsea Peretti taking a Myers-Briggs test, the classic personality test that helps you get a better understanding of how you interact with the world. Their tour guide leading the way is an expert career counselor who breaks down the components of the test, asking them questions about how they gather energy, process their feelings, take in information, and make decisions. As the adventure progresses, Peretti and Grace find that they're opposites at every step along the journey. Aside from the funny commentary and insightful moments of self-discovery from both throughout the test, listeners can walk away having learned a lot about the components of the test they can apply to their own lives and, hopefully, get a better understanding of their own personality and way of interacting with the world. Comedy with a purpose! —Leigh Cesiro
Other Podcasts We're Listening To:
R U Talkin' R.E.M. RE: ME? — Time Crisis Crossover With Ezra Koenig and Jake Longstreth
Listen: Spotify | Apple | Website
Pop Culture Happy Hour — Popstar: Never Stop Stopping and Comedies About Music
Listen: Spotify | Apple | Website
The Sporkful — Comic Phoebe Robinson Stress Eats Vegetables
Listen: Spotify | Apple | Website
Good One — Catherine Cohen's Dreams
Listen: Spotify | Apple | Website
Got a comedy podcast recommendation? Drop us a line at comedypodcasts@vulture.com.