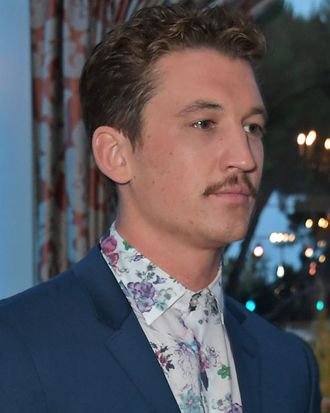 Photo: David M. Benett/Dave Benett/Getty Images
The annual Cannes Vanity Fair party at Hotel du Cap-Eden-Roc, a glamorous affair generally full of celebrities doing normal-person things like "dancing" and "eating," was not called on account of the rain last night, but it was a bit more … intimate than usual. Some of the party mainstays were nowhere to be found: I searched in vain for my favorite Scottish mortician, Tilda Swinton; Julianne Moore's flame-red mane was notably absent; Leonardo DiCaprio was certainly floating nearby somewhere on a yacht, pondering his mortality.
But plenty of revelers did show up, some even sneaking out onto the rain-soaked terrace where the party is usually held to smoke and dance next to the famous Eden-Roc pool, where the only things floating were bright orange letters spelling out "Vanity Fair." Inside, Shailene Woodley, in a bright-red feathered skirt, began dancing the moment she walked in with a mysterious man in a sequined jacket. Every time I saw her throughout the night, she and the Jacket were still dancing, clearly having the time of their lives. At one point, Woodley, who I've interviewed only once years ago, greeted me warmly with a gigantic hug, telling me she was at the fest trying to sell her new film Misanthrope. She paused mid-sentence, reaching over to the bar to knock wood. "Come dance with me over there later!" she said, bopping toward the corner of the room.
Miles Teller posted up near the bar for the duration of the night, wearing a blue suit and a floral shirt and a very thin mustache and continuously making out with his girlfriend, Kaleigh Sperry. Sperry, Juuling, had a long and animated chat with model Taylor Hill, who tore off the bottom of her white dress halfway through the night to reveal white pants and sneakers. Teller told me he wasn't in the mood for interviews, but did say he "loved everyone."
Luca Guadagnino and Quentin Tarantino had a long, spirited conversation, grabbing each other by the face and kissing each other's cheeks effusively. Luca mentioned he was a fan of Big Little Lies, and later, he and Woodley had a similarly enthusiastic conversation. Andie MacDowell, looking gorgeous, entered the party, looked me in the eye, smiled her Andie MacDowell smile, then looked extremely confused and walked away.
At 11:45, Antonio Banderas swept through the room with a fancy little kerchief tied around his neck. He was with his girlfriend, Nicole Kimpel. He was stopped at nearly every turn, with well-wishers congratulating him on his moving turn in Pedro Almodovar's Pain and Glory. Banderas kissed everyone on the cheek and stared smolderingly into the cameras.
Robert Pattinson, sporting a shirt not unlike Timothée Chalamet's at the end of Call Me by Your Name, lurked in a corner, looking like he wanted to avoid people like me, who were in fact typing things about him. David Geffen parked his yacht — a normal sentence — outside the party before heading in. Pamela Anderson snuck by in relatively low-key makeup and a white dress.
Priyanka Chopra and Nick Jonas entered the party late, holding hands. Priyanka, in a glittering silver gown, accidentally swapped vodka-sodas with me on a tiny table later on, and she apologized. Chopra's publicist intercepted us before our conversation went any further, but Chopra reached over the fray and shook my hand, introducing herself with a ridiculously bright smile. The newlyweds eventually made it over to the dance floor. Willem Dafoe, here to promote his role in Robert Eggers's The Lighthouse, did not. Instead, he spent a significant amount of time out on the terrace, smiling and nodding his head.
Alfonso Cuarón was not happy that I wanted to speak to him on the record, but we did have a brief and lovely exchange about his 1990s classic, A Little Princess. "I love that one, I love that one," he said. "But it's a party." Chris Tucker didn't leave the dance floor for the entire night; he was still going hard when I left at 2 a.m.
Before I did, I said hi to Chloë Sevigny, who I'd interviewed days earlier for her film The Dead Don't Die. Sevigny, always a total delight, was posted up at a table with Dita Von Teese, and the two of them danced (quite well) next to each other for a while. On my way out, I saw Salma Hayek and her billionaire husband, François-Henri Pinault, who was dutifully bringing her drinks from the bar as she hugged and kissed Cuarón. Miles Teller was still near the bar, discussing hockey.