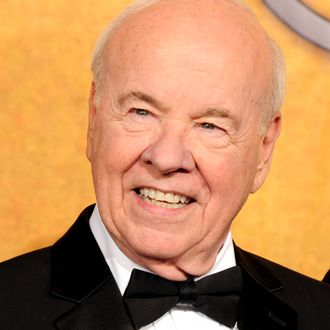 Tim Conway.
Photo: Jason Merritt/Getty Images
Nearly a year after being diagnosed with an "almost entirely unresponsive" form of dementia, Tim Conway has died at the age of 85. His family confirmed the news to People, stating he also suffered from complications relating to normal pressure hydrocephalus. As one of the most beloved figures in '60s and '70s comedy television, Conway is perhaps best known for his roles as a goofy right-hand man in the wartime sitcom McHale's Navy and as a frequent performer on The Carol Burnett Show. He also led two iterations of The Tim Conway Show, which further showcased his leading-man talents in sketch and variety comedy.
More recently, Conway voiced the recurring SpongeBob SquarePants character Barnacle Boy alongside his old McHale's Navy pal Ernest Borgnine (who voiced Mermaid Man), as well as earned an Emmy for his guest appearance on 30 Rock as a jaded former comedy star. He's survived by his wife, seven children, and two granddaughters.