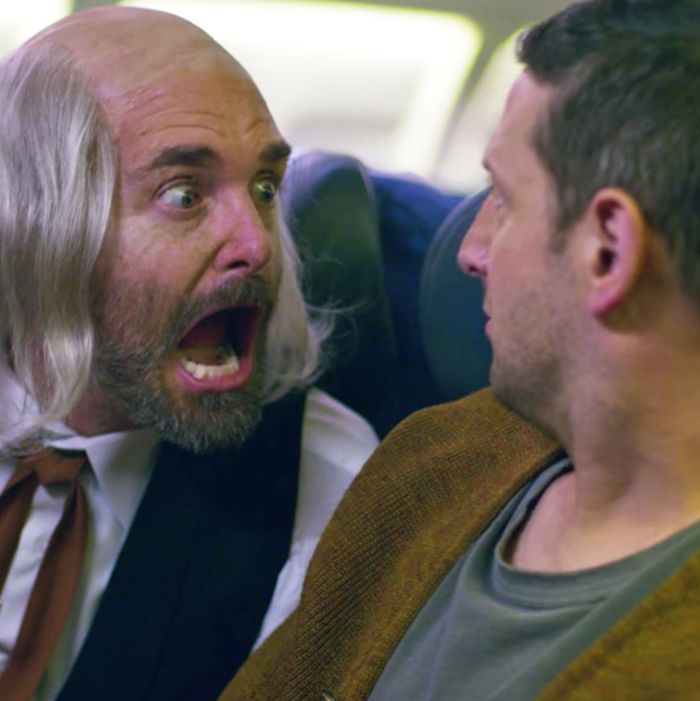 Will Forte and Tim Robinson on
I Think You Should Leave
.
Photo: Netflix.
I Think You Should Leave With Tim Robinson, like a car that is too small, is impossibly brilliant. The six-episode Netflix sketch series is a stinky, bone-strewn mudpie of social anxiety, unbridled rage, fake commercials, and middle-aged bullies, and we've been eating it up. Fans across social media generally seem to be losing their skulls over sketches like "Focus Group" and "Baby of the Year," creating memes and entire Twitter accounts around throwaway gags. So we've collected 101 of the best moments across 24 sketches. Take a whiff here:
101. In dead last: Bart Harley Jarvis. (Fuck you, Bart Harley Jarvis.)
100. When the babysitter runs over and kills some people but it's totally not a huge thing because they basically don't matter and weren't supposed to be there:
99. Tim's can-do spirit:
98. And his good attitude:
97. This, but it's us talking about Tim Robinson:
96. Mudpies:
95. These grounds for divorce:
94. Dang it!
93. TC Tuggers don't wreck your shirt, or hurt your hand:
92. This:
91. This head-scratcher:
90. This video evidence of a dog (that shouldn't be put down) trying to bite Tim's hair:
89. Call him right now, please!
88. This face:
87. That thing of like … when you don't know how to search it:
86. This healthy workplace:
85. Game shows don't have swears:
84. The Colgate Comedy Hour's No. 1 fan:
83. This cold open:
82. Garfield:
81. These male models:
80. This burn:
79. Oh my God I farted:
78. Howie brought his own "Arizona walnuts":
77. That chimp stole my hair!
76. Something spooky:
75. The face of a man with an aligned spine and a potential hit on his hands:
74. Boyfriend ASMR:
73. Don't come over by me!
72. This watchful stare:
71. This intervention necessity:
70. Crap dang it, this sucks:
69. Chunky's whole deal:
68. Shortstack, the horse with a five-inch penis (RIP):
67. These special effects:
66. Cool hair, Dave!
65. This emotional climax:
64. Donald might look like a hot dog …
63. This status update:
62. This baby review:
61. "No more scamming adults into thinking they're stars!"
60. It's Bozo, but he dubs over:
59. This common misunderstanding:
58. This offer that's too good to refuse:
57. [Tommy guns firing]
56. Wait … is Tiny Dinky Daffy Tim's mom?
55. Nailed it!
54. This small horse hog:
53. Tammy Lee Fubbins's whole deal:
52. New Joe:
51. Patti's lament:
50. This hot dog who wants a spanking:
49. Underground, there's half as much food as this:
48. The face of a true friend who just wants to know whether or not Steve Yeun liked the wreath:
47. Keeping Steve Yeun's poopy hands away:
46. This objectively perfect way to start a sketch:
45. "Now go ahead and eat that goop, Scrooge!"
44. Baby of the Year:
43. Oh, crap!
42. An alien, a bicycle, and a tolerant attitude:
41. A car:
40. The rules of how skeletons pull your hair to turn into a man:
39. Chunky going too far:
38. This little tuna can:
37. Hogging all the nuggets of nacho meat:
36. This nonrefundable gag toilet for farts:
35. Do they come in other styles?
34. This man who is so horny his stomach hurts:
33. This absolutely unhinged act of violence:
32. This cool TC Tugger dude:
31. Beloved Buckingham Palace:
30. This poet laureate who could absolutely curb-stomp Elon Musk with his good car ideas:
29. Ted and Emily Skull:
28. Dr. Skull:
27. This funeral::
26. Friggin' bonies:
25. It's turbo time!
24. This Elio moment:
23. This suit heist:
22. Caleb Went's No. 1 fan:
21. Your name's Billy, too?
20. Will Forte digging through trash:
19. Will Forte insisting it's not gross:
18. Stinky water:
17. Stinky hats, but they're Stanzos:
16. Room-temp gazpacho:
15. The in memoriam:
14. He admit it!
13. #brunch #justgirlsquadthingz #nocoffinplease #bae
12. This party house:
11. The world's luckiest woman:
10. This funeral:
9. This dab:
8. This door that goes both ways:
7. Pulling a punch:
6. Will Forte wailing:
5. You have no good car ideas:
4. Chunky had all summer to work on this:
3. The bones are the skeleton's money:
2. So are the worms:
1. Stinky!