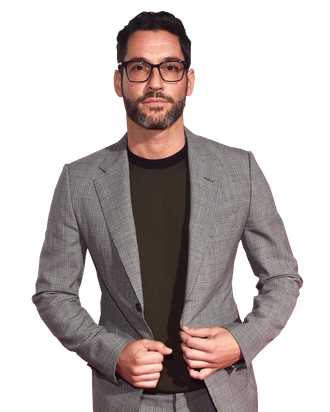 Photo: Alberto E. Rodriguez/Stringer/Getty Images
[Stares into your eyes to hypnotize you with handsome British charm.] What do you desire, truly desire — besides Lucifer getting saved after a brutal Fox cancellation? Not much, actually. That sounds pretty nice. And praise be to the Antichrist: It's exactly what happened! Thanks to a remarkable fan campaign to resurrect the Devil (Tom Ellis) and his LAPD pals on another network, Lucifer has returned for a shortened fourth season of celestial-procedural antics on Netflix. With the new season out in full today, Ellis is doing a victory lap of sorts as the newest inductee into the Revived Lead TV Characters Club, an experience he has described as the unforeseen thrill of a lifetime. In a recent chat with Vulture, he discussed what it was like during that monthlong cancellation purgatory, having new fun with nudity, and the ancient art of karaoke.
There was a month between Lucifer's cancellation and revival. At that point, had you come to terms with its demise and gone through the five stages of grief, or was there always hope for divine intervention?
Gosh, it was such a weird time. When I initially found out about the cancellation, I was pretty gutted. I've become a fan of the show too and loved the story we were telling. We weren't finished. I was gutted. The moment I started drawing peace from the whole thing was the moment when people found out the show had been canceled, and the response within minutes was so overwhelming. And it kept growing and growing and growing. Someone from Warner Bros. called me to say the company was looking for a new home for the show — just from the fan response. I did have a bit of hope, but I've also been in this game long enough where I realized there was, like, a 90 percent chance we weren't coming back. The realistic people in my life kept reminding me of that. During that time I went to a lot of fan conventions, and people kept asking me what was happening. I was just like, "Keep believing and keep doing what you're doing. It's not going unnoticed."
It seemed to be getting more and more positive after that. The moment when it happened and I got the call we were saved, I broke down on the phone. I felt a sense of relief for everybody. [Laughs] These things don't happen very often. It was a special moment for the show and for me as an actor. I'll be forever grateful for that.
It's a rare case of social media not doing something terrible for a change.
It's true. My shows have been canceled so many times. When someone says it's canceled, that's it. Television has changed and evolved. We benefited from the evolution of TV, not only from streaming services but the fact that the fans are instantly present and their voices are heard. It's not hidden behind a ratings system nobody understands.
This community of brought-back-to-life shows is small but powerful.
One that's starting to grow as well. Why not! There's an audience there. Why wouldn't you put it out there? That's what people want.
Did anyone give you guidance through this whole ordeal? Like, did you and the cast of Brooklyn Nine-Nine ever meet for a drink?
I wish. [Laughs] The most comfort I took was from friends, because the truth is nobody knows anything about this. Nobody knew, but at least the conversation was happening. The one person I talked with was William Shatner. He joined our Twitter campaign very early. He put himself out there and said it was a really great show. He was the first of many celebrity endorsements. I also just met Alice Cooper. He came up to me and said, "Can I have a photo with you? I love your show!" Of course you can, Alice Cooper! It was only when the show got canceled when we realized how popular it was.
You said earlier this month that Fox's canceling the show was the best thing that could've happened. How do you think that monthlong period of uncertainty and the move to Netflix changed Lucifer for the better?
If you're in the same format all the time, things get stale. But the main thing that really helped us was Netflix's format of 10 episodes. It meant we got a really strong, lean best version of our show. When you're doing 22 episodes on a network season, it's really difficult to make it count and to remain consistent in your storytelling. I've just watched these Netflix episodes, and I thought to myself, This is everything people wanted the show to be in the first place. It's coincided with the fact that the stakes for all of our characters are so high. Everyone is so strong this season. I really enjoyed watching my cast members flourish. In part because of the move, and in part where we found ourselves in the story.
Very important: How did you celebrate the show's rescue?
Oh god, how did I? I was with my children in London at the time. They had an inkling of what Dad had been through. I had a normal day with them, actually. Did a little victory lap.
Now that you're free from the constraints of network television, viewers get to bask in a lot more demonic violence and nudity. Do you do your own ass work?
That's all my own nudity this year! I also lost a bet to my trainer when we got picked up for season four, which meant I had to get back into a different kind of shape than I'd been in before. I had a moment of pride with how I felt and how I looked. I wasn't against the idea of nudity.
Were you specific in your contract about what you would show — like, "Left buttocks, upper cheek only"?
Those are the constraints in network-television standards and practices but weren't an issue on Netflix. [Laughs] We know who our audience is — kids, pensioners, mothers. There's a reason the show has a broad appeal, and it's because it doesn't go too far. We have to be suggestive rather than vulgar. You can show a bit of violence but not too far. Being aware of it, we haven't gone extreme this season. We push it an extra 10 percent and bring that sinister edge back to the show.
You're really going to start a trend with assless slacks.
I'm all for that. Move over, assless chaps.
Lucifer's "Devil face" is much more elaborate and grotesque this season. Is that you under all the CGI?
That's me! It's incredible how much technology has evolved in that department. It used to be a laborious process with me and a green screen. Now I don't have to do any of that; it takes barely a few minutes. I have to put, like, a few tracking dots on my face with a bald cap. I look like I have measles! This is also the first season you see Lucifer as the Devil talking, so I got those tracking dots around my arms and legs, too. It's a Jekyll and Hyde season for Lucifer, and you'll see that with his face.
I know you really enjoy singing. Do you get some leeway to choose what songs you perform on the piano? That Netflix money can give you Radiohead rights now!
I do, actually. Singing on the show came about by accident. The cast and crew were having a karaoke night out in Vancouver, and I got up to belt out a song. The producers didn't know I could sing, so they decided to work it into an episode in the first season. I got to work with "Sinner Man," by Nina Simone. What would happen is I'd be given a song and I'd work out an arrangement to give some shape to it. You know on The X Factor when they have to do a 90-second version of a song and give it a lot of gravitas to impress the judges? That's what I do. I'd come up with these arrangements, put them on my phone, and work with the composers to flesh them out and record them. Over time, I got more say in things. "Creep" is a fantastic opener.
Are any arrangements sitting on your phone that you hope to debut in the future?
What I love doing is taking a song that people know well and doing a different version of it. "Sympathy for the Devil" would be great to do at some point. I'd also love to do some Rag'n'Bone Man or David Bowie.
I must now legally ask what your favorite karaoke song is.
"Mustang Sally." All day, every day!