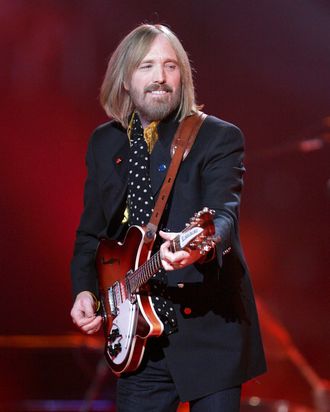 Tom Petty.
Photo: Streeter Lecka/Getty Images
Tom Petty's family has seen the drama unfolding over at the Prince and Aretha Franklin households and would like them both to hold their beer. "Page Six" reports that the late rock star's widow and his two surviving daughters are currently locked in a bitter legal feud over — wait for it — salad dressing. Dana Petty, his wife of ten years, has filed legal documents blocking Petty's eldest daughter from his first marriage, Adria, from attempting to allegedly use his likeness to promote a salad-dressing brand, à la Paul Newman. Dana's attorney wrote in the filing, "Tom would never have permitted such a thing, he never 'sold out' while he was alive and refused to do any such thing despite numerous opportunities. Dana is certain Tom's fans would also find it a sad perversion of Tom's legacy." But the fight, amazingly, stems much deeper than condiments.
According to Dana's legal filings, after Petty's death in 2017, she was named the sole trustee of her late husband's trust, with the caveat that she establish an entity to oversee his estate and storied catalogue with equal participation from his daughters, Adria and Annakim. However, in April, Dana alleged in probate court that his daughters have taken "equal participation" to mean they have the right to claim a two-thirds majority vote in an attempt to seize total control of his estate. The three have been at odds ever since. Adria recently claimed in court documents of her own that Dana has "misappropriated" money from her father's estate and catalogue for personal gain; Dana retaliated by calling Adria "unhinged" and claimed Adria sent her "abusive" texts when the two discussed the cover art for last year's posthumous box set ("Don't come in and fuck things up that I've been working on for months," Adria allegedly wrote.) The Petty daughters have called Dana's allegations "false"; Dana is now requesting that his daughters be removed from the trust entirely.