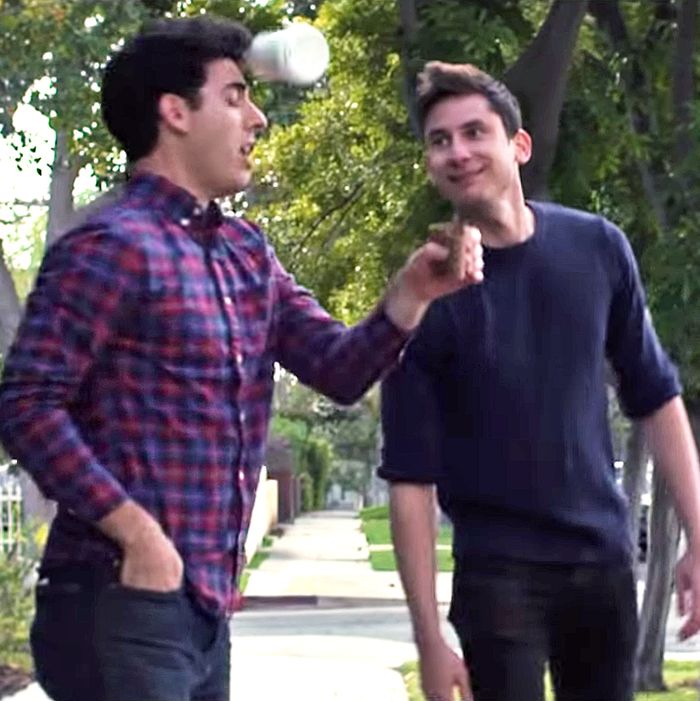 Photo: teenwheelstv/YouTube
Featured Funny Video: Two Guys Who Hate Each Other
You may not believe it, but sometimes things slip through our proverbial cracks. When they do, we like to admit it ASAP. Now is one of those times.
Though my News Feed exposed me to pieces of George Kareman and Dan Klein playing two 30-somethings who pushed the bounds of passive-aggressiveness into outright physical altercation, I had no idea they'd written five episodes of the shtick. I also had no idea how golden each of them is. Though the first three installments ("On a Date," "On the Street," "At a Party") dropped two years ago (again, sorry!), the latest two ("Jogging" and "Go Vote") are more recent additions to a series that probably deserves a one-a-week rollout plan.
Written by and starring Kareman and Klein and directed and edited by Greg Stees, Two Guys Who Hate Each Other has amassed nearly 500,000 views on YouTube. Its sharp writing, breakneck pace, and healthy disrespect for continuity make it the perfect showpiece for two of the funniest writer-performers in the game — real-life buds Kareman and Klein. What's the series about specifically? Watch on. Or, as one of the Two Guys might say to the other, "Cool that you'd waste everyone's time asking a question like that when the series title is so obvious."
And now, we present Two Guys Who Hate Each Other.
"At a Party"
"On a Date"
"On the Street"
"Jogging"
"Go Vote"
Luke is executive producer and head of development at Big Breakfast and a watcher of many web videos. Send him yours @LKellyClyne.