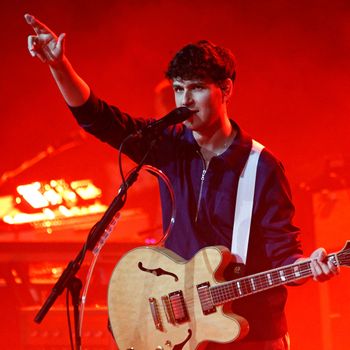 It's Ezra Koenig's
Europe '72
moment.
Photo: Chiaki Nozu/Redferns/Getty Images
Growing up is mellowing out. You reach a point in your 30s where the reckless habits and patterns of your 20s become impossible to maintain. Either you get wise to the changing rhythms of your brain and body or you start to come undone a little. People start shacking up and getting scarce at that point in their lives not just because they're boring or because some latent biological imperative to keep the planet populated activates in their DNA, but because it's simply too physically and emotionally expensive to try to keep living at the tireless clip we set when we come barreling out of college trying to figure ourselves out. Some people get married and have children. Some become loving pet parents. Others get serious about religion or weed and tie-dye or wine or political science or abstract impressionism, whatever gets you through the night. In a stretch of history that feels like a fire walk, foundation and fulfillment are imperative.
Vampire Weekend is navigating the same passageway from youthful exuberance to quarter-life crises to dogged persistence. The members of the band met at Columbia University as 18-year-old freshmen learning the ropes. VW's 2008 self-titled debut was curious and adorably bookish; like a beast borne of the Wes Anderson Connected Universe, Vampire Weekend explored wealth, whiteness, and academia with a mix of wide-eyed interest and giggling contempt. The 2010 follow-up, Contra, expounded on the ideas of the debut and proved the band's pop smarts were no fluke, tightening the bond between singer-songwriter Ezra Koenig and multi-instrumentalist and writing partner Rostam Batmanglij. The brilliant single "Cousins" sounded like punk rock had been invented in North Africa instead of New York City; "Diplomat's Son" set a story about queer awakening to chiptune reggae music. Two-thousand-thirteen's Modern Vampires of the City is a weird one, a concerted effort to broaden the band's pop foundations set to eerily prescient lyrics about weariness and death. Change was on the horizon for the world and for the band. Rostam left amicably in 2016 to start a solo career. Ezra decided for the first time since college to breathe and take a break.
In the years since last we heard from Vampire Weekend, bassist Chris Baio and drummer Chris Tomson put out solo albums. Rostam dropped the underrated Half-Light and a killer collaborative album with the Walkmen's frontman Hamilton Leithauser, and worked in the studio with everyone from Frank Ocean and Solange to Haim. Ezra created the wry, twee Netflix anime series Neo Yokio, which recast the middle-class character studies of his music as a yarn about futuristic demon hunters, and sent Diplo a demo that famously became a Beyoncé song. Over time, Koenig drifted westward with his partner Rashida Jones; they live in Los Angeles with their newborn son now. Father of the Bride, the long awaited fourth Vampire Weekend album, is partly a chronicle of the experience of settling down. Bride is also a meditation on the ins and outs of partnering that seems pragmatically obsessed with the ways that things fall apart in spots, as a rejoinder to its giddiness about starting a family. The title recalls the wistful Steve Martin cool-dad comedy, but the music is as much a descendant of spirited divorce comedies like War of the Roses.
Balance and depth of perspective are Father of the Bride's strengths. The songs about uncoupling are as raw and real as the ones about marital bliss. "This Life" opens despondently — "Baby, I know pain is as natural as the rain / I just thought it didn't rain in California" — and traces how it got there. "My Mistake" is a moody piano-bar jazz number with a crushing lyric: "Hoping for kindness was my greatest mistake." The album doesn't give any one mood too much time to set in; at the end of every track, you're whisked somewhere far away. A particularly visionary bout of sequencing plants the spry but nihilistic "How Long?" ("How long till we sink to the bottom of the sea?") alongside the darkly soulful wintertime breakup tune "Unbearably White" and the giddy, enthralled "Rich Man," which samples Sierra Leonean guitarist S.E. Rogie and quotes the country classic "A Satisfied Mind" as Ezra ponders the comfort and isolation of wealth and companionship. Then, "Married in a Gold Rush" shoves all these ideas in a time machine and comes out with a country-house-highlife tune about frontier life complicating a marriage in the Old West.
Father of the Bride unfurls like a long, strange jam. You look up every few minutes in disbelief at how you got from one point to the next. Koenig is an avowed Grateful Dead fan, and some of that band's instincts have rubbed off on this one. Bride is vast, unpredictable American music, driven by the animus we all seem to have to cordon off a corner of the planet for the betterment of ourselves and our families. It's Ezra's Europe '72 moment. It follows a series of airtight displays of good songwriting with an act of gobstopping sprawl. It cycles through love and loss, through rock, pop, country, folk, soul, and beyond in 18 songs. (Koenig jokes in interviews that for a while, he considered putting out twice as much music.) Looking at the list of guests — Rostam, Jenny Lewis, Mark Ronson, Childish Gambino collaborator Ludwig Göransson, Modern Vampires producer Ariel Rechtshaid, Chromeo's Dave Macklovitch, TDE regular DJ Dahi, and members of Haim and the Internet — you'd expect an army of mercenary radio pop songs. What you get instead is a splatter painting of great ideas dripping and pooling into peculiar blends.
Water — and by extension, drift — is the unifying theme. Father of the Bride is a word about how the same forces that sustain us and unite us can also drive us apart, about how rifts form just as naturally and incrementally as bonds do. It's also a pointed rejoinder to the wisdom of Ezra Koenig's predecessors in the pantheon of singers and songwriters exploring the human condition. There's no such thing as a satisfied mind. Southern California could use more rain. The greatest songs and tales about love often end at two people finding each other, at Annie and Bryan flying off after their wedding to start a new life away from home. But the most important part of the story is everything that happens afterward.
*A version of this article appears in the May 13, 2019, issue of New York Magazine. Subscribe Now!