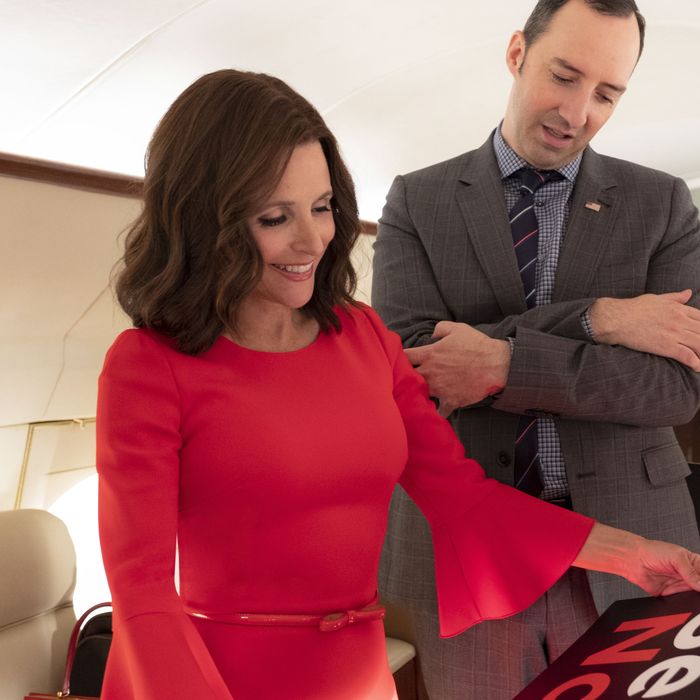 If you're feeling nostalgic for Veep, which aired its series finale this month, you can find comfort in the Veep auction, where thousands of items from the show's seven-season run are up for grabs until June 1. Even the names of each auctioned piece will bring back fond Selina Meyer memories, like the "Selina Outs the HIV Girl Carolina Herrera Tweed Dress," the "Selina Lost the Election (Again) Narciso Rodriguez Dress," and the "Selina's Not Picked for Supreme Court L'wren Scott Skirt and Isabel Marant Blouse."
Veep's wardrobe, especially in its farewell season, was just aces. So I called the show's costume designer, Kathleen Felix-Hager, to ask about her favorite items up for auction and to find out how Selina's style changed as the world of Veep got more intense and insane by the minute. Below, Felix-Hager guides us through the highlights of the Veep auction, the outfits Julia Louis-Dreyfus loved so much that she kept, and why the show ditched Amy's old look for the final season.
The (Marjorie-approved!) Bottega Shoes
Felix-Hager says she would definitely bid on these shoes, which were part of the outfit Marjorie chooses when she (briefly) replaced Gary as Selina's body man. Though Selina initially isn't stoked about Marjorie stepping into his job — "You can't just replace Gary with another lesbian and think that I'm not going to notice!" — she is won over by Marjorie's A-plus tea-making skills (which she learned from an Afghan warlord Selina later kills in a drone strike) and her style (which is much, much better than Gary's).
"Those are an amazing pair of shoes. They have a yellow tip and a black bow. I love those shoes," Felix-Hager says. "That was a good outfit, too. She wore that with a white L'Wren Scott skirt, with the black band."
The shoes went with a black-white-and-yellow Michael Kors blouse in "a print we probably wouldn't have used in earlier seasons," she adds. In the show, the shift is justified by the staffing swap: Gary is put on the faith-based initiative, so Marjorie fills in for him and picks out Selina's outfits.
Pants, Uggs, and Other Surprises
"Everything about Selina is reined in and constrained, so the wardrobe is intentionally very fitted," Felix-Hager says. "She's in very high heels. She often wears a belt to cinch herself in. It helped her character feel constricted." If that's the vibe you're going for, check out Selina's "Andrew Trouble" Tweed Michael Kors Dress or Selina's "Not a Diva" Christian Dior Dress.
But that's not to say Selina is always so cinched up. "In the final episode, when she was kind of manic, there's one point when she is in that floral Dolce & Gabbana dress in her press box, and she's running around in a pair of Ugg slippers," Felix-Hager adds. "She decided to kick off her heels."
In the scene right before that — when her orchestration of Tom James's demise plays out just as she planned — Selina is wearing pants, a rarity for President Meyer. "We didn't really use a lot of pants on her," Felix-Hager says, but this season saw Selina wearing jeans at the Aspen retreat and pants at this finale moment, when "she had taken control of her campaign a little more, and she knew what she needed to do to win."
Selina's Many Red Dresses
Sadly for prospective bidders, one of Felix-Hager and Julia Louis-Dreyfus's favorite looks from the season isn't in the auction: "I really loved the red dress she wore at the end [at the convention], which Julia loved too and she took home." The Christian Dior dress was one Felix-Hager picked up "very early on in the season, but we didn't have a place for it. We saved it for that last episode." (Louis-Dreyfus also kept the very last look from the show: the red dress she wears in the Oval Office.)
But you'll see a red Selina dress in the auction that never appeared in the show: a full-length Carolina Herrera gown used for the season-three promotional pictures, in which Selina and her staff are on a rowboat re-enacting the iconic image of George Washington crossing the Delaware. "The original concept for that was for her not to be in a dress — it was for her to be in a suit or maybe a trench coat," Felix-Hager says. "In looking for things for the shoot, I saw this big swath of red fabric sticking out, and it just reminded me of a coat, the way it buttoned up the front and had this amazing train. So I pitched the idea to Julia and HBO, and they all agreed. I'm very proud of that image, and I love it so much. That's a very special dress to me."
Veep never reveals anyone's political affiliation, and Felix-Hager insists that red, Selina's "signature color," is not intended to be a tell for "any political affiliation," only for power. "It is a really powerful color," she says. "It's a color that draws your eye to the person. My goal in costume design, especially with Selina, was for her always to be the brightest, shiniest object in the room. And red does that immediately; you are drawn to that color."
That's why, every year, Selina wears a red dress. "Every season, it was the search for the perfect red dress," Felix-Hager says. "[Julia] took a few for her personal memories, but I believe most of them are in the auction."
Old Amy vs. New Amy
"Anna Chlumsky's character had a big switch this season from her Ann Taylor little wrap and A-line dresses," Felix-Hager says. "She took this turn when she started working for Jonah and thought, I'm going to be in front of the camera more. So she had different hair and makeup and starting wearing bright colors and body-hugging dresses."
"We have old Amy and new Amy, and the new stuff is super-formfitting stuff the old Amy wouldn't have been caught dead in," she adds. "Lots of formfitting, cinched-in waists, exposed arms, way more cleavage than Amy would've ever used, way more color. The old Amy color palette was navy, gray, maybe burgundy. It was a definite shift in tone for the new Amy look this year."
There's plenty of old Amy in the auction, if Banana Republic shirtdresses are your thing. But probably you'll have more fun with new Amy's looks, like the bright-blue Elie Tahari number she wore on CNN to tell the nation that Jonah Ryan should totally be the next president. Wear it whenever you want to leave your shame at home!
Felix-Hager loves Amy's finale look, which this recapper described as Strip Mall Walk of Shame and which, alas, is not in the auction: "It had that asymmetrical leather-harness thing, and it's not a funny dress, but when she walked on set, everyone laughed because it's so crazy for her. It was just an added layer of visual to the chaos that was going on."
The President's Sunday Best
"There's a beautiful dress Selina wore, it was emerald green, when she gave the speech at the [South Carolina] church," Felix-Hager says. "She had a tiny little fascinator, which is in the auction. It was sort of a nod to that churchgoing Sunday culture and a little bit of British royalty mixed together, which we thought was hilarious." The whole getup — a Roland Mouret dress, Malone Souliers heels, and a Philip Treacy headpiece — is in the auction.
Felix-Hager had two options for that scene: The fascinator she used and "a huge gigantic green one with a huge bow that was very over-the-top," she says. "The thing about costuming for me is that, even though it's a comedy, we try to keep it grounded in reality, and everyone determined that the gigantic hat was just too crazy."
The Sly Joke Behind Selina's Fashion Legacy
Selina's political legacy is barely a blip: She called "backsies" on freeing Tibet, and she outlawed same-sex marriage. So it's fitting that her wardrobe takes center stage at her presidential library.
If you missed it the first time around, watch the funeral scene in Veep's finale and look at what's on display in the Selina Meyer "vagi-brary." "The only things in her presidential library are all of her costumes because she had really no legacy to leave except for her fabulous taste in clothes," Felix-Hager says. "So you see all these mannequins, and those are real costumes from over the seven seasons. That is the legacy Selina Meyer left the United States."