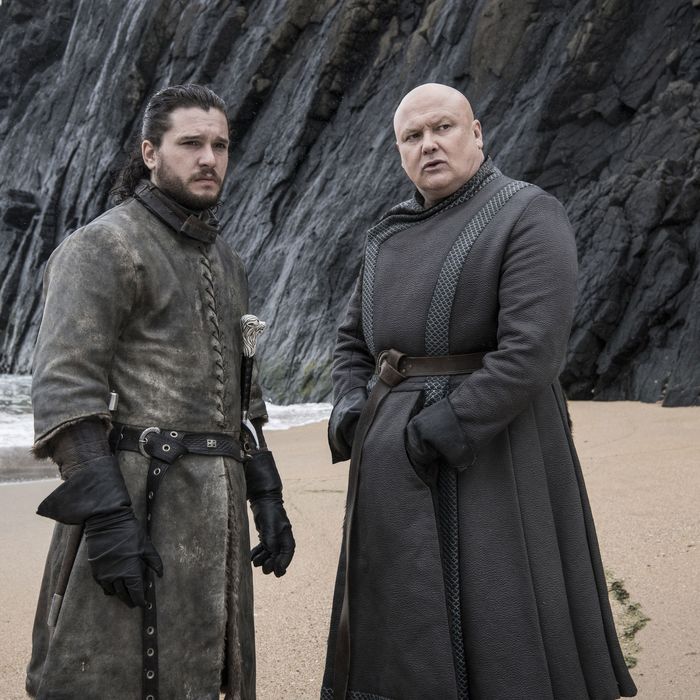 There are dozens of New York bars where fans gather to watch Game of Thrones on Sunday nights. But in India, over 8,000 miles away, keeping up with the savage goings-on in Westeros has become a game of early rising — 6:30 a.m. on Monday mornings, to be precise.
Games of Thrones is perhaps the last show we'll watch together, thanks to increasingly niche fandoms and the prominence of binge-streaming. Going forward, few shows will have the opportunity to gather the communal momentum Thrones does the same time each week. But part of the show's finality as a cultural touchstone also feels rooted in an appointment-viewing TV model that often serves America first. Despite a largely British cast and crew that films in European locations, Game of Thrones is an American show made with American money, so U.S. audiences get first-preference when it comes to its debut broadcast. In the process, the collective viewing ritual and the subsequent digital watercooler conversation unfold on Sunday nights in the U.S., while the rest of the world adjusts to America's prime-time schedule.
For most shows, this would be a major deterrent. But as HBO's fantasy epic reaches fever pitch ahead of Sunday's series finale, viewers across the globe are quite literally losing sleep over who's going to take the Iron Throne.
During the first few years of the show's existence, fans in India had two options: waiting several weeks for it to air on Indian television — by which time social media would be littered with spoilers, and the episodes had been heavily censored anyway — or browsing illegal torrent sites after the credits had rolled in U.S. The latter habit became culturally entrenched around the time of Lost in 2004 and continued for major American programming across the years; Game of Thrones was, for a long time, the most pirated show in the world, and Indian viewers still pirate the show en masse. However, the way Game of Thrones was watched in India saw a significant shift in December 2015, when Fox-owned streaming service Hotstar acquired the rights to host all five prior seasons and to stream its upcoming sixth, simultaneous to the east coast U.S. broadcast and unshackled from the puritanism of Indian censorship.
Today, more and more Indian viewers make Game of Thrones a part of their Monday mornings. India is nine and half hours ahead of New York during daylight saving time, so some fans wake up at the crack of dawn to catch the show live, while others watch it during their commute to work. Some, like Luv Mehta, a 24-year-old software developer in Bengaluru, even sneak a viewing at work, a testament to both the show's prowess and to the sheer volume of spoilerific online chatter. "Once I'm done with meetings and priority work, I watch new episodes on my mobile by the afternoon," says Mehta.
According to Hotstar VP Varun Narang, the biggest spike in Game of Thrones viewership happens during the livestream, and the number of viewers tuning in at that hour has shot up from last season. "We had a six-time increase in the number of users who woke up to watch the first episode live at 6:30 a.m., compared to the last time we aired it," says Narang.
While Hotstar doesn't release specific viewing numbers, Narang tells me Game of Thrones is the most watched show on the platform, followed by The Big Bang Theory and Indian programs Criminal Justice — based on the British series by Peter Moffat — and the 2018 reboot of soap opera Kasautii Zindagii Kay (fellow HBO shows Westworld and True Detective crack the top 15). Instagram data in the days leading up to this year's eighth season premiere suggests that India is the leading Asian nation when it comes to Thrones buzz and online discussions, and the fourth buzziest nation globally, behind the U.S., U.K., and Brazil. A large chunk of this is owed to increased ease of access.
India is one of the world's leading markets for online entertainment, with over 500 million internet users — more than any country except China. Hotstar was originally launched to coincide with the Cricket World Cup in early 2015, and by 2017, the service boasted 75 million active monthly users. That figure grew to a gargantuan 300 million last month, dwarfing foreign competitors like Amazon Prime and Netflix, which have 11 million and 5 million Indian users, respectively.
Hotstar's user interface looks similar to U.S.-and-Japan-only Hulu (down to its distinct green color scheme), but the platform's vast offerings feel revolutionary for the increasingly fractured streaming age, where every network and studio wants its own service. A Hotstar Premium account includes access to not only an expansive library of American shows — from networks like HBO, Showtime, ABC, FX, and the CW, to name a few — but to a sizable number of Disney movies, to live cricket matches and news broadcasts, and to a whole host of Indian programming. In addition, its low price point has helped it capture the Indian market. Netflix runs Indian customers ₹650 a month ($9.27, at the current rupee-dollar exchange rate), while a Hotstar Premium account costs just ₹999 (or $14.25) for the entire year.
However, despite the depth of Hotstar's roster, many Indian users cite Game of Thrones as their primary reason for signing up for the service. Most were even avid torrenters until the show became available legally the day of. Pankaj Parashar, a 34-year-old product manager in Mumbai, says that while he enjoys the range of content on Hotstar, he'd likely pay the full yearly cost even if Game of Thrones were the only available show — provided it were still simulcast. "The episodes are downloadable, too, so watching on the way to work is also possible. Social media spoilers can be avoided, but not co-worker spoilers," he adds.
Of course, the scramble to catch Game of Thrones live gets more complicated in other time zones around the world. Londoners Ben Mead and Jon Ryves often catch it live at 2 a.m. on Now TV, a paid streaming service owned by Sky. And yet, none of these scheduling hurdles seem like they'll deter hard-core fans when it comes to the final episodes. Mead says he has already taken Monday off work, since he plans to catch the finale's 2 a.m. U.K. stream with his girlfriend, while Nikhil Suman Dash, a media student in Bhubaneshwar, India, is having a sleepover with high-school friends on Sunday night, so they can all be up bright and early to witness the conclusion.
Next Sunday, Game of Thrones will exit a markedly different world from the one it entered in 2011. The Netflix model is all but poised to become the global norm, with every other media conglomerate battling for streaming supremacy — television's own game of thrones, as it were — while the long-form storytelling "event" has since been mapped onto cinema, most notably with Avengers: Endgame and the Marvel Cinematic Universe. Though whatever becomes of the communal viewing experience in the future, Game of Thrones' arrival during the brief nexus of pre-streaming and post–social media helped make it a unique television phenomenon that transcended both borders and sleeping habits.
"I think it's pretty exciting that I can watch it with the rest of the world," says Mumbai screenwriter Nikhil Arora, who watches each new episode live. "It has a sense of global community."