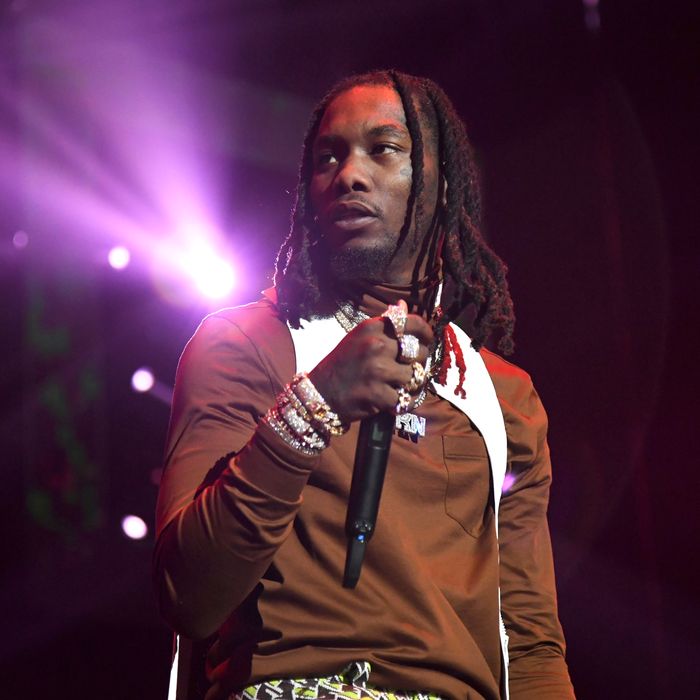 A petty and reckless legal action once again threatens Offset's freedom.
Photo: Kevin Mazur/Getty Images
Every week, Vulture runs through the best, most interesting, and sometimes most confusing rap releases and other news. In this installment: a petty and reckless legal action once again threatens Offset's freedom, Kevin Abstract spends ten hours on a treadmill to promote his new album, Jay-Z and Cam'ron have the most unexpected reunion of the year so far, and more.
Kevin Abstract, Arizona Baby
A young rapper's (seeming) adherence to or (again, seeming) rejection of mainstream mores can be spun in any direction you like: if he or she is willing to play the game, you can cast them as shrewd and polished; if not, they're subversive and unable to be tamed, which is itself a marketable quality, just of a slightly different flavor. And still, Texas rapper/singer Kevin Abstract's aesthetic and commercial trajectory is a little bit strange. It seemed, three and four years ago, like he was destined to be a major or major-ish pop star. Now he's playing to something like a cult. This is in part because he decided to prioritize Brockhampton, the sprawling collective he helped found in his native Texas and online, over a solo career. It's also because he's taken his sound in an interesting, but probably less monetizable direction: where he once seemed poised to define the next half-decade in rap radio, Abstract now sounds as if he's imagining the long, hypothetical tail of early Kid Cudi and everything that came with it.
Abstract rolled out Arizona Baby, his third solo album, last weekend after first releasing pieces of it as standalone EPs earlier in the month. He also supported its release by livestreaming himself spending ten hours on a treadmill in Corpus Christi, posing for pictures with babies, giving the floor over to college student-union types with manifestos about love and empathy, and signing sneakers; it was the kind of strange, disaffected, anticlimactic performance art (inspired by Shia LaBeouf, he said) that plays so well for half a news cycle. The album itself is sullen, full of the sorts of Auto-Tune textures that dominated rap earlier this decade but transposed onto airier, emptier, more guitar-led tracks. The album is co-produced by Jack Antonoff, which might explain why its seeming hooklessness at points does not actually knock it too far off a conventionally chartable pop course.
OMB Peezy, Preacher to the Streets
Like many young rappers making music outside of the major label infrastructure, OMB Peezy draws plenty of stylistic cues from the Louisiana rap of about 1997–2007. There's plenty of Cash Money in his DNA; there's also the naked, sometimes unbelievably bleak confessional streak that has at times defined the rap coming out of Baton Rouge. This makes sense: Peezy was born and raised in Mobile, Alabama, and a deep dive on YouTube or DatPiff might turn up glimpses of the career he once tried to launch in Atlanta. But the 22-year-old has other regional ties. In his early teens, he moved to Sacramento, and his new album, Preacher to the Streets, is his latest for E-40's Sick Wid It label. The rap scenes of the South and the Bay have always been in conversation with one another, but where both regions reward outre stylistic innovation, Peezy's music can be morose, collapsing in on itself in fits of paranoia and pessimism and downright sadness. But Preacher also has enough bounce in its step to invite you into Peezy's narrowing, frequently tortured world.
Could Offset go to jail for breaking a teen's phone?
In the six years that the Migos have been in the national spotlight, Offset has frequently been in serious legal peril. Back in 2013, when the group broke thanks to their mixtape Y.R.N. (Young Rich Niggas) and to Drake's remix of their single "Versace," he was incarcerated, having violated the probation that stemmed from previous theft and burglary charges. Two years later, while the group was preparing to release its first major label album, he was arrested during a concert at Georgia Southern University and charged with a variety of offenses stemming from items found in a vehicle associated with the group; he spent more than half of that calendar year behind bars. Now, a petty and reckless legal action once again threatens his freedom.
A little over a week ago, an 18-year-old from Georgia named Junior Gibbons uploaded a 30-second clip to YouTube. The name of the video is "offset smacked my phone out my hand," and that's exactly what it shows: during a chance encounter at a Target in Sandy Springs, Gibbons began filming Offset without his permission, and the rapper slapped the phone out of Junior's hand. The action did not destroy the phone — the YouTube post is a video archived from Gibbons's Snapchat, so the device survived at least long enough to make the upload. And he captioned the encounter with two crying emojis which seems to indicate he found the whole thing, which he repeated and slowed down into mocking slow-motion, sort of amusing.
At least at first. Three days after the upload, Junior's mom tweeted indignantly at Offset about the rapper breaking her son's phone. And a week ago, Junior Gibbons filed a police report. Because phones are expensive, the estimated value ($800) kicks the charge up to felony territory; given that, a warrant has been issued for Offset's arrest, TMZ reports. Offset's lawyer, Drew Findling, tells TMZ the charge is "disgraceful and should be dismissed immediately," claiming the alleged victim is merely seeking publicity.
This latest apparent offense piles on top of three new charges filed against Offset last month stemming from an arrest last summer in Georgia when the rapper was pulled over for making an improper lane change. He's been hit for that incident with a felony gun possession charge, plus two misdemeanor charges for marijuana possession and the traffic violation; he's pleaded not guilty in that case. Making matters worse, his wife Cardi B is facing a year in prison for allegedly assaulting two bartenders at a strip club in Queens last year.
Jay-Z's B-sides 2 concert offered a surprising reunion
When Jay-Z reopened Manhattan's Webster Hall last weekend with a sequel to his celebrated B-sides concert — the first one was held in 2015 — part of the appeal was sheer novelty: when else were you going to hear him play the hidden track from the end of his MTV Unplugged album, "People Talkin," or the Bond villain theme from The Blueprint 2, "The Watcher 2"? Were you counting on catching his "Pump It Up" freestyle at the Garden?
And so the concert was virtuosic and well-received, spanning Jay's 25-year career and digging into all its crevices. But the night took a genuinely stunning turn in the form of one of his special guests. In the middle of the show, just after a suite of songs with Nas (and a pair of cuts about Jay's native Marcy projects, "Where I'm From" and "Marcy Me," released 21 years apart), he welcomed to the stage Cam'ron, with whom he's been in a bitter feud since Roc-A-Fella splintered in the early 2000s. If Nas and Jay were once heavyweights battling one another in primetime, the Cam–Jay war has been a series of back-alley brawls, brutal and nearly crippling but never as widely understood (Cam's rambling 2007 diss track, "You Gotta Love It," is one of the most confounding and most personally devastating attacks of the century). So seeing them perform "Welcome to New York City," their collaboration from Cam's Come Home With Me, and the Harlem legend's own "I Really Mean It" was the unexpected reunion of the year so far.