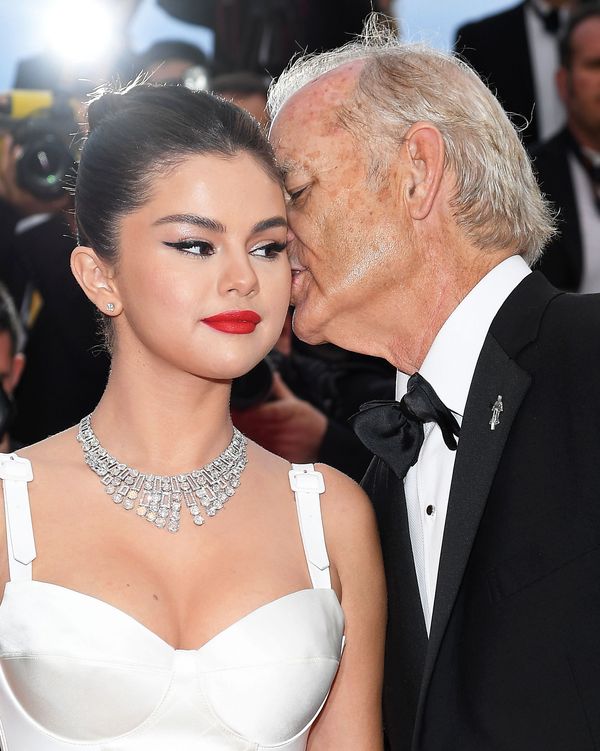 Selena Gomez and Bill Murray.
Photo: Pascal Le Segretain/Getty Images
The 72nd Festival de Cannes is only a few hours old, and it already has its first mystery. (Agatha Christie could never!) While walking the red carpet for the opening-night screening of Jim Jarmusch's zombie comedy The Dead Don't Die, castmates Bill Murray and Selena Gomez, two historical figures who had previously only crossed paths at Vanity Fair's 2014 Oscar party, appeared to share a moment. While some have interpreted this momentous few seconds as a "smooch," Vulture's red-carpet correspondent Rachel Handler reports that, as he did to Scarlett Johansson at the end of Lost in Translation, Murray was actually whispering in Gomez's ear:
And now, as then, the world is eagerly awaiting an answer as to what Murray could have been saying. Double-checking he's got the right kind of badge to get in? Asking if A Rainy Day in New York will get a European release? Telling her he stans Hotel Transylvania? The answer may trickle out on Wednesday as the cast makes the promotional rounds in service of the film, but until then, let's just warm our hearts with the fact that this is the big story about an older man and a younger woman at Cannes this year.
Update, Wednesday, May 15, at 2:15 p.m.: He did it again! At the press conference for The Dead Don't Die on Wednesday morning, Murray leaned over and whispered another mysterious something in Gomez's ear. Stay tuned as Vulture continues to investigate this fascinating case.
Update, Thursday, May 16, at 12:37 p.m.: One witness isn't spilling. "I don't remember what I told her," Murray said in an interview with Vanity Fair. "I was trying to keep her at ease. I really like her." Looks like Selena Gomez is our only hope at cracking this case — and she's not doing any press. The mystery lives on!