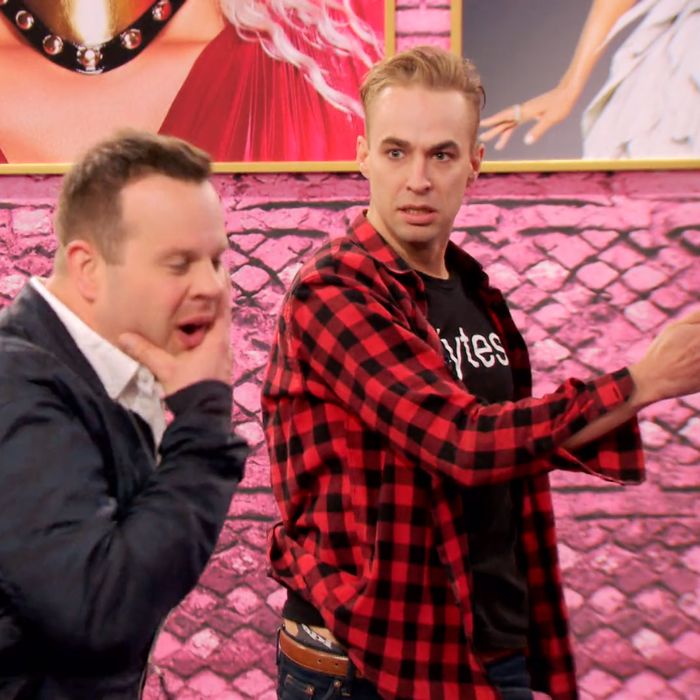 RuPaul's Drag Race
Photo: VH1
Well, all right, honey. That sure was a confounding episode, in a confounding season, which raised as many questions as it answered. Thankfully Matt Rogers (Vulture's very own Drag Race recapper and one half of Las Culturistas) and Mano Agapion (of the We Love Trash podcast), co-hosts of the only (or at minimum first) RuPaul's Drag Race podcast, What the Tuck, and who in fact do exhibit a family resemblance, are here to sort through all gags, goops, and piles of Ariel's wigs.
After last week's heated Countess Luann–inspired episode, heads are cooler for an episode that made Matt say, "Aww, man." Together they address all that season 11, episode 11 (make a wish!) gave us: Was it shady of Brooke Lynn to pair Silky and Soju, or was it shady that Soju was cast for the show at all? What season-ten queens would've won easily if they were on this season? Though, is Brooke Lynn actually stronger than Aquaria, the winner of said season? Is wearing rainbow the ultimate kiss of death? Will things ever be the same now that we saw that lip-sync? And what can be the one last-minute gag the show can give us that will turn 11 into a great season? Ugh, just listen already.
What the Tuck is produced by Vulture and HeadGum. Make sure you subscribe on Apple Podcasts, Spotify, or wherever you listen for new episodes dropping every week following each new episode of RuPaul's Drag Race season 11. Follow What the Tuck on Instagram (@whatthetuck_podcast) and follow co-hosts Matt (@MattRogersTho) and Mano (@ManoAgapion) on Twitter and Instagram — and remember: No tagging!