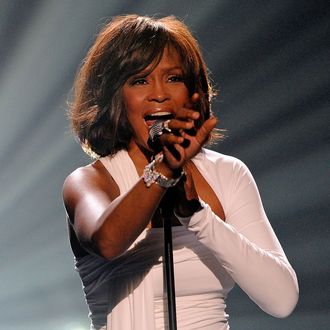 Whitney.
Photo: Kevork Djansezian/Getty Images
Because a Whitney Houston hologram went so well the first time, her estate has announced that it's going ahead with another, this time on a much bigger scale. Pat Houston, her sister-in-law and estate executor, tells the New York Times that there are now plans for Whitney's hologram to tour and that we should also brace ourselves for the inevitable Whitney Broadway musical, Whitney brand deals, and a new Whitney album too. Since Houston died in 2012, her estate has mostly held off on cashing in on her legacy, save for one previous attempt at a Whitney hologram meant to debut on The Voice with Christina Aguilera in 2016 that was pulled at the last minute because it was far from "perfect." (The estate also authorized last year's controversial doc.)
Pat Houston now says the timing is right: "It's been quite emotional for the past seven years. But now it's about being strategic." The thinking behind that strategy, she says, is to shift the narrative about Whitney. She continues, "Before she passed, there was so much negativity around the name; it wasn't about the music anymore." Last week, the Whitney estate signed half of its assets over to Primary Wave Music Publishing, a music and marketing company that will oversee the Whitney-aissance. There are no details for when all this new Whitney content will happen, but the Times reports that the hologram tour will be first, with members of Whitney's original backing band and singers (including her brother, Gary) involved. Primary has also been in talks with Broadway producers about a musical and a "Vegas-style spectacle; meanwhile, the new album will contain unreleased tracks from her 1985 self-titled debut.