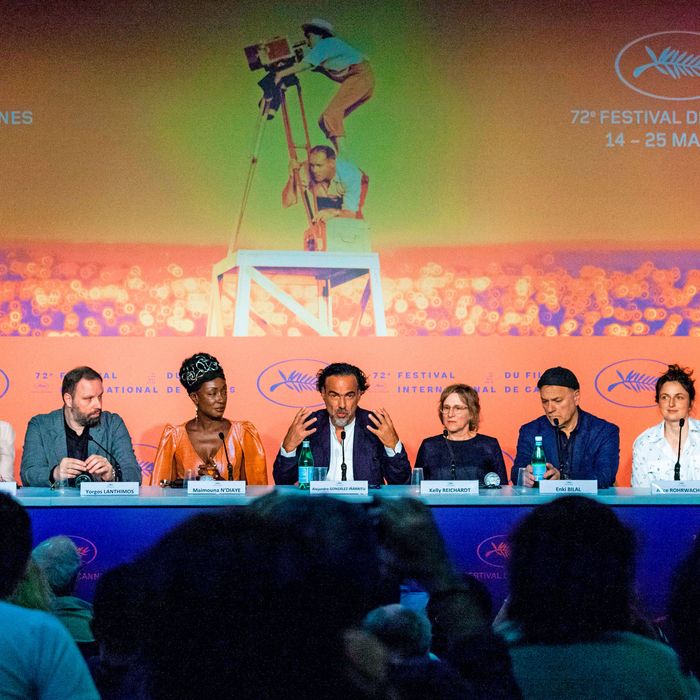 Photo: Laurent Emmanuel /AFP/Getty Images
Although 2019's Cannes competition lineup has only four films directed by women, representation is slightly better on this year's jury. Elle Fanning, filmmakers Kelly Reichardt and Alice Rohrwacher, and Senegalese actress Maimouna N'Diaye join president Alejandro González Iñárritu and four other dudes, all of whom are tasked with determining the best of this crop of Cannes contenders. As is the law for any situation where two female directors find themselves in the same room, Tuesday's jury press conference saw Reichardt and Rohrwacher face questions about what they specifically expect from the Cannes experience.
"It's the first time I'm trying not to get out of jury duty," said Reichardt. "But I look forward to a time that will come when we don't have to say 'women directors' or 'as a women.'"
"People keep asking us what it's like being a woman director," Rohrwacher added. "But it's odd when we're asked this question. It's sort of like asking someone who survived a shipwreck why he's still alive. Everyone is on the beach — 'Why are you still alive?' Why are you asking us? Well, ask the person who built the boat, who sold the tickets, the schools. People have said there haven't been enough women, but it's not enough to talk about at the end [of the chain]. We have to look at the beginning of the chain."
Elsewhere on the jury, 21-year-old Fanning, the youngest member, was asked how she would represent her generation at Cannes. "I definitely am young, but I started acting very young as well and I've been on a lot of movie sets and started out with one of the best," she said. (Fanning's first film was 2001's I Am Sam.) When someone pointed out to Iñárritu that Fanning had played Brad Pitt's daughter in his film Babel, the Mexican director could only mutter, "That makes me feel old."
But the conference's strongest words were reserved, as one might have expected, for the question of Netflix. The streamer made a strong impression on the Croisette two years ago with Okja and The Meyerowitz Stories, but a feud over theatrical windows means the big red N is not in attendance this year. As jury president, Iñárritu used his moment to speak up in favor of the theatrical experience.
"There are great films around the world, accessible to everybody," he said. "But to watch is not to see a film. To see is not to experience. Cinema was born to be experienced as a communal experience. I have nothing against watching on a phone, an iPad or a computer — I do it with my headphones and enjoy it — but watching a film isn't the same otherwise. One should not cancel the other. If somebody had said 200 years ago, 'I'll listen to Beethoven in my car with speakers,' I would say, 'It's great!' But it would be disastrous if there was not an opportunity to hear a 100-people orchestra playing in a concert hall."
Echoing Netflix's own claim, Iñárritu did admit that streaming outlets allow younger filmmakers new platforms to have their work seen by the world. But among all of the new entertainment choices, he said, he was hopeful the film community would "not let die the communal experience of cinema. That's most crucial."