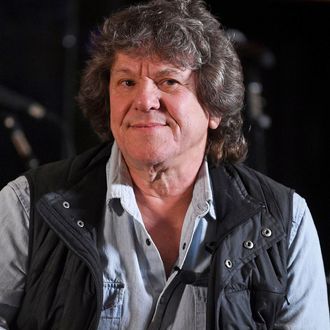 Michael Lang, the festival's co-founder.
Photo: Evan Agostini/Invision/AP/REX/Shutterstock
In an attempt to salvage its dream of holding a golden anniversary
festival amid a fraught planning process filled with alleged treachery, the
Woodstock 50 team announced that it has enlisted the help of Oppenheimer &
Co. to complete financing for the three-day event to take place in
August.
That news comes on the heels of Woodstock 50's legal victory last
week over Dentsu Aegis Network, the Japanese advertising company
that dramatically reneged on its commitment to help bankroll and promote the festival. In late April, Dentsu had declared the festival canceled
after it argued that the Woodstock 50 team failed to meet certain deadlines
in the scheduling process. After Woodstock 50 filed for a court
order against Dentsu on May 8 to declare Dentsu's public cancellation a
breach of contract, the New York Supreme Court ruled Wednesday that
Dentsu had no legal right to cancel Woodstock 50, but that it did not have to return the $17.8 million invested in the festival. Oppenheimer & Co. has now stepped in as the festival's new financier.
"We are thrilled to be onboard for this incredible weekend of music
and social engagement," said John Tonelli, head of Debt Capital
Markets & Syndication at Oppenheimer & Co., Inc., in a statement. "We
believe in Woodstock as an important American cultural icon, and look
forward to its regeneration in the green fields of Watkins Glen this
August with all of the artists on the remarkable lineup."
"We've lined up artists who won't just entertain, but will remind the
world that music has the power to bring people together, to heal, to
move us to action, and to tell the stories of a generation," said
Michael Lang, co-founder and producer of the 1969 and 2019 Woodstock
festivals, also in a statement. "We look forward to putting on an
incredible festival. Words cannot express how appreciative Woodstock
50, the artists, the fans and the community are to Oppenheimer for
joining with us to make W50 a reality."
These upbeat statements convey an increasingly forward-looking
attitude that embraces the presumed viability of the festival.
"We have always relied on the truth and have never lost faith that the
festival would take place," Lang had said after the New York Supreme
Court ruling.
Other parties with a vested interest in Woodstock 50 echoed a litany
of statements on Wednesday that distilled the current status of the
festival simply: With the legal barrier cleared, Woodstock 50 has
added momentum to come to fruition. ("Woodstock 50 is on!" Gregory Peck, a principal at Woodstock 50, declared with the same pie-in-the-sky optimism.)
But Dentsu is still fighting; the company expressed discontent over the court
decision and questioned its legitimacy following the ruling. In response, Woodstock 50's attorney, Marc Kasowitz, accused Dentsu of "utter contempt":
In its public statements, Dentsu has shown utter contempt for the Court's decision, and continues to show utter contempt for the Woodstock 50 Festival. The Court unambiguously ruled that Dentsu had no right to try to assert control over the Festival in Dentsu's efforts to cancel it. Indeed, Dentsu and its affiliated companies are explicitly enjoined from suggesting that there has been a cancellation or interfering with any of the Festival stakeholders. Nevertheless, Dentsu has decided to disregard the Court's clear directive and suggest that it still has the right to kill the Festival. Dentsu is dead wrong and Woodstock 50 is proceeding as planned.
Dentsu did not respond to a request for comment.
This partnership with Oppenheimer is Woodstock 50's newest flex to
demonstrate that it doesn't need Dentsu and can assert dominance in moving
forward without fear that Dentsu will still try to put the kibosh on
Woodstock 50. Bringing on Oppenheimer is a substantial step, but
it doesn't necessarily mean that Woodstock 50 has anything more
concrete established in terms of plans or pending sources of funding.
Woodstock 50 said it would soon announce the date that its tickets
would go on sale. Of course, it originally said that it would start selling
tickets on April 22 but failed to keep to that timeline.