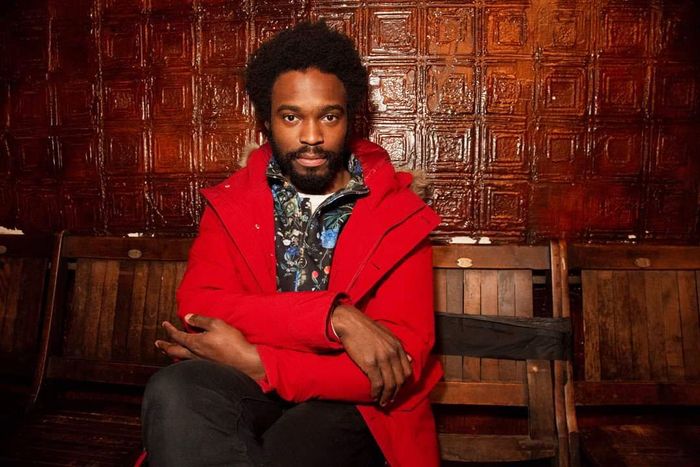 Yedoye Travis.
Photo: Mindy Tucker
Yedoye Travis (@ProfessorDoye) is a comedian, actor, and writer from Atlanta, Georgia, currently based in Brooklyn. He can be seen on Comedy Central, Netflix's Russian Doll, Get in the Robot, and his own podcast, Dark Tank.
This week, Travis and I talked braiding hair, Dave Chappelle, and making white women cry.
Do you think having Twitter as a platform has benefited your comedy in any way?
Having Twitter really helps keep people engaged while I'm feeling deeply uninspired. There's a lot to be said for just being able to fill in some dumb joke format whenever you need to get something out, but it's also a good way to test out jokes in their earliest stages, so I'm not bringing weird one-line thoughts to shows that matter. Also, sometimes you can trick people into thinking you're gonna be on a very popular kids' show and then tweet about eating ass to weed out the weakest of your new followers.
As a writer, actor, stand-up, and podcast host, you're kind of a jack-of-all-comedy-trades. Which did you get into first? How?
I technically did stand-up first at a talent show when I was like 12, but I didn't really get into anything until I was 15 and started doing theater in high school. I really started doing stand-up when I was 20, which I did by going to literally any bar and waiting around until they started a weekly comedy show.
You're very loudly Nigerian. Does that part of your identity inform your sense of humor at all?
First of all, "loudly Nigerian" is redundant. But yeah, I think that identity has helped inform my taste in track suits, and it's also given me a lot of the immigrant experience on top of the pretty common African-American experience that comes out of Atlanta, so it's just another perspective to draw from.
It's also made me hate just about every comedian's jokes about going to "Africa." Godfrey and Gina Yashere are my only friends.
Tell us about your podcast! Any highlights so far? Have you gotten any backlash?
Dark Tank is a show where white people pitch solutions for racism to a panel of black people. Of course, there's a lot of hate online from people who don't actually listen and think noticing race makes you racist, but otherwise feedback has been good! Although the optics of not liking a podcast like this are pretty bad, so I do have sympathy for anyone who's had to look me in the eyes as they hear about it for the first time. Favorite moment by far has to be Jak Knight trying to keep me calm when Dave Chappelle walked onstage and pitched a fit for blackface during the live show at the Comedy Store. An unrelated favorite moment are the two times now that I've made white ladies cry at comedy shows.
Are you still looking for someone to braid your hair? I got a cousin …
For real if you know somebody let me know. I'm tryna be a better me for the summer and I haven't seen Ms. Janice since I was a kid, so I don't think she can do them. And I miss wearing hats.