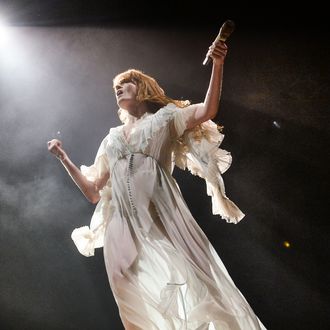 Florence + the Machine's Saturday set at Governors Ball 2019.
Photo: Noam Galai/Getty Images
While organizers did their best to give festivalgoers a final night of shows they'll never forget, Governors Ball 2019 seems to have run into the same obstacle the event runs into almost every year: New York early-summer weather. After delaying Sunday's scheduled start until 6:30 p.m. to avoid thunderstorms, Governors Ball issued a warning telling attendees to evacuate Randalls Island at approximately 9:30 p.m. owing to "approaching severe weather." Earlier acts like Charlie XCX and Soccer Mommy were bumped because of the delayed start (the former putting together an impromptu show in Manhattan sponsored by the festival), and while 11 acts were reportedly able to perform, headliners like SZA and the Strokes were also canceled. If you yourself are a Sunday ticket holder, the festival is offering refunds, in addition to the statement below per Variety. And hey, better luck next year, everybody.
"Due to severe weather, Governors Ball was evacuated tonight. At this time, the island is clear of all guests. After close consultation with NYC officials and law enforcement, it was deemed necessary to cancel the event for the safety of our festival goers, artists and crew. We are as devastated as our fans by this decision, but nothing is more important than the safety of all attendees. While the festival is always rain or shine, we can't proceed in weather as severe as tonight's storm and lightning. Evacuation procedures were followed."