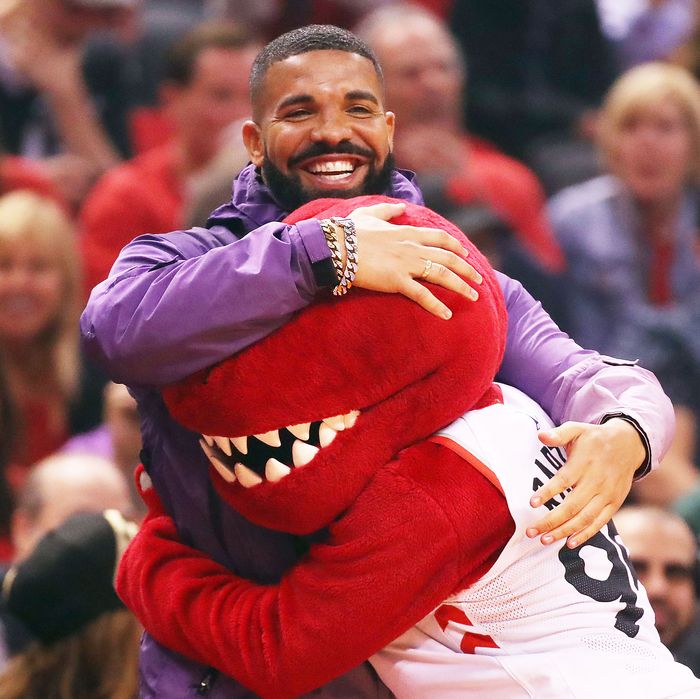 Drake.
Photo: Gregory Shamus/Getty Images
If you're a person who thinks Drake is the worst, these NBA playoffs have been a small slice of hell for you. If you think Drake is great, then you're probably loving this. And if you have no idea what's going on, then welcome to the courtside circus that is Toronto's Scotiabank Arena, brought to you by October's very own attention-getting ringmaster. Drake has been a defining presence at this year's playoffs, really making the most of his role as an officially recognized "global ambassador" for his hometown team, the Toronto Raptors. Despite being a known jersey-chaser whose rooting interest can most broadly be defined as "for the winning team," he is especially hyped for his Raptors in their first-ever finals appearance. (Never you mind that he has tattoos repping two opposing Warriors players on his body.)
Drake has the privileged position of sitting aggressively courtside at Scotiabank whenever he wants, and makes a big show of his team spirit whenever he gets the chance. This playoffs, he has been positively jacked up for the Raptors, so we've assembled a timeline of Drizzy's antics for you. This man, clearly, has got a lot of energy. If the Warriors do manage to win it all despite losing game one, we look forward to Drake playing a victory show for them. And now, for a chronicle of Playoffs Drake.
May 19
The rapper with many alleged enemies really started showing up in the Eastern Conference Finals, where his team played the Milwaukee Bucks. At any given home game he could be found doing things like taunting opposing players:
Doing his best to convince viewers at home he's a player out of uniform just cheering on his guys:
May 21
And doing whatever this is while Bucks star Giannis Antetokounmpo took free-throw shots:
See also:
In a truly stunning two seconds of footage, Drake even approached Raptors coach Nick Nurse during game four of the Eastern Conference Finals — a game that the Raptors won to tie up the series — to give him a back rub.
May 22
Drake's boisterous behavior started to get under the skin of certain Bucks, prompting Antetokounmpo's manager and team coach Mike Budenholzer to call him out for being disrespectful, with Budenholzer saying, "There's certainly no place for fans and, you know, whatever it is exactly that Drake is for the Toronto Raptors." Drake did not respond directly, but he did like a tweet implying that people need to get the hell over it. He also posted the liked comment to his Stories.
There was also this IG post that served as some subtle shade to his detractors.
May 23
With Drake absent on the Bucks' home turf, Mallory Edens, the daughter of the team's owner, really poked the owl in game five of Milwaukee's series against the Raptors, appearing courtside in a shirt with Pusha T's face on it. (You'll remember that Pusha was the one to out Drake for having a secret child, and also disseminated a photo of him in blackface.) Bold move, Mallory!
That led to Drake following up with a troll of his own: Making Edens his IG profile pic. The Raptors obviously went on to beat the Bucks, which is really the greatest troll of all.
May 25
During game six, which ended up being the one where his Raptors put away the Bucks for good, Drake was back on his superfan sidelines level-ten bullshit, acting like he was both going to fight the entire Bucks lineup in the heat of passion:
And doing a lot of that guy thing where they get so excited about sports they look genuinely upset:
A defining Drake image of the 2019 playoffs:
May 30
After being told by NBA commissioner Adam Silver to tone down his sideline behavior (he was also put on notice during last year's playoffs), Drake showed up at game one of the finals in a Dell Curry jersey. Dell is Warrior superstar Steph Curry's father, and was a beloved Raptor in his playing days.
Steph didn't seem to mind all that much, and even had what appeared to be a good-natured chat with Drake at one point in the evening. Then Drake just had to keep being extremely NBA Drake about the whole thing, picking lint out of Steph's hair (how sweet?) and then said on Instagram that he'd be posting the lint on eBay under the handle DraymondShouldntWear23; the highest bid is somehow currently at $100,000 because of course it is.
Speaking of Draymond Green, the Warriors very vocal emotional leader and at-times controversial power forward chopped it up with Drake after the game. Useful to know: Green received a fateful suspension in game five of the 2016 NBA Finals after, well, "accidentally" punching LeBron James in the dick. (In the previous round he also "accidentally" kicked a different player in the dick, so the league was, understandably, not willing to take Green at his word that the contact was random.) Which is all to say, he's probably not going to have a cute conversation with the biggest trolling fan for the opposing team after taking an L in game one of the finals. The Warriors faithful definitely want Green on the court, but also might have understood if he had given Drake a Money Green special right on the spot.
Remember: We're only through game one of the NBA Finals. He's been told to keep it in check, but there is likely more Drake drama on the way. He is, after all, the true villain of the series.
June 2
Oh Lord. On Sunday night, Drake seemingly commemorated still-injured Kevin Durant's absence from Finals game two with a (homemade?!?!?!) Home Alone sweatshirt. Aubrey.
But at least Home Alone star Macaulay Culkin appreciated it.
President Obama attended the game last night as well (where he received a standing ovation from Raptors fans) and while chatting with Drake after the game, he asked his team, "Is he behaving himself?" He mostly is, Mr. President. There have been no drive-by massage situations since he was talked to by the league.
June 7
The Raptors won, and so did Drake's meme game.
June 10
Okay, so this wasn't ridiculous necessarily, but Drake did take a real "Once more, with feeling!" approach to this emotional, arena-size sing-along to the Canadian national anthem, "O Canada." Though, the best part is this clip is obviously the Eugene Levy opening. (Drake was also very respectful when Kevin Durant went down with a frightening Achilles tendon injury during game five, unlike the rest of Scotiabank Arena, which cheered when he pulled up hurt.)