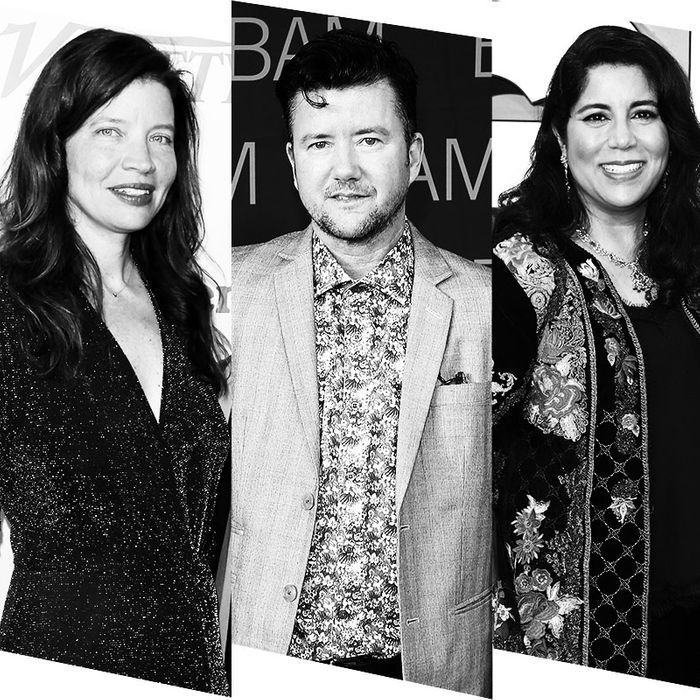 Jamie Babbit, Silas Howard, Nisha Ganatra, and Gabe Liedman.
Photo: Getty Images
Last year, the screenwriter and director Nisha Ganatra (Late Night, Transparent) tried to sell a show based on her life to TV network executives, about a queer, Indian-American high-school freshman obsessed with Madonna. Ganatra was nervous about how the project would be perceived — initially, she'd written the main character as a straight girl — but Amy Poehler was producing it, so she thought that Poehler's star power might help push the series onto the air.
Ganatra had reason to be tentatively optimistic. More mainstream queer television is being made than ever before — during the 2018-2019 season, according to GLAAD, the number of queer characters on network TV was at an all time high. Pose featured the largest cast of trans characters in history, CBS's Instinct brought us the first-ever openly gay lead in a drama, and the CW's Supergirl debuted television's first trans superhero. But despite these milestones, many queer creators, even those with decades of success behind them, still say they have a hard time convincing the gatekeepers at TV networks and film studios to take risks on their pitches. Ganatra, who'd won a Golden Globe award for her work as a director and producer on Transparent, says she was shocked by some of the responses she heard when she pitched her pilot to executives.
"We were told by one network that they already had a show that had a young queer character on it, but it was about a boy — an Irish-American boy," Ganatra says, with a dry laugh. "To me, that's a very antiquated way of thinking. I can't imagine them saying, 'You know what, we already have a show with a straight white character and it takes place at the same time, so there's no space for another one.'" Ultimately, the networks passed on the project. "It still feels like tokenism — that there's only one of everything, and that's enough."
In conversations with Vulture this month, several writers in TV and film reported experiencing tokenism among today's industry executives, which might explain why, despite the proliferation of queer characters on television shows and in movies, those characters are rarely leads — Pose and Instinct being welcome exceptions to the rule. "I think it's getting easier to have a gay sidekick," Jamie Babbit (But I'm a Cheerleader, Russian Doll) says. "And I'll take a gay sidekick because I just feel like it's good to saturate the market with as much queer propaganda as possible. But no, I don't think it's easy to sell a queer project today."
Jonathan Gabay, a senior vice-president of development at Berlanti Productions who recently left Fox, said that he thinks we're on the "cusp" of a major shift toward more queer content in mainstream venues. When he started buying comedy series for Fox eight years ago, he says, "any time someone would pitch a show the goal was, 'How can we reach the broadest audience?'" Executives had little faith that a queer-centric show would appeal to the masses. Now, there's less pressure to meet that goal. "In 2019, I think that has completely changed due to the amount of cable networks and streaming channels, where you can make a more niche show," he says. And once a niche show succeeds, Gabay points out, executives invariably try to replicate its success. "The minute something works people are like, 'Great! Give us more of that.'"
Whether we're on the "cusp" of a new era of TV and film or not, creators do have more stories they'd like to tell. This June, Vulture asked a variety of queer filmmakers and TV writers if they were sitting on any projects that they hadn't yet managed to sell, or that were previously rejected as being too niche, too risky, too queer. Below, Ganatra and Babbit — along with Silas Howard (Tales of the City, Pose), Gabe Liedman (Broad City, Pen15), Justin Noble (Brooklyn Nine-Nine, Idiotsitter), and Rain Valdez (Transparent, Black Box) — share the dream series and movies they'd like to pitch in 2019.
Jamie Babbit's Lesbian Period Film Starring Kate McKinnon
Sam Bain [the co-creator of Peep Show] and I have a project that we want to do called Lavender. It's a period movie that takes place in the early '50s about a young ingenue who's in a lavender marriage with a closeted gay actor. Sam's a child of a lavender marriage, and it would be great for both of us to explore that area. After working on Marvelous Mrs. Maisel in New York, I just love that period.
The idea for the project was partially inspired by Rock Hudson's manager, who was a famous manager to gay actors, and who found straight wives for them. But it's also a lesbian romance between a young gay actress who marries a very well known gay actor, and in the meantime, has an affair and relationship with a very famous lesbian director. My dream cast is Kate McKinnon to play the lesbian director, and Emma Watson to play the young ingenue.
There's something really fucking hot about a very closeted environment that I think most queer people understand — the taboo of it, and the high stakes. As someone who is a dyke from the early '90s, there's a really hot aesthetic in the whole butch/femme underground thing that I find very remiss in current queer movies that I would like to explore. So that's our dream. And we have a pitch document we've been sending around to European financiers. No luck yet.
It's always hard, I think, to get queer projects made. You know, for me, I'm interested in period, and I'm also interested in comedy, and people always assume any queer project set in the past is a tragedy. Hopefully we'll find a home for it. But I think people always assume it's a niche market. You know, no matter how many movies are successful — Brokeback Mountain, Love, Simon — people always claim that. Making movies is a gamble in any market, so queer stories just make people nervous. Movies are expensive, and it's straight white men who mostly control the money. When you go and speak to your financier, it's very subtle, the way that homophobia is expressed. I'm constantly pushing queer characters into the stories. And there's some nudging back in a very liberal way.
Silas Howard's HBO Movie About Billy Tipton
There's this one project I had in development with HBO back in 2006. It was a movie based on Billy Tipton, a jazz musician, who married all of these women, and when he died, it was discovered he was born female. I haven't taken the project out recently, but my producer just emailed me about it, and I still think about it often. I'd still love to get it made.
I was in a band for years, a punk band, so I had this connection to Billy. Music was a passport to occupy other spaces; music allowed him to find home. A lot of the movie was about finding home, and then ultimately, it was a love story, too. My producer and I, we went and met Billy's last wife, Kitty, a retired Vegas show woman. By the time we met her she was in her 80s, and she got deeply involved in the project. Her house had a mini–Grey Gardens vibe, and I remember when we first met Kitty, she was standing in front of this velvet painting with a naked woman laying out and a volcano in the background. As soon as we walked in, she was like, "See that painting? That's me. The artist was in love with me." And then she goes, "See that volcano? That's me too." All the characters around Billy were amazing.
Back in 2005, we got so close. [The movie] was in development for over a year. We did location scouting and casting. But then one of our executives who was really onboard with it left, and it got kicked up to another executive who just didn't connect to it. I could tell he had no sense of the story, and I knew then that we were just going to die there. And then the words came out of my mouth that we'd rather take it back than try to reinvent the story.
Since then, I've done director's labs with it. I just did a radio project about it, and I've done a monologue. It's set in the '40s, so it's not super cheap. Back in 2005, a lot of Hollywood people didn't get it — people couldn't understand Billy as a he. In terms of representation of trans people, it was a long time ago. Since then, I think I've had a few people read it and had interest here and there. But yeah, it's always been sort of picked up and looked at but never quite crossed the finish line. I do think things are changing and moving in a certain direction, but I think the power structure is still the power structure. It's not like TV and movies are being made by a bunch of outsiders now.
Gabe Liedman's Queer Workplace Comedy
The first show I took around to pitch, that ten networks all passed on, was a gay-led comedy based on my own experience of being a sales boy at Barneys while trying to start my writing career. It was this workplace comedy and the whole ensemble was queer. It just seemed like the most obvious TV show to me — like, I would love to watch a queer show that takes place in a crazy fancy department store.
I based the characters on people I knew and on myself. I'm a stoner; I'm not a fashion person. I got a job at Barneys through a friend and just always sold enough to not get fired, but I was not who you think of as the sales guy at Barneys. The arc of the season revolves around this unlikely sales person, and this one crazy customer who was based on a real person who came into Barneys every day but never bought anything. And they eventually become best friends, and it turns out that she's rich enough that she can keep him afloat to have someone to visit every day. That part wasn't based on real life. [Laughs.]
I was pitching it back in 2013, and I did hear back then, "Oh, we already have a gay show in development." No one says it directly to your face. You go and pitch your show and everyone nods or laughs or stifles yawns, and then you go away and they tell your agent yes or no and a brief sentence. It really was pretty direct: They already have a gay show; they're passing. They'd say, "Oh, we already have Looking, and we have other stuff in development with a gay main character, so we're just covered." One of the weirdest responses I got was, "We already have a show with a female boss." Weird.
I don't hear those words that much anymore, to be honest. Hopefully people just know not to say that. And I think that's something. I still use [the Barneys comedy] as my writing sample to get jobs. I'd still love to sell it. I know there's a show in there, it just seems so obvious. There's some High Maintenance/Ugly Betty mash-up in there that has not been done.
Justin Noble's 30-Something Gay Dating Story
I had an ABC pilot a year and a half ago that came super close to getting ordered. At front and center was a gay character, and half of the pilot was a gay dating story. It was a workplace comedy set in a luxury hotel, about what it's like working for guests who are exorbitantly rich when you are basically living paycheck to paycheck, where you only get to see the dream, but you can't quite touch it. It was seen through the eyes of these two concierges, as they had to deal with all the complaining guests.
One of the concierges is this gay guy who's 31, who felt like he'd aged out of gay dating. He wasn't in shape, and he didn't have a six pack, and he was a hopeless romantic who didn't have the right outlet to find a person. In the pilot, he meets this guy at trivia night, and they have a meet-cute. One of my favorite Drag Race contestants of all time was on it, and there's a great closing moment as "Toxic" by Britney Spears blares at the bar. I was trying to go hard: The show is fucking gay.
The pilot did really well — it got ordered, and it was shot, and it tested really well. The gay character, in particular, tested astronomically well. The audience wanted more of him, but the resounding note we got from the development process itself was to cut down on the gay dating story and focus more on other things, and that note was very hard to swallow. At the end of the day, I don't know why they never ordered a full season. We got so close. I was getting calls from executives saying, "Here's a writer you should have in the room when your room starts up." And then the pilot arrived into a room where the heads of ABC/Disney make decisions, and it didn't come out alive.
I almost always do a twofer thing, with one gay lead and one straight lead, because even though I want to have my gay character front and center, I've been through this enough to know that baby steps are the way to go. It's more of an uphill battle when the entire cast is gay, though there's another pitch I'm currently working on that I want to take out soon. I've always wanted to write a workplace comedy about the people who work in a drag club, and by now, I've met maybe 80 to 90 percent of the gay actors in Hollywood, all these fantastic performers whom I want to write this show around. So that's a dream. But I won't pitch this one to a network, even though I've only worked exclusively in the network space. If I pitched this to them, they're just going to take it off the table, and it won't make it onto air, so I just have to avoid taking that paycheck and hope to sell it to a place that will maybe actually put it out there. Netflix buys a lot of different things these days, and it's willing to go niche because it can afford to. I just can't imagine one of the big networks buying an extremely queer show.
Nisha Ganatra's Amy Poehler–Backed Project
There was this one project I got to write for Amy Poehler — it was called Primadonna. It was about a young Indian-American girl who's obsessed with Madonna, and it's a coming-of-age story. In the pilot, you meet our girl and her family, and you learn that she and her brother are two of the only Indian people at their high school. She's navigating her first year of high school, and everything that sucks about being a freshman, and over the course of the episode, she runs into the girl who will become, in future episodes, her girlfriend. And she's navigating the world through her obsession with Madonna, and trying to follow the advice of Madonna. It's a little bit radical because Madonna is giving her the advice of a young white woman, and she's following Madonna's advice to a tee, but it's not working out for her, and without saying so, you know it's not working out for her because she's not a young, white, talented singer or dancer. She's a little nerdy Indian girl. It says it without saying it.
Originally, I actually had changed the character to not be queer, basically, because of a career full of [hearing] "too Indian, too gay, no, no, no, no, no." But then Amy Poehler was like, "It's gotta be as close to your experience as possible — make the character queer!" So I made the character queer. I thought, Well, maybe with the strength of Amy, that no will become a yes. She's obviously not had a career of being told "too gay, no." She's always pushing the boundaries. And you need a champion. But even with her, we couldn't make it. That was shocking to me, and sad.
This was last year, when we went out with it. We were told by one network that they already had a show that had a young queer character on it, but it was about a boy, an Irish-American boy. And I was like, But ... okay. Then we were told by another network that it already had a show that took place in the late '80s/early '90s. Both of these were interesting to me because I can't imagine them saying, "You know what, we already have a show with a straight white character and it takes place at the same time, so there's no space for another one." To me, that's a very antiquated way of thinking — that there can't be two Indian-American shows, or two queer shows. It still feels like tokenism — that there's only one of everything, and that's enough. Like, We did that; we satisfied that.
We have to push past this idea that diversity and inclusion is giving voice to one token. It's gotta be a thing that's seen as what it is: representative of our culture, and something that's benefiting all of us. Until we move into that space of thinking and away from this idea that we're gracing this one outlier — this one anointed voice — with the great gift of welcoming them into the mainstream, until we start understanding that the mainstream is not the mainstream and never was, until we turn that whole fiction on its head and expose it as the fiction it always was, things aren't really going to change.
Rain Valdez's 'Insecure But With Trans Women'
I have a lot of pieces I'm juggling, but the one that I feel most needs to happen now, more than ever, is my half-hour comedy pilot. It's called Girl Out, and it's basically Insecure but with trans women. It's set in L.A. and it follows Alex, who had lived a stealth life for over ten years, but is now coming out and finding herself a fish out of water in her own community. It grapples with what it means for her to be queer and trans, and what that community means to her, but it also is about the heteronormative life she's created over the past ten years.
In the pilot, she has to upend her life — she's a writer for an online magazine, and she gets fired from her job because she's not queer or relevant enough, and she tries to come out, but it's too late. Then her relationship with her longtime boyfriend ends because he's helped keep the secret of her transness, and it was this pact that they'd made. She's trying to deal with her best friends in her heteronormative life — her Sunday-brunch girlfriends — and her best friend who she cut ties with in order to live a stealth life. (Trace Lysette is attached to play the best friend she cut ties with.) It's really about Alex's two worlds coming together, and finding herself in the cross fire of wanting and needing to have deeper relationships with the people in her life, but in order to do that, she has to upend everything and start telling the truth of who she is.
There isn't a blueprint out there for how to pitch your idea, especially if you're an up-and-coming filmmaker such as myself. But I've been pitching to different production companies, and a few have expressed interest. I think the struggle is that still, in the grand scheme of things, even though trans stories and nonbinary stories are being told and are much more visible, we're still being tokenized, and we're still on the threshold. Like, someone told me, "Oh, we already have a trans show," which is Pose. Or, we already have a trans character on the show. This is where I think the level of consciousness needs to be taken up into a higher frequency. I think it's a matter of a network or a production company wanting to take further risks. That's the threshold I feel like I'm hitting when I go into rooms: Are they willing to take a risk even though there's another show with a trans character, or multiple trans characters, or there's Pose, or Transparent — even though those shows have nothing to do with mine? Are they willing to tell this authentic story that doesn't yet exist?
"Lavender marriage" is a phrase used to describe a union between a man and a woman, one or both of whom are LGBTQ, who are seeking to conceal their sexual identity by participating in a straight relationship.
Rock Hudson's manager was Henry Willson.
The bandleader and musician Billy Tipton never legally married, but had several relationships with women who referred to themselves as Mrs. Tipton.
In the 1990s, Silas Howard played guitar in the San Francisco band Tribe 8.
Katherine "Kitty" Kelly and Billy Tipton adopted three sons together.