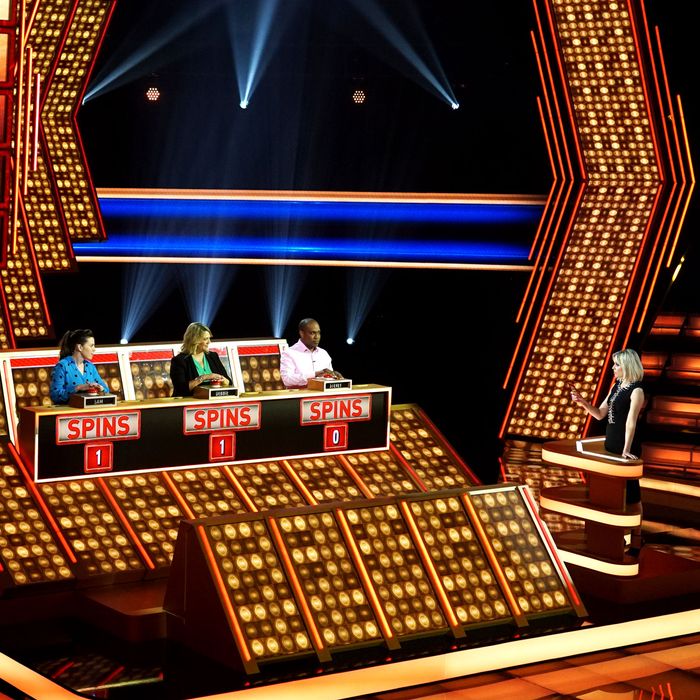 Elizabeth Banks hosting
Press Your Luck.
Photo: Eric McCandless/ABC
The '70s (and '80s) have been super to ABC the past few weeks. Last month, Live in Front of a Studio Audience — the Jimmy Kimmel–produced special featuring live re-creations of All in the Family and The Jeffersons — was a surprise smash, reaching more than 20 million viewers (including reruns and delayed viewing). And last night, the network's new reboots of classic game-show formats, Press Your Luck and Card Sharks, debuted to solid ratings, beating all other entertainment programming among adults under 50 and giving ABC its biggest summer Wednesday audience in five years. While TV's recent retro craze has shown signs of slowing of late — CBS struck out with Murphy Brown while the excitement surrounding NBC's Will & Grace has faded — ABC has had much more consistent success mining nostalgia for Nielsen numbers.
Starting with the launch in 2015 of Celebrity Family Feud, the network has been slowly assembling its own Avengers-like lineup of reinvented pop-culture classics. In 2016, it added new takes on Match Game, The $100,000 Pyramid, and To Tell the Truth. Last year, it resuscitated American Idol after Fox left the show for dead. And now, with the introduction of PYL and Card Sharks this summer, ABC has enough regular retro programming to fill two full nights of summer TV. Not every attempt to go back to the future has worked: A Battle of the Network Stars revival failed to catch fire, while a new take on the early-aughts competition Battlebots malfunctioned after two seasons (though the show lives on at Discovery Channel). But for the most part, ABC's carefully considered (and cost-effective) attempts to help audiences relive their childhoods have clicked.
To find out more about the Alphabet's old-school agenda, Vulture called ABC alternative series chief Robert Mills, a self-confessed pop-culture obsessive whose Twitter feed veers wildly from spilling the Bachelor Nation tea to geeking out over a Gremlins anniversary. Mills, who at 45 is a card-carrying member of Gen-X, talked about the business strategy behind his game-show empire and whether he has plans to, um, press his luck with even more buzzer-beaters. He also served up scoop about another edition of Live in Front of a Studio Audience, changes afoot on Dancing With the Stars, and why he's not too worried about would-be Bachelor rivals such as CBS's upcoming Love Island.
You've rebooted six classic game shows in prime time now that Card Sharks and Press Your Luck have joined the schedule. But this whole retro strategy began in 2015 when you put on Celebrity Family Feud and it was an instant smash. Did it shock you when it did so well?
I'm always wrong. I can never really predict anything. But honestly, I would have been shocked if it didn't do well. I remember the promos during the NBA Finals were really cutting through and it was like, "If anything is going to have a chance, it's this." Plus, the syndicated numbers [for regular Feud] were a bit of a harbinger, too.
Did your bosses ask if you had lost your marbles when you said, "Let's do two more" after Feud hit? And now it's up to six. What's the business strategy on going all-in on game-show revivals?
Last summer, you could set your watch by how rock solid these shows rated. So it was like, "If we could figure out another night, we'd really be in business. We've got Bachelorette on Monday, and then it's Bachelor in Paradise Monday and Tuesday [later in the summer]. If we could get another night, we would be getting a foothold in most of the week."
Is it also about them being cost-effective since they're not nearly as expensive as scripted shows or even many regular reality shows?
Yes, they can be cost-effective, especially if you do a lot of them. But we're not looking to just do cheap programming. I remember, one producer came in and was trying to be complimentary, but it felt a little bit like a backhanded compliment: "Oh, I love what you guys are doing. You're playing moneyball." That's true, but I want these to be blue chips. It's great that the floor for success is lower, but I actually think Press Your Luck and Card Sharks have breakout potential.
Not that I'm opposed to it, but why the focus on reboots versus original games, the way NBC and Fox have approached the genre?
The old games themselves are good. I would love to try new games, but the stuff that [past producers] did — they were geniuses. These games are incredibly well-built machines. They're time-tested. You know that they work. The nostalgia helps, and that's another selling point.

How did you decide on Card Sharks and Press Your Luck, specifically? You've probably been pitched every game show on earth in the last few years, so how do you decide, "Let's try this one versus that one?"
I'm going to give you some credit here, Joe. You retweeted Retro News Now or someone about Press Your Luck. You said, "I've always believed Press Your Luck would do very well in prime time if somebody did a reboot." And then, the game-show website BuzzerBlog did a fake April Fool's article that we had picked up Press Your Luck. There was a big response of people wanting it to be true. I said, "God, I keep hearing the nostalgia for Press Your Luck over and over again. It's just time to do it. Or somebody else is going to do this and I'm going to kick myself."
With Card Sharks, we'd talked about over the years with Fremantle, which also owns Press Your Luck. I called up Jen Mullin at Fremantle and I said, "You know what? I think it's time to do Press Your Luck and Card Sharks," and she said, "Let's do it."
Now that you've got six game-show reboots on the air, are you ready to tap out? Or can I convince you to bring back Sale of the Century or Password next summer?
I will tell you, Password would be difficult because we've already got Pyramid. I feel like there's just too much DNA between those two. Now somebody's now going to read this and do Password.
Maybe do you the Pyramid-Password Power Hour?
We could do that! You know what? I saw an old clip of Alex Trebek doing Concentration and I thought, "God, that really was a great game." I think the beauty of us doing short runs of these shows is that it allows for more of them. Maybe it'll be a wheel. If you had asked me three years ago when we launched this [game show block] on Sunday night, I would have said, "That's probably it." Clearly, I was wrong. So similar to Sean Connery, I will never say never again. There could be absolutely room for more games. If it's the right game and something that complements what we're doing, why not?
Three words for you: Holiday Hollywood Squares.
The X's could be green, the O's could be red. You could decorate the squares with little Christmas lights around it. It really would be fun. Okay, Joe. You have a way of willing these things into existence.
Speaking of retro programming: Last month, you had a surprise hit with Jimmy Kimmel's Live in Front of a Studio Audience. I know that was a labor of love, something Kimmel worked on for two or three years. What was the genesis of that project?
Some of the best things, they're happy accidents. This was one. [NBC] was having a lot of success with live musicals, and then Fox did Grease, which really raised the bar. I kept getting asked [by senior ABC management], "What are we doing to get in the live space?" I just happened to be talking to Jimmy on the phone, he was asking what's going on, and I said, "Oh, we're really trying to get in the live event space." Maybe a week later, he called me at night at home and said, "Let's do big-name actors re-creating live sitcoms." It was like one of those duh, genius! ideas.
Why did it take several years for it to actually come together?
The hardest part was getting the rights. I think there were discussions with Paramount — all the great old [sitcoms], Paramount probably owns the most, followed closely by Sony. I think Paramount — [Kimmel and his team] were shut down. Then Jimmy went to Sony. I think they said, "We're in business with Norman Lear. Would you sit down and talk to him?" He met with Norman and it was a match made in heaven. The hard part then was getting the talent and then finding a day. These are all A-list actors, but somehow everybody was able to work out schedules and make it work on this date. Once that happened, the rest kind of took care of itself.
Was Paramount not interested in licensing shows for this?
Yeah. A lot of the big studios are tied to networks and in Paramount's case, it's CBS. I think that was part of the trepidation: "If this is going to be done, it should be done for CBS."
Did you think it would do as well in the ratings as it did?
The mind-set going in was (a) do we have one hand tied behind our back? Because [younger] people don't necessarily know All in the Family and The Jeffersons, and they're not in circulation the way things like Friends and The Office are, and (b) because it all came together so quickly, did we really have the time to promote it? With Grease Live, Fox announced they were doing it maybe 18 months out. We had to blanket the network the week of and just hope they come.
Is it safe to say we will see another Live in Front of a Studio Audience?
Oh, absolutely, absolutely. This was always set out to be a franchise. All it had to do was succeed. Now that we've done that, we do have a franchise.
What's the process of figuring out what the next one's going to be?
The process is saying to Jimmy, "You just tell us what you want to do and how we can be helpful." The caveat is, we want to announce this pretty quickly. Jimmy's got a few things rolling around in his head, but we're going to make an announcement pretty quickly.
Do you think we'll have one before the end of this year?
One of the things, just anecdotally, about Jimmy: He absolutely loves Christmas and Christmas specials. I'm sure that that would be a bucket list thing for him.
Let's talk American Idol. By the end of its second season on ABC last month, it was beating NBC's The Voice. That's pretty huge, given how dominant that show has been the past few years. You have to feel really good about that.
I'm really proud. This was a reboot, so I think it was met with some raised eyebrows: "How do you take something that was such a juggernaut and make it relevant?" Jen Mullin and [Idol producer Fremantle] really believe in that format, and if the contestants are strong, then it's going to work.
You've renewed the show for season three on ABC, but still don't have a deal with the judges. Will they all be back?
Our hope, and I think the hope of the judges too, is for them to come back. We're really proud of this panel. When you've done enough wrong ones and you have the right ones, you know that you got to figure out how to make it work.
Another one of your tentpole shows, Dancing With the Stars, has been on an extended hiatus. It only produced one traditional cycle last season instead of two. What has the time off let you do with that format?
It has afforded us, for the first time, a chance to really think about tweaks we'd make. We can also really be targeted in who we're looking to cast. Before, it had become this machine. The minute you ended in the fall, you're immediately casting for spring. We have taken this time to really look at every element of the show. We are meeting a couple of times a week to make it something special and bring it back to the glory of the early years.
Meanwhile, the Bachelor franchise continues going strong. You're also getting more competition in the dating space. USA did well with Temptation Island. Fox sort of struck out with Paradise Hotel. And CBS is bringing Love Island to the States just a few weeks before Bachelor in Paradise returns. Any advice for — or worries about — the competition?
Look, the state of the union in Bachelor Nation is very strong. This current Bachelorette, Hannah, is more unorthodox and speaks her mind more than we've seen in the past. I think that's paid off, and people are really enjoying the show.
In terms of the new shows, success helps all of us, so I think there's room for Love Island to work. I absolutely adore [CBS reality chief] Sharon Vuong, so I hope this is a big hit for them. I do think it's hard. You have your work cut out when you don't know these contestants, and you have to try and make stars of them quickly, and you've got 20 people you're introducing. On Bachelor in Paradise, you automatically know the 20 people who are on the show. You know their backstories and you're invested in them. But I'm excited to watch it, I'll tell you that.