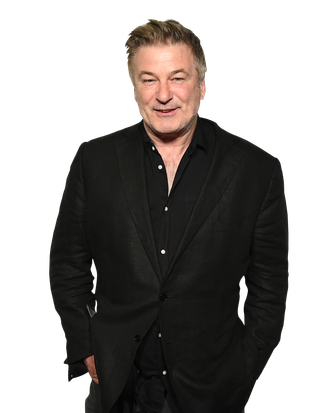 Photo: Theo Wargo/Getty Images for Tribeca Film Festival
Alec Baldwin may (or may not) be done mocking Donald Trump on Saturday Night Live, but there's one TV role he seems inclined to hold on to as long as he can: Hosting and exec producing ABC's update of the classic comedic quiz show Match Game. Returning for its fourth summer run tonight at 10 p.m. ET, the series has become a ratings workhorse for the network. It also provides Baldwin with an easy paycheck and a chance to hang out with some of his celebrity friends (including SNL's Michael Che, who pops up on this evening's premiere). Baldwin, who's also starring in the new documentary-biopic hybrid, Framing John DeLorean, recently hopped on the phone with Vulture for a brief chat about that #GameShowLife and which classic Match Game panelist he'd most like to blank. He also talked about why his Trump impersonation is inherently limited by SNL's structure and whether a 30 Rock reboot might actually be happening.
When ABC's alternative TV chief Rob Mills told me long ago that he was trying to get you to do Match Game, I thought, "Wow, that's great! It's never going to happen." But you said yes, and you sort of started a new thing. Now Elizabeth Banks and Joel McHale are doing the two new shows the network is pairing with yours this summer, Press Your Luck and Card Sharks. NBC has Ellen DeGeneres hosting a game. Jamie Foxx is on Beat Shazam for Fox. Do you feel like a trendsetter?
Well, I'm not going to stop you from saying that. I remember when I first did these Capital One bank commercials. I was doing 30 Rock at the time and I thought, "I'm already on TV." But the big thing was, I was always seeking sources of funding because my wife and I have a charity that we give away a good amount of money to. And Capital One was one of the first big reservoirs of money we had. They paid us a lot of money over five years and we gave all of it away. And right after that, I noticed more and more actors were doing commercials on TV. I was replaced by Jennifer Garner, and then Samuel L. Jackson, then you see [Matthew] McConaughey is doing this car commercial, and Dennis Quaid is doing this commercial, and Clooney's doing Nespresso ads. People who certainly don't need the money are out there doing that.
Right. There's no longer this big wall between TV and movies like there used to be.
What it comes down to is that the movie business has changed. The movie business is a very risk-averse business, and they're going to put up a lot of money including big fees for Iron Man and those kinds of tentpole films. Everything else, the fees in the movie business have collapsed. And it's not all about money. It's also the quality [of TV]. Like, when I saw Nicole Kidman do a TV show for HBO, that raised my eyebrows. But when she signed on for a second season, I knew that the business had changed, that the quality of the scripts and the nature of real drama — I mean, that cast of Big Little Lies? That's ten feature films right there. Big-ticket names and famous actresses who are so talented: Reese, and Meryl, and Laura are on there as well. They're all great, great, great actresses.
This game-show thing, it's a quick trip. We're here for a couple of weeks, we bang out a season. Elizabeth Banks, maybe she'd like to stay home with her kids like me. Joel McHale would like to stay home with his kids, like me. I've got four kids. I'm 61 years old and I got four kids, 5 and under.
Oy.
Did you say "oy"? [Laughs.]
I did say "oy"!
Yeah — oy. [Laughs.] I have a T-shirt that says "oy." But for me, the compression of the schedule that we shot in New York, it was very, very, very convenient for me. And I gotta tell ya, I always look forward to this. I mean, do I care what people think about [how] I used to make big studio films and I got nominated for this and for that in the theater, and I've done things that are certainly more traditional? I really couldn't care less what people think in terms of this kind of thing. I've had more fun with these people. 30 Rock was great, SNL is great, and Match Game is right up there in terms of the people that we work with.
I'm a classic Match Game fan, so let me ask you this. F–k/Marry/Kill: Brett Somers, Charles Nelson Reilly, and Richard Dawson. What would your choices be?
Well, our Match Game version would be boff, marry, kill, because we gotta be careful on the air. So boff, marry, kill? That's a tough one. You think I would say Brett Somers cause I'm a straight guy, but when the sex is over, what is there? Who would you rather be in bed with than Charles Nelson Reilly? So he might be "boff." I can't say. "Marry" probably would also be Charles Nelson Reilly. And after I boffed him and I married him, I'd probably want to kill him. So he would be boff and marry and kill.
Your other big TV role of late has been playing Donald Trump on Saturday Night Live. You've made some comments recently about whether that's going to continue. I'm wondering, at this point, what's the most tedious technical aspect of that impression? Is it the makeup or the voice or just getting into his headspace?
If I were doing a movie with some really precise director — Ronnie Howard or David Fincher — that's one thing. There's a performance involved; you are inhabiting somebody. The cold opening of Saturday Night Live is where you light the fuse of a 90-minute live comedy show, which does not lend itself to that kind of detail. We're firing a cannon and we have a specific job to do. If we were looking for the most precise rendering of Trump's personality, you'd slow it down a lot. Trump is not really as energetic as I try to make him. There's a conflict there between a really effective impersonation of him and what I do.
So what I gave them was my cartoon version of that. It's got certain gestures, it's got certain neuroses, it's got certain buffoonery and a kind of narcissism and so forth. But it is not by any means, nor could it be, a really precise impersonation of Trump. A long-form impersonation of Trump would put people to sleep in five minutes. Trump is dull. Trump is an immensely dull man. When you listen to him talk, he's not that smart, he's not that engaging, he's not that verbally skilled. He says the same thing over and over again. If we really did an impersonation of Trump, that would be the best sleep aid I've ever heard of in my life. So we did what I came up with, which was more of a caricature.
I think it's a law that I ask you about the possibility of a 30 Rock revival or reboot. There were rumors about it last year. Do you have any desire to revisit the show at some point? And where do things stand on it actually happening?
I do think they have a concern that the reboot thing on TV has worked in some cases, and in other cases it has not. Whether they have the confidence to move forward with the 30 Rock reboot, I really don't know. I know that they've talked about it. I know that a lot of people have come to Tina. Tina has no shortage of people that want to avail themselves of her enormous talent, and one of them is no doubt NBC with a reboot of 30 Rock. But no reboot of 30 Rock could ever live without Tina's not just blessing, but involvement. I've never heard a peep out of her that she's really interested in that at all.