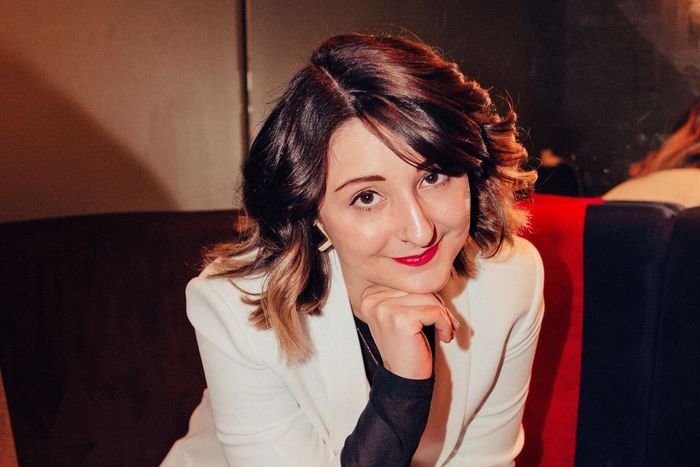 Alise Morales.
Photo: Bridget Badore
Alise Morales (@AliseNavidad) is a comedian and actress from Northern Virginia living in Brooklyn, New York. You can catch her touring the U.S. with her show The Roast of Your 15 Year Old Self, co-hosting the Betches Sup Podcast, writing the Betches Sup newsletter, and voicing Alexandria Ocasio-Cortez on Showtime's Our Cartoon President.
This week, Alise and I chatted about making new friends, embarrassing MySpace pictures, and Kim Kardashian's nascent career in law.
This is just a true thing I recently realized about myself! It's crazy! I was sitting in my apartment trying to figure out why this very nice person kept texting me and asking me to hang out and then I was like, Bitch she wants to be friends with you! Meanwhile, if someone doesn't respond to an email of mine within 48 hours I assume they have an entire group chat dedicated to how annoying and bad at emails I am.
How did you get into comedy?
I was a high-school theater kid but I always gravitated toward the "funny roles" in the musicals (mostly because I'm not actually very good at singing or dancing). Then in college I joined my school's improv team and it just clicked as what I wanted to do. The team actually had a pretty good track record of people coming to NYC to do UCB, so I saw a lot of people do that and got an idea of how it was done. Then I moved straight from school to NYC and proceeded to never use my degree!
Has Twitter been a good platform for your comedy? Do you think it has changed your sense of humor at all?
Yes and no! I think I like storytelling more than setup-punchline jokes, and sometimes Twitter can be tough for that just because I think people like to retweet things that make them think That's me! over something that is a funny story specific to an individual person. On the other hand, I've definitely had tweets that became longer bits in my stand-up, and I do like live-tweeting and engaging in Twitter events like award shows and the like. This year I've learned to take Twitter less seriously, and I think it's led to me having a lot more fun on what is mostly a very cursed website.
This combines two things I really love in a tweet. One is funny real-life events, and the other is being fun to say out loud. I tweet a lot about things that are happening/have happened to me, but I also love tweets that have a voice or a melody to them. Like sometimes you read one and part of what makes it funny is knowing how fun it would be to actually say. When I read this tweet, I read it in a voice that makes me laugh. Also it really happened.
In addition to performing, you also host. Do you prefer one over the other?
I think I see them as one and the same. I like hosting because it gives me a chance to put up people I like and think are funny, but I also spend a lot of time on my hosting bits to make sure I'm also showcasing myself. In a way, inviting people you admire to do your show is a way of trapping them into watching you perform too.
What made you decide to start your show The Roast of Your 15 Year Old Self? Do you have any highlights from hosting it so far?
I started the roast after I found a treasure trove of my old MySpace photos and thought, I have to do something with these. The biggest highlight for me has been touring the show and getting to meet comedians from all over. (I usually book local comics or comedians with ties to the area for out-of-town shows.) The show has basically taught me that every single person was embarrassing in high school. Like even if you were popular, that's embarrassing.
For the past three years I have been responding "legalize weed" to random Trump tweets just because I think it is a really dumb thing to do and it makes me laugh to think about people seeing that interaction either pop up in their feeds or show up in his replies. It just really amuses me. I've probably done this hundreds of times. But in all seriousness, when weed actually is legalized it will be because of me and my work.
Has anyone in Trump's administration reached out to recognize your pioneering marijuana legalization work?
Sadly no, but I'm hoping now that Kim Kardashian is handling criminal justice reform, someone will take notice.