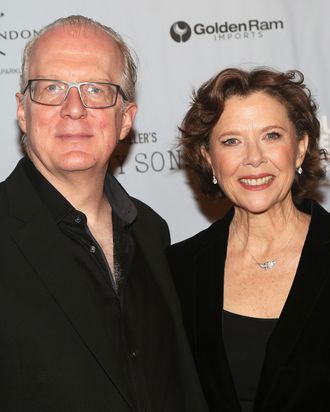 Tracy Letts and Annette Bening.
Photo: Bruce Glikas/WireImage/Getty Images
Annette Bening gives Tracy Letts a big ol' slap in All My Sons — a big ol' hard slap, one that basically resonates throughout the rafters of the American Airlines theater. In the play, the marriage between Joe (Letts) and Kate Keller (Bening) turns fraught when the couple is forced to confront the truth that maybe Joe wasn't so blameless in the deaths of soldiers in World War II. In a moment of panic, Kate slaps her husband, forcing him to quiet down. Because some of us have been waiting our entire lives to see Bening and Letts united in holy matrimony, Vulture showed up to All My Sons' opening night to ask the pair to talk us through the big hit: "First of all, I told her, Look, everything's fair game. We had to get this right. We knew it had to be a real slap. She just slapped the shit out of me. A lot! She clubbed me, and clubbed me, and clubbed me," Letts recalled. It took a little trial and error: "I think [Annette] was getting frustrated that we weren't getting the response that we wanted from the audience. We weren't getting the sound we wanted, either. She started swinging harder and harder, about to club me into unconsciousness. Finally I said, I think you're swinging too hard. I think if you reduce your swing a little a bit and if you aim a little bit better, you'll get the sound you want. We've been golden ever since."
Bening remembers it similarly. "[Tracy] actually did know what we needed to do," she said. "Once he explained it to me, we started doing it that way, and he was right!" How about we go buy a big bag of Dori-toes and celebrate acting.