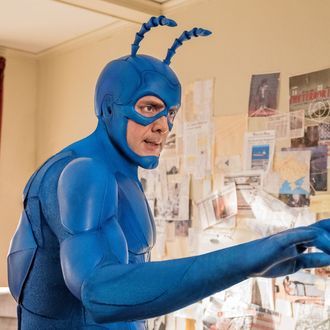 Photo: Jessica Miglio/Amazon Video
Alas good chum, we hardly knew ye. Amazon has cancelled the third iteration of Ben Edlund's The Tick after two seasons. Edlund tweeted the news Thursday afternoon, but assured fans that the creative team was looking for a new home for the weirdest superhero around. "Destiny demands that my compatriots and I now seek a new home for this series," he wrote. This was the third TV version of the comic Edlund created over 30 years ago. The Tick starred Peter Serafinowicz as the titular superhero, with Griffin Newman as his sometimes unwilling sidekick Arthur. Newman isn't giving up hope for the show either.
"Our show is very much still alive at this moment!" tweeted Newman. "We're all still under contract, and actively trying to find a new place to keep the show going! Fan demand is really what has the power to push us over the edge right now, so please be loud!" In this world of revivals, who knows.
Update, June 15: Despite a substantial fan and crew campaign to save The Tick, the show's creator, Ben Edlund, officially confirmed no network has swooped in to save the day. "After much door-knocking we have found no new home for the Tick series in this current market," he wrote. "I'm sorry we could not reward your glorious support with better news. I am so proud of the show, of the cast and crew and writers, and so warmed by the fans." He optimistically added: "We will look for other opportunities to continue this story with this cast, but the current series must I'm afraid come to its end."