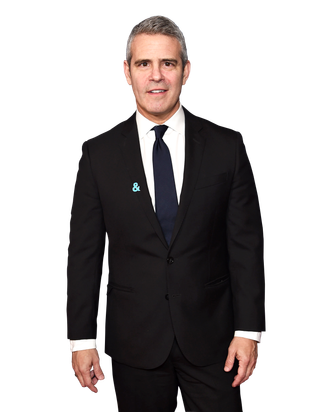 Photo: Jamie McCarthy/Getty Images for GLAAD
Andy Cohen has a lot of reasons to celebrate these days. Not only did the Real Housewives executive producer have a son via a surrogate earlier this year, but his other baby — his late-night talk show Watch What Happens Live With Andy Cohen — is about to mark a full decade on the air at Bravo.
Watch What Happens Live, which started as a sort of Housewives after-show, first hit the airwaves on July 19, 2009, when Cohen welcomed Real Housewife of New Jersey Danielle Staub into his "clubhouse" to kick off the show. (The premiere also featured a "booty call" from his BFF Sarah Jessica Parker.) Now, all these years later, WWHL has become a haven for silly games, huge celebrities like Cher and Lady Gaga dishing gossip, and more than a little Real Housewives tea. We walked with Andy down memory lane as he recalled some of his craziest moments and some of his best and worst guests, and we even got him to play his signature game, Plead the Fifth.
When you first started the show, did you think it would last this long?
I didn't. We were picked up once a week, we got a 12-week pickup, and we were on at midnight. I was still an executive at Bravo, so I knew if it didn't perform, they would cancel it pretty quickly because it was such an odd experiment. I remember Gawker calling it, like, a "masturbatory talk show."
I believe I wrote that about your talk show on Gawker, so …
Oh my God, Brian! You asshole! Well, guess what? I remember it! It definitely made me feel like, "Wow, if this is what people in the media think [and] if the ratings don't deliver, this is going to be gone." So there you go.
Well, I apologize. But your show's still on the air!
It's wonderfully poetic that you wrote that and, 10 years later, you're interviewing me about the anniversary.
When you first started doing the show, you still had a normal nine-to-five job at Bravo. How did doing Watch What Happens Live five nights a week change your lifestyle?
When they picked it up for five nights a week, I was in charge of programming, which was all production and all development. I've always burned the candle at both ends, but that was really intense. Looking back on it now, I'm surprised that I was able to do both. When I left that day job, I maintained my job as executive producer of all of the Housewives and Watch What Happens Live, but everything else went away. That was a great relief.
You've gone through some big life changes with the birth of your son. How is that going to change the show?
Actually, the schedule works great because I put him to bed around 8:30, and I go into work sometime between 9:00 and 9:30.
Just leave the baby at home to fend for himself.
Yeah, exactly. I'm like, "I'll be at work. I'm looking at you on the nanny cam. If you wake up, there's a bottle of milk next to the crib."
You've gotten very good at asking guests uncomfortable questions. How do you handle those scenarios?
I think there's an expectation that if someone is going to come on my show, that I'm going to ask them what none of the other late-night hosts are going to ask them. We don't preinterview our guests. We're the only live show in late night, so we want it to be spontaneous. The viewers can smell BS. There have been times where guests have said, "I'll come on the show, but I don't want to discuss X, Y, and Z." There have been a couple of really big stars that we've said, "You know what, maybe we shouldn't do this," because I don't want the audience to say, "Why didn't you do X, Y, or Z?"
I always want the guests to leave happy, and I want them to come back. The Rock came on recently for the first time, and I want that to be the beginning of a relationship where now the Rock does Watch What Happens Live when he comes out to do press. I don't want it to be a gotcha situation.
You've had Lady Gaga, you've had Oprah, you've had all sorts of huge people. Who were you the most nervous about interviewing?
No question, it was Oprah. I've probably seen 85 percent of the episodes ever produced of The Oprah Winfrey Show, which is pretty high considering it went on for 25 years. That's how deep my fandom goes. It was a very big deal and I was really nervous. I wanted to give her a different interview then she had done. That was my challenge, and I remain really proud of that episode.
What are the other episodes that you are the proudest of?
I was always really proud when Joan Rivers came on. As a kid growing up, when she would sub for Carson, that was like Christmas for me. So then, all those years later for her to come on the show, it meant a lot.
Anytime a diva that I love comes on, it's a special occasion in the clubhouse. Mariah Carey and I have developed an incredible relationship built around Watch What Happens Live. She's been incredibly dishy and fun, and also I think that we've been able to talk about her music in ways that other interviewers don't.
Who are the big guests that you really want to have on the show?
There are so many people. Gosh, Katy Perry, Jake Gyllenhaal, Michelle Obama, Madonna. Come on!
Her album's out, Andy! What are you doing?
I'm doing everything and I'm getting ignored.
You mentioned your favorite guests. Who were the awful ones?
We haven't had that many. When Amber Rose was on, she wore sunglasses. She was not up for my tomfoolery. I remember asking her questions and she was like, "I don't want to talk about that. I don't want to talk about that." It was not a good fit. I just don't think it was the show for her.
I've spoken before about Jillian Michaels leaving very pissed off and I never figured out why. I don't think Gillian Anderson had a good time on the show. I don't know why, but I remember feeling like, Oh God, she didn't like that.
You said you don't preinterview guests, but do you prepare them for the zaniness and the games?
Yeah, our talent bookers brief them on the games. They tell them when we're playing Plead the Fifth. We've never given a Plead the Fifth question to a guest ahead of time — and many have asked. The ones that are super, super stressed about it, we'll say, "Is there something that you don't want him to mention?" Again, we want them to be comfortable.
In the spirit of Watch What Happens Live, I asked Twitter for questions for our interview. "Andy Cohen Fan" wants to know, which Housewife has the most guest demands?
You know, they don't really. They used to be hung up on whether they were sitting in the chair next to me or the chair further. That's gone away, thankfully. There have been times where they wanted to come on alone, and that's gone away as well.
Ramona [Singer] used to be very demanding in early days. I think we had a come to Jesus after she and [her ex-husband] Mario split up. She and I had a little sit down in my office. I don't know what happened, but since Mario, she has become more calm, and she's become even more delightful to deal with, I will say.
Do you want her and Mario to get back together as badly as I do?
I just want whatever makes her happy.
Are the Housewives excited when they come on the show? Are they afraid? How do most of them feel?
It really depends on what's going on with them on the show. Dorit is someone who gets really unfairly hammered on social media. She's gotten an unfair rap. So when she comes on, she's a little on edge. I'll go in and talk to her and say, "Listen, this is as hard as I'm going to go with you today." I want it to work out for her, especially because I see how people on social media can be real assholes.
Since Lisa Vanderpump didn't come to film the Beverly Hills reunion, how awkward is her next appearance on Watch What Happens Live going to be?
I don't know. I'm not going to do a Lisa rebuttal show. Her time to say her peace was at the reunion, and she gave up that opportunity.
Also in Watch What Happens Live fashion, I have a little game for you: We're going to revisit some of my all-time favorite moments, and you tell me how you feel about them now. First up, Kim Zolciak and Nene Leakes having the "good-bye wig" fight over the phone.
If you watch that back, I don't know what to do with myself. I'm uncomfortable. I certainly didn't realize that that would remain one of the most-talked-about moments on the show.
The same thing happened when Jackee and Regina King got shit-faced on the show. They were trending worldwide on social media.
That's another one of the questions!
During the commercial break, I was like, "Oh my God. I didn't have control of the show." I thought it was terrible, and then my executive producer in the control room was like, "Oh my God, this is amazing television." I was not leaning into the mess, so to speak. So that's what I learned from both of those. We've certainly had many more things go off the rails, and I lean into it way more. I'm just better at my job.
If you do say so yourself.
I've been doing live television for ten years. If I'm not better at my job, then I'm fucked.
Next one is Brandi Glanville throwing wine on Jeff Lewis.
That remains one of the weirdest nights. I still don't understand what happened there. It sounds like Jeff said to her, "Let's get in a fight on the show," and then he took it too far and he actually wound up pissing her off. He thought they were playing and she thought they were serious. Nobody wound up looking good. I was upset that night. I was not happy at all.
What about the Brandi Glanville–Joanna Krupa smelly vagina lawsuit?
I feel terrible about that because it wound up costing Brandi Glanville hundreds of thousands of dollars. Brandi is unfiltered, for better or for worse. I'm sure that she's learned her lesson, but I did feel bad that that resulted in her having to pay so much money in legal fees. I still don't even know what the resolution was.
The Night of 31 Doorbells?
That was incredible. Part of Bravo Con came out of the idea of that doorbell show. That was basically our "You get a car!" show for the audience, because every time the doorbell rang, the audience lost their minds. It was absolutely incredible.
What about when Patti LuPone shaded Madonna?
That was amazing. Again, that goes towards me leaning into the craziness. I listen way better now than I used to. She gave me an opening and we kept going. It was something else.
And when Danny Roberts from The Real World said he hooked up with a straight co-star?
Wow, I forgot about that. Did we ever figure out who it was? We were all racking our brains.
The internet narrowed it down to two people: Mike "the Miz" Mizanin and Adam Larson.
Wow, go internet. I think some endorphin is released within me when people spill tea, literally. I feel like it's what I'm meant to be doing, in some weird way. I relish every opportunity for more information.
This is another fan question: What are the show's best and worst musical performances?
The worst was when Bannanarama came on and sang "Cruel Summer." They were like just off a plane, they forgot the words, and it was bad. It was not good. I couldn't believe it.
I'm trying to think. Here's the problem: A bad Housewives performance is a great Housewives performance because it's amazing television.
Like when Danielle Staub sang.
That tortured lesbian lullaby was the most iconic Housewives performance ever.
Sonja did a caburlesque when we were live from South by Southwest that was … I guess they had rehearsed. It was not the best, but it was memorable. I don't know if Kristin Wig was the guest or she was just texting me from home, [but] I have memories of her losing her mind over this.
Here's another: "If you could have one bartender for the rest of the series, who would it be?" It would be between the Gay Shark, whose probably bartended a zillion times, and a model named Michael Dean. We have dressed him up in every variety of costume and put him behind the bar. He's a great guy and a great kid, so he would be on the list too.
It's funny that our mascot is a gay shark. It happened so many years before Katy Perry's halftime show. We thought Katy Perry was ripping us off.
"Jenzilla" asks, "If you had to pick someone to fill in for you when you're gone, who would you pick?"
If you notice, no late-night host ever has someone fill in for them anymore. Maybe it's because we're so insecure that we think someone's going to do it better. In year two or three of the show, I had been invited to the South of France. I was going to miss a show, and Jay Mohr, the comedian, had always begged me if he could guest host the show. I said yes. I will never forget that I woke up that morning in the South of France, I went on Twitter, and I start seeing all these tweets that are like, "Oh my God, Jay is so funny. Andy should take vacation more often." Brian, I did not like that feeling. I did not like how that felt.
So the short answer is: I don't know that I would ever have anyone sub for me, just to be totally honest. If I did, I would say Jerry O'Connell, Chrissy Teigen, or Jeff Lewis.
Andy Cohen, it is time. I have three questions for you, and you can pass on only one of them. It is time for you to PLEAD. THE. FIFTH. Are you ready?
Yes.
Say three nice things about Kathy Griffin.
She's funny … she's funny. She is passionate. She's funny, she's passionate, and … her mom is hilarious.
Have you ever slept with one of your guests?
I've never met someone on the show and slept with them, if that's the question. In ten years, there have been a couple of guests who I have dated in the past.
Would you like to tell us who?
John Benjamin Hickey and Lance Bass.
Here's your final question. Shag, marry, kill: Anderson Cooper, John Mayer, and Mark Consuelos?
Oh wow. I would marry John, shag Mark to see what it's like, and I would kill Anderson because I don't think he would mind.
Fair enough.
Let it be noted that I did not plead the fifth.