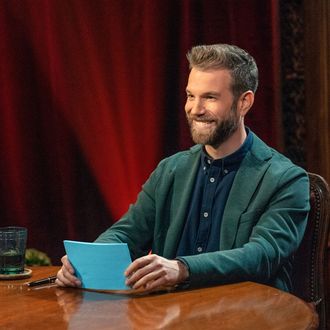 Anthony Jeselnik on
Good Talk
.
Photo: Jack Zeman
Ten months after signing a development deal with Comedy Central, comedian Anthony Jeselnik is officially heading to television to star in a new series. The network announced today that the stand-up will host his very own "comedic interview series" titled Good Talk With Anthony Jeselnik, and the six-episode debut season is full of his comedy friends: Nick Kroll, Tig Notaro, Natasha Leggero, Kumail Nanjiani, Kristen Schaal, and upcoming Comedy Central late-night host David Spade.
According to the show's log line, in the series Jeselnik "switches gears from his signature acerbic style for tongue-in-cheek interviews with his fellow comedians about their careers, influences and what it's like to live in his massive shadow. Jeselnik and his guests center their extremely funny conversations around stand-up, stories and bits and participate in unconventional studio segments." The series is executive produced by Christie Smith (Nathan for You, Dead to Me) and Meaghan Rady (I Love You, America), with Rady also serving as showrunner.
While promoting his Netflix special back in April, Jeselnik teased the show in an interview with Vulture. "I am working on a television show right now, an interview show that I want to be easy in a way. I want to make it gritty. I don't want to have to memorize a thousand jokes. I want to be riffing and talking with my friends in a more naturalistic way that I think has been missing from my television career in the past," he said. "I don't want it to be easy; I just want it to be simple. If you keep something simple then you can make it great. If it's too complex you're at the mercy of so many different things, but if you keep it simple, then you can find genius there."
Good Talk is slated to premiere on Comedy Central Friday, September 6, at 11 p.m.