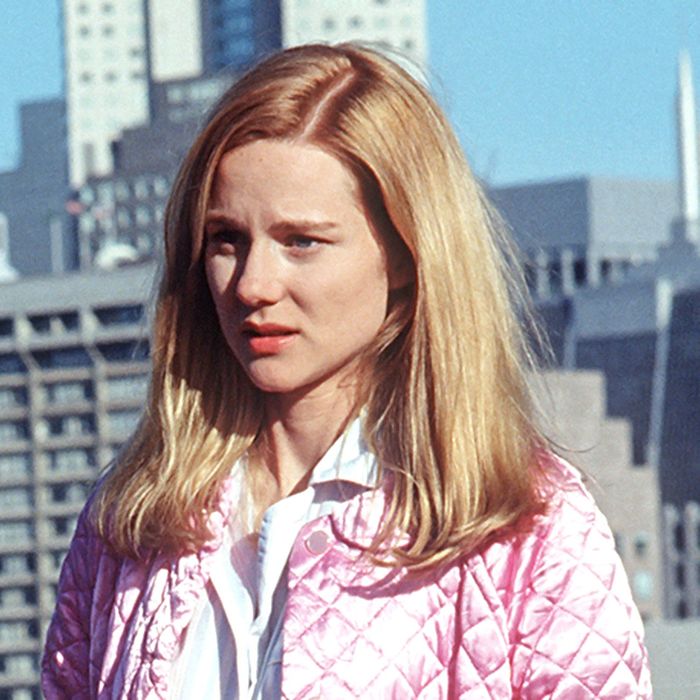 Laura Linney as Mary Ann Singleton in 1993's
Tales of the City
, a role she reprises in Netflix's new sequel series.
Photo: PBS
Check out Netflix's limited series Armistead Maupin's Tales of the City and one thing you'll immediately notice is that its characters have a history dating back decades. The initial conflicts are in fact dependent on the return of Laura Linney's Mary Ann Singleton to the warmth of fictitious Barbary Lane after she's been away for 23 years. But one of the strengths of Maupin's creation, which has unfolded over the past 40 years in the form of nine books and three previous TV miniseries, has been that each installment is perfectly digestible on its own. The same is true of the new Netflix Tales, which is set up to be accessible even to those brand-new to this universe.
Yet there's no question your viewing of the new offering will be substantially enriched by having a better idea of who these people are and where they've been. The easiest way to do that is by immersing yourself in the TV stories that started it all: the original 1993 miniseries starring Linney and Olympia Dukakis … also somewhat confusingly titled Armistead Maupin's Tales of the City. Yes, the new sequel series has the exact same name as the original (other installments either played around with the title or eschewed it entirely), which has just been added to Netflix, making it readily accessible to new audiences.
There are numerous reasons to see the original Tales, which is as perfect in its sly interweaving of multiple narratives as the best seasons of Mad Men or Downton Abbey, yet stranger than either of those concepts. Maupin cites Alfred Hitchcock as a primary influence, something the miniseries embraces — Vertigo freaks will sit up and take notice of its not-so-subtle nods and wicked sense of humor. Setting it apart from most other TV of the early '90s, its grainy, cinematic look and fluid camera movement make it feel as though it were shot in the '70s (due credit to director Alistair Reid, who helmed Traffik a few years earlier). Maupin's world is a spellbinding place and time to get utterly lost in for six hours. That place is San Francisco, and the time is 1976 — or, as the slipcover for the initial home-video release sold it, "When our hearts were young and our mood rings were blue."
The story centers on Linney's Singleton, a 25-year-old hailing from Cleveland who, while on vacation in San Francisco, is seduced by the city and decides to stay and make a new life. A newspaper ad for a Russian Hill apartment lures her with the tagline "You'll know if it's right for you." Enter the cannabis-enthused, Tennyson-quoting Anna Madrigal (Dukakis), Mary Ann's mysterious new landlady. Among the tenants who become Mary Ann's support system are the gay and looking-for-love Michael "Mouse" Tolliver (Marcus D'Amico), straight Lothario Brian Hawkins (Paul Gross), and fluid free spirit Mona Ramsey (Chloe Webb). Other cast members include Billy Campbell (The Killing), Barbara Garrick (the series' most underrated player), Cynda Williams (One False Move), Thomas Gibson (Criminal Minds), Stanley DeSantis, Parker Posey, the mighty Ian McKellen, and many, many more. The expansive roster of characters ranges from bohemian types to advertising executives to frustrated housewives to alleged vitamin salesmen — but few in Tales are who they seem upon first meeting.
28 Barbary Lane provides the base of operations for Maupin's universe, and it feels like the center of the city, as if that iconic structure is akin to the pebble thrown into a lake, rippling outward into countless colorful characters and story lines. Maupin's structure weaves a graceful tapestry of these people's lives, a maze in which they all travel among one another in a seemingly effortless "six degrees" type of construction. Nothing seems forced or shoehorned, only natural and right.
The clandestine affair that develops between Edgar Halcyon (the late Donald Moffat) and Mrs. Madrigal is a series highlight. Rarely do we get to see such passion between "seasoned" actors onscreen, yet the meeting of these two lost souls facilitates great whimsy and kindness. Take, as one example, a scene where the free-spirited Anna drags stuffy Edgar to the beach and they spy a group of hippies flying a kite. Edgar remarks that it's something he hasn't done in years. Anna sprints over to the kids and returns with the kite, announcing, "We've only got ten minutes!" Cut to the hippies passing around one of Anna's joints. While it isn't the most complex scene in the series, it may be one of the most real.
Though the 1970s-set Tales may feel like a period piece from the vantage of 1993 and 2019 alike, it's important to understand that Maupin was never creating a nostalgia act. He wrote this material in the mid-'70s — the first novel, which the 1993 miniseries adapts, was published in 1978 — so his stories were always contemporary, rooted in his observations of the world and its current social mores. Even in San Francisco, the 1970s were a much different time, when Maupin could quite reasonably build a saga around, say, a transgender person constructing an entirely new life while never letting anyone else in on their secret. And while coming-out stories are fairly familiar by today's standards, in one Tales subplot, a grown man jumps through countless uncomfortable hoops to hide his sexuality from clueless conservative parents, so mortified is he at the idea of their finding out his truth.
When the miniseries debuted as part of American Playhouse on PBS, it caused a seismic uproar. Some outlets presented edited episodes, while others flat-out refused to air it. The network was even threatened with federal-funding cuts over the series, which led to its passing on a sequel, despite Tales being a ratings juggernaut by public-television standards. (Eventually, Showtime stepped up to the plate and produced two further minis, More Tales of the City and Further Tales of the City, both worth your time, if you can track them down — the latter is only available on DVD and the former is long out of print.) But from today's standpoint, the most shocking thing about Tales is how tame it seems: Basic cable long ago caught up with and surpassed Tales' casual gay and straight sex, brief nudity, and drug use. And the Netflix incarnation has ramped things up, portraying several explicit-sex scenes that never would have featured in classic Tales.
Maupin wrote about LGBTQ and inclusion issues decades before the mainstream caught up, but his approach was so accessible it almost felt mainstream. Now that the world finally seems to be more on his "everyone's invited to the party" wavelength, maybe Tales can now be recognized for what it always was: storytelling with something for everyone.
So perhaps the only thing left to ponder is not whether you should watch the original Tales of the City, but rather when you should watch it. The Netflix series frequently ricochets off and references the first mini thematically and visually, often with specific callbacks — Easter eggs for the diehards. In this modern world of prequels, the experience of seeing the original after partaking of the new could arguably be as rich as watching them sequentially. Maybe it depends on how you want to enter this universe: through the new series' lens of the present, or the original's portal to the past? Whatever you decide, you'll know if it's right for you.