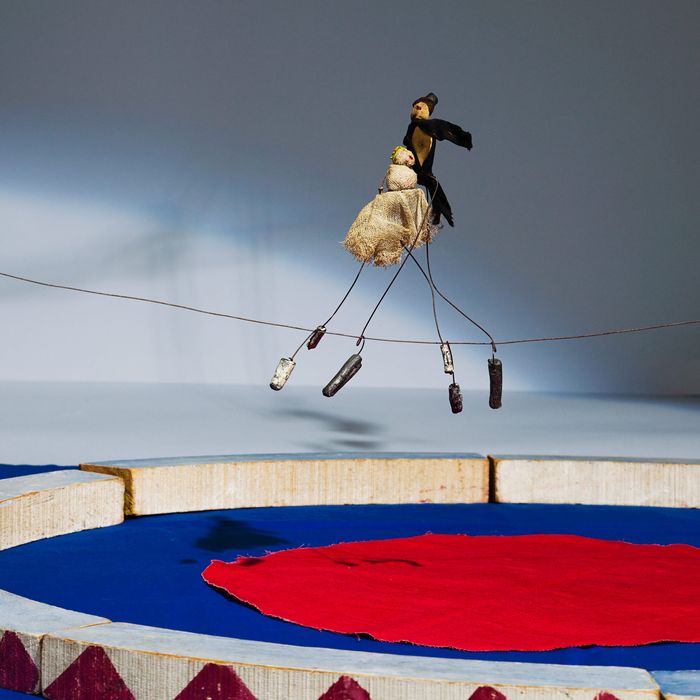 Calder's
Circus
.
Photo: © 2019 Calder Foundation, New York / Artists Rights Society (ARS), New York
Treats keep popping out of the Whitney Museum of American Art like clowns from a Volkswagen. Behold its reinstallation, on view starting June 28th, of one of the most beloved, fun, and radical works of 20th-century American art: Alexander Calder's completely refurbished, transcendentally joyous Circus. Made between 1926 and 1931, when Calder, the son and grandson of artists (his father sculpted the George Washington on the Washington Square Arch, his grandfather the colossal statue of William Penn atop Philadelphia's City Hall), was in his late 20s and early 30s, living in Paris, and hanging around with the likes of Picasso, Miró, Mondrian, Léger, and all the other European modernist heavyweights. In Circus — probably the best of his many great works and a pioneering piece in a style I reckon might stand the test of time better than a batch of other already musty 20th-century modernist styles — Calder breaks through into linear form using everyday materials like wire, cloth, cork, tubing, pliers, and hammers, alchemically fusing all of these with aspects of Cubism, Dada, Surrealism, collage, and assemblage. It shows that Calder was among the very first to create both kinetic art and performance art. And the whole of Circus possesses the aesthetic thermodynamics of a promised land that indirectly influenced hundreds of artists, making Calder one of the most important of the 20th century.
Circus consists of an encyclopedic, Whitmanesque array of sculptures that look like toys that look like incubi, fairies, strange inventions, mousetraps, gadgets, puppets, and Rube Goldberg–like contraptions. Once upon a time, all of these elements moved, performed, bounced around, zoomed through the air, or danced on the ground. Calder, acting as a one-man ringmaster, would arrive with his suitcases full of stuff, roll out and construct his big top and, one by one in front of delighted live audiences, blow whistles, ring bells, bellow, and roar while his wife played rumba and fox-trot records on a nearby Victrola, the two bringing Circus to phantasmagorical life.
At the Whitney, you can see the lion and his tamer, who used to put his head inside the lion's mouth or make the beast sit up; the flying trapeze artists who would swing aloft and flip from ring to ring; the little horse that the lady rider would stand on and ride around the ring; the camels, clowns, and cowboy who would ride and lasso other animals; the chariot racers; the tightrope walkers who would scoot back and forth along a high wire that Calder would tilt this way and that; the bearded lady and the dancing bear; the dogs who would stand up or dance; the elephant who would gently feign sitting on his trainer and then gingerly get up, finally rising on its hind legs; and the doves who would alight on the arms of the pretty prima donna as she serenaded the crowd.
Because everything here is infinitely fragile, Calder's Circus can never be animated again. (Although I imagine allowing a one-time exception for Beyoncé as guest puppeteer and mistress of ceremonies, conducting her special kind of buzz.) Happily, the work is set up in a panoramic configuration, rather than in the old circular formation that made seeing it a little difficult, so you can peruse this sculpture and create a movie of your own in your head. Also on hand is a wonderful film of one of its later performances: See the gruff older Calder as master artist moving the creatures about and flinging them around as he looks down from his bird's-eye view, making sounds and barking commands in his avant-garde, chimerical reverie and entertainment.