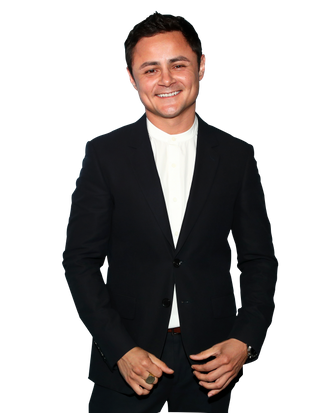 Arturo Castro.
Photo: Astrid Stawiarz/Getty Images for Comedy Central
It's been over ten years since Arturo Castro moved to the United States to pursue acting, and the idea of him finding regular performance work as a native Guatemalan — let alone having his own show based around him one day — often seemed impossible based on how few Latino people were on television. "It was really hard to get TV auditions because there aren't a lot of roles for people that look like me," he says. But as he persisted for acting opportunities with a sense of "blind optimism," Castro was eventually cast in a supporting role in the pilot episode of a new show created by two New York comedians that itself went on to change the landscape of TV comedy: Broad City.
After five seasons, Broad City ended its run earlier this year, but tonight Castro begins a new chapter on Comedy Central with his own sketch-comedy show, Alternatino With Arturo Castro.
Each episode features both a running narrative of Castro playing a fictionalized version of himself and sketches in which he plays various characters, which are different from what you might be used to seeing from him in Broad City or even his other role in the third season of Narcos. What all of Castro's characters do usually have in common, though, is that they're often dealing with the same misconceptions that he's seen all too often after 12 years in America.
And now he's not only on TV, he's using those same perceived detriments and stereotypes that he lives through as his show's greatest strengths. We spoke to Castro about the best decision he made as an actor after moving to New York, breaking off from his two most famous characters, and how he's attacking misconceptions through comedy.
A lot of the sketches in Alternatino are centered around misconceptions, often related to what it's like being Latino in white America. How conscious are you in making comedy related to misconceptions and stereotypes?
Listen, I could have called the show Whitey McWhiterson and they would still call it The Latino Show, you know what I mean? I feel like comedy is such a good instruction tool. I feel like a lot of negative feelings toward the Latin community is just a lack of knowledge. People aren't exposed to it; there are parts of the country where they've never met a Latino person. It comes from a fear of the unknown. I found it interesting to use humor to build a little bit of empathy. If you want somebody to go through something you can relate to, like getting your heart broken or being nervous for a job interview, and the person doesn't look like you, then maybe the conversation in your head shifts a little bit. So to me, I have a really strong belief that, at its core, the human experience is basically the same. I wanted to, through humor, attack that and our commonalities.
You've said before that you didn't grow up seeing anyone who "looked like you" on television. Does it hit you that when this show starts, for many Latino people, it might be the first time they see someone who looks like them with their own sketch-comedy show? How does that affect your choices for characters and sketches?
First of all, it's a level of gratitude that I cannot describe to you. Even just seeing my name on a show — I thought about changing my name when I first started because I thought people wouldn't be able to pronounce it. The fact that there could be, in this day and age, a show with someone with my name, a Latin name, on television is such a dream come true. Second of all, you have a responsibility, and more than anything I wanted to create an alternative version of what people think Latinos are. I don't really fit into most stereotypes about what we're like. I'm a terrible salsa dancer; I couldn't care less about soccer. I tried to make genuine characters that perhaps someone who wasn't feeling represented could see. When I stop and think about it, it's a great sense of gratitude and "Whoa!" It's a sense of disbelief that some kid could watch a show and see somebody that looks like them and has traits they can relate to. I wish I had that, and if I can be that for other people, that's insane. That's a dream.
Who or what have been your ideal representations of Latinos in comedy and entertainment? How often have you seen Latino representation in mainstream comedy that was less than ideal?
As far as things that I felt good about growing up, Gloria Estefan was the first person that I saw that I was like, "Oh my God." It was the closest thing that I could find to my aunts. As for negative representations, every gang member under the sun. Or even in live TV shows you'd always see someone go, "Oh no, señor!" I've never once in my life said "Oh no, señor!" Except that I just said it twice. It's frustrating in the sense that I've noticed the perception, since moving to the States, what you see on media is what you feel the truth is, and I've just noticed that I had to do a lot of distilling of ignorance once I moved to New York. Right now there's a show called The Good Doctor and there's a guy named Nicholas Gonzalez; this guy is a doctor who just happens to be Latin. You know what I'm saying? That is so important for a kid to see growing up — someone who has a great career, who looks like them, without that being an impediment to them.
People may watch Alternatino and not yet know your name but recognize you as Jaime from Broad City or David Rodriguez from Narcos, two distinct and vastly different characters. In Alternatino, there's both a fictionalized "normal" version of you and then many big characters, but they're all very different from what people might expect. How much did you think about separating from your previous well-known works?
It wasn't really a thought. I think Narcos sort of changed people's perspective. Even if you haven't watched it, if you just heard about it, it was like, "Whoa, this guy's not exactly like Jaime!" He's also not just like this raging psychopath on Narcos. All we tried to do was make a version of myself from real-life experiences, like that date where people expect you to be something that you're not. It was important to show the audience as close to my character as I could. The thought behind it wasn't I need to let them know I'm not Jaime. It was to let them know more who I am.
You have some really experienced people working behind the scenes on Alternatino, like writers Jay Martel (Key & Peele) and David Sidorov (the Onion), and director Nicholas Jasenovec (Broad City, Detroiters). What was the process like in building a team for the TV version of Alternatino?
These guys are my heroes. Nick Jasenovec wrote and directed Paper Heart, which I loved. That was all Nick. He went to Sundance with it and I loved that film, then I worked with him on Broad City. He directed a few episodes and we became friends, and when it came time for the TV version, I emotionally blackmailed him into directing the pilot. He was such a strong pillar of production to me. Jay Martel, the godfather of sketch comedy, I learned so much from him. He runs a room with kindness first and just understands comedy in a different way. I love him, and he always looked like he barely missed his flight, so I always give him shit: "Hey, Jay! How was rummaging through the recycling bin this morning?" But I learned what I know about writing for comedy through Jay and about directing through Nick.
I fell in love with David's work because he submitted a packet and he had one sketch about a fake Make-A-Wish Foundation, and the kid's only wish was to never meet Macklemore. So the whole town comes together to make sure he never meets him. They take off the blindfold and it's like, "He's not here! He's really not here!" I thought it was the most specifically stupid thing I ever heard, and I've loved it ever since. He brought some real winners to this season. I'm a huge fan of Sidorov.
Which character from your first season do you love the most? What was the inspiration?
This tribe that I've put together in this writers room, it's so interesting because I can read a sketch blind and know exactly who wrote it. And when we work on each other's sketches, you can see "that's a Sidorov joke." It was from everyone's imagination. My favorite one to play? Jecca, who ruined the wedding, was fun to play. She was such a mess. I shaved my legs for it so it meant a lot to me. It's a character where if your main intention is to ruin a wedding, you can't go too far. That was a huge liberty as an actor to ruin people's lives.
After you moved to the U.S. to pursue acting in New York, you eventually got a breakthrough role on Broad City in 2014. What was the best decision you made during that time between moving to New York and getting the part of Jaime?
The first one was moving to New York to attend this acting academy. I graduated in 2007 and then went to Vassar for a semester. So I didn't really start working until 2008 maybe, and it took me four years to book Broad City. In that time I did a lot of dramatic theater and a lot of commercials. I thought I was rich because I got $2,500 to play a taste bud in a commercial. I was like so stoked and I was the main taste bud — it was a really magical experience.
My single best decision was first moving to New York, and then I think the way I went about it — I never lost hope that a break would be possible, even though it was really hard to get TV auditions because there aren't a lot of roles for people that look like me, you know? It was sort of my general disposition, which was that even if I'm standing in open calls for six hours in the cold, all I needed was five minutes in the room with the right people and I could take it from there. That sense of blind optimism was the best thing I could have done for my life.
What advice would you have for people out there aspiring to get into sketch comedy some day?
There's a couple of things. First of all, just the fact that you have to shoot. Shooting for YouTube is not as complicated as it used to be. If you have a group of friends and an idea, just get together and shoot it. Don't be afraid to look silly. That's (a) how you learn and (b) learning about production is essential if you want to get into comedy because you need to know how the sausage is made.
No. 2: I'd say it's very tempting to imitate other styles because people are like, "What's hot right now?" The thing that's worked for me and the people I admire is trying to be really honest with yourself and being truly, unapologetically yourself. There are so many people trying to do what we do, but the only way to stand out is to be completely yourself. The human experience is very unique. Try to find that part of that voice that comes easy to you to write and stay true to that. Don't edit yourself before you give it a chance.