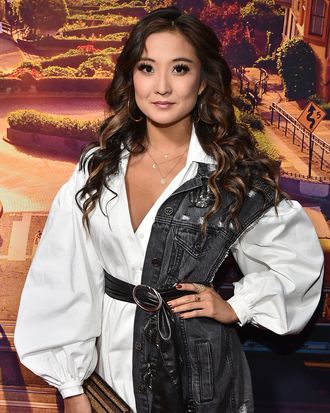 Photo: Theo Wargo/Getty Images
Ashley Park is on a mission to make Thoroughly Modern Millie, well, more modern. It was announced this week that the Mean Girls Tony nominee will return to the New York stage next spring to star as girl-with-a-dream Millie in the New York City Center Encores! production of Jeanine Tesori and Dick Scanlan's 2002 musical.
"Funnily enough … Millie was the character I played the month after I went into remission from cancer in high school," Park told Vulture at the Tales of the City premiere Monday night. (She co-stars in the Netflix reboot, out this Friday.). She said that while she's always been drawn to the heroine's "survivor's spirit," she never thought she'd play Millie on the professional New York stage. "It's one of the characters that I've loved, always, but I always figured I'd never play it just because of the race stuff that's in [the show]."
The stage musical — which is based on the 1967 feature film starring Julie Andrews, Mary Tyler Moore, and Carol Channing, and which won the 2002 Tony for Best New Musical — has come under fire in recent years and become the subject of debate and all-out bans in some school districts due to what many view as racist portrayals of Asian immigrants. One of its main conflicts involves Mrs. Meers, a white woman posing as an old Asian woman. Meers runs a hotel that serves as a front for a human trafficking scheme. There she drugs young women and forces them into a white-slavery ring in "The Orient" with the help of two Chinese immigrants, Ching Ho and Bun Foo, who want to save enough money to bring their mother to the States. Suffice to say, some of Millie's material hasn't aged well, and in the wrong hands, its satire is lost.
This production will feature rewrites from the creative team. Park said Monday that she and Lear deBessonet, who's now the new resident director of Encores!, are working with Tesori and Scanlan to "rewrite and revamp it." Park added that "the music and the songs are so great, and I think that Jeanine and Dick are more than thrilled to reevaluate it so it can be done in high schools now, today, and colleges, and theaters. I'm really excited."
As for what songs she's most excited to sing come Millie's run, Park said that "There's something really exciting about 'Not For the Life of Me' [and] the whole journey of that into the opening." In the end, she wants this Encores! production's journey to lead to "a show with intention as well as the spirit that it already has."