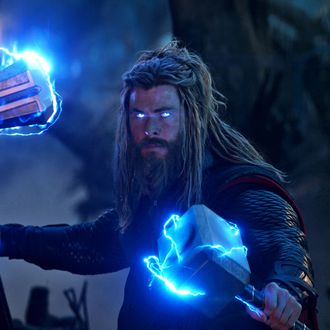 Avengers: Endgame
.
Photo: Marvel Studios
In a proud attempt to squash Avatar's $2.78 billion box-office record, Disney is rereleasing Avengers: Endgame with additional post-credit scenes. Marvel Studios president Kevin Feige told Screen Rant that the new version is not an extended cut, but another version "with a bit of a marketing push with a few new things at the end of the movie."
"If you stay and watch the movie, after the credits, there'll be a deleted scene, a little tribute, and a few surprises," he added.
The new version seems likely to be an effort to close the approximately $4 million gap between Endgame and Avatar, which holds the record for the highest worldwide gross of all time (unadjusted for inflation). The rerelease will reportedly hit theaters on June 28, a smaller weekend for movie releases and just a week before Spider-Man: Far From Home comes out. Just as Captain Marvel got a boost when Endgame premiered, the hope is that Spider-Man could do the same for the Avengers movie.
Typically, movies are rereleased to celebrate anniversaries or to give a film a fresh push during awards season. Two years ago, Dunkirk returned to theaters during awards season, while this March, A Star Is Born was rereleased with 12 extra minutes of footage for fans who just wanted to take another look at it. Judging by Feige's comments, the Endgame rerelease seems unique for being an unapologetic box-office play. As always, Disney's real superpower is knowing how to make money.